Kristian Fredrikson in New Zealand
In March I spent a week in Wellington, New Zealand, looking into the work made by Kristian Fredrikson for the Royal New Zealand Ballet and Wellington City Opera. I have nothing but praise for the staff of the Royal New Zealand Ballet, the Film Archive of New Zealand, the Dowse Art Museum and the National Library of New Zealand (despite the fact that the Library is currently closed to the public due to renovations) for their generous help with my research activities.
I was especially interested to see a recording of Swan Lake (that ballet again) from 1985—a production by Harry Haythorne who was at the time the Royal New Zealand Ballet's artistic director. It linked up nicely with some designs for this production I had recently been examining in the National Library's Fredrikson collection and it is always a bonus to see designs transformed into costumes and worn by dancers. Not only that, Haythorne's production was quite different from anything I had seen before concentrating as it did on the character of Siegfried more than Odette, making something quite different out of von Rothbart and making a strong distinction between reality and fantasy. It was then a further bonus to see some of the costumes themselves, with their quite astonishing layering of fabric to achieve a textured look, at the Dowse.
It was also a pleasure to speak to former Australian Ballet principal, Greg Horsman, currently ballet master with the Royal New Zealand. His recollections of working with Fredrikson complemented those I recorded last year with Miranda Coney. Coney and Horsman are pictured below in the pas de deux from Graeme Murphy's Nutcracker, in its first staging of 1992.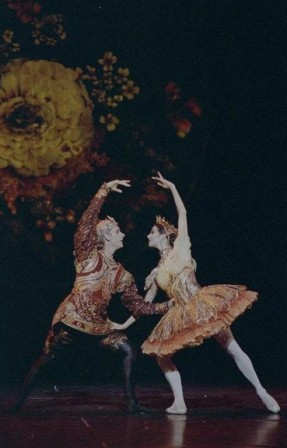 I was saddened to hear of the death in March of Bruce Morrow, whose career included performances with the National Theatre Ballet and the Borovansky Ballet. He danced in some ground-breaking Australian productions, including Rex Reid's Corroboree and the Borovanksy Ballet's full length Sleeping Princess. Following his career as a performer he was for many years a highly regarded teacher at the Australian Ballet School and elsewhere. He is seen below as one of the Three Ivans in the 1951 Borovansky production of The Sleeping Princess. I interviewed Bruce in 2000 for the National Library of Australia's oral history program. Here is the link to the catalogue record.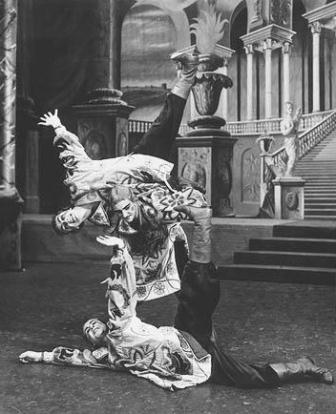 I have been a fan of Houston Ballet since visiting Houston last year where, as in Wellington, I was treated more than generously by everyone with whom I came into contact. There's a lovely clip available on YouTube from Welch's newest work Tapestry.
The Ballets russes tribute programs continue
I read with interest Ismene Brown's review of a recent English National Ballet season.
With Graeme Murphy's Romeo and Juliet playing a season in Brisbane during March interest has been revived in the posts and comments on this site relating to that production. In addition, Brisbane for the first time was one of the top five cities in terms of numbers of visitors accessing the site. It came in third behind Melbourne and Sydney and was followed by Canberra and London. The top post for March was the review of the Australian Ballet's Infinity program.
Michelle Potter, 30 March 2012