I had the pleasure recently of watching, via its digital streaming season, a performance by the Royal Ballet of Frederick Ashton's La Fille mal gardée. It featured Marianela Nuñez as Lise and Carlos Acosta as Colas and dates back to 2005. The partnership between Nuñez and Acosta was technically outstanding and delightful from the point of view of the interactions between the two dancers. Ashton's choreography, of course, was full of beautiful and often unexpected movements, including his constant use of epaulement; and scenes that I relished seeing again—the storm scene for example, with the cast rushing hither and thither was quite absorbing.
Below is a link to the Act I Pas de ruban.
But the production also brought back memories of some other productions I had seen, and some wider contextual issues that have arisen over the years.
Memories of Fille
Perhaps the most memorable production I have seen was a performance by the Paris Opera Ballet in 2009. It happened on 14 July, the French national day, so there were one or two moments before and during that performance where that significance of that day was not forgotten. Here is a link to the review I wrote.
On a contextual issue, I am curious about the image below from an Australian Ballet performance of Fille during the 1970s. Who is the young man standing there looking thoughtful? I have my suspicions! The image was taken by Walter Stringer and is part of his collection held in the National Library in Canberra. Sadly, the colour is fading, or changing, and I have had to put a filter on it so that the face of the dancer is a little clearer.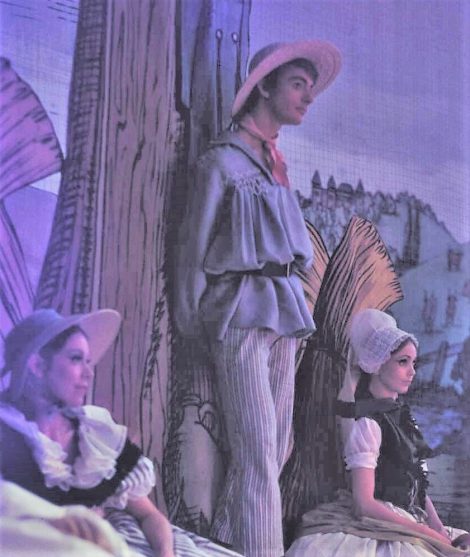 (Update on the photograph above: Confirming my suspicion, those who know suggest the thoughtful young man is Graeme Murphy).
And on another contextual issue, I recently made a timed summary of an oral history interview I did with Alan Alder back in 1999. The interview and its summary will shortly go online. In the meantime, below I have posted a short (1 min 12 secs) excerpt from the interview.
Alder was well-known for his portrayal of Alain, Lise's rich but slightly unusual suitor in Fille, both during his time with the Royal Ballet and later with the Australian Ballet. The role was created by Ashton on Alexander Grant, and later the role was taken on by Donald Britton. But due to circumstances, which Alder explains in the interview, while with the Royal Ballet's touring company Alder took over the role from Britton. On one occasion, when the touring company was in Edinburgh, Ashton decided to take a trip from London to see how Alder was handling the role. In the brief extract below Alder speak of Ashton's reaction.
The production by the Royal also brought back memories of my late colleague David Vaughan, former archivist for the Merce Cunningham company and author of Frederick Ashton and his Ballets. Cunningham and Ashton were the two choreographers Vaughan admired most of all (although some correspondence I had with him shortly before he died suggests that, had he lived on, he would have added Alexei Ratmansky to that list). But I often wondered what he considered were the characteristics of Cunningham and Ashton that drew him towards these two choreographers. Did he see similarities in their approaches to choreography? Sadly, I never asked and now I will never know.
Michelle Potter, 16 June 2020
Featured image: Marianela Nuñez and Carlos Acosta in La Fille mal gardée. The Royal Ballet, 2005. Photo: © Bill Cooper/ROH