14 May 2013, Queanbeyan Performing Arts Centre
This is a revised version of a review written for The Canberra Times. In the interests of bringing the outstanding qualities of R & J to the attention of the dance-going public as the show continues its regional tour, I am posting this expanded review now. Publication of the original, shorter review has for unexplained reasons been (apparently) delayed.
I don't know where the expression 'the best things come in small packages' originates, but it is a perfect way of describing Natalie's Weir's R & J. Weir has worked with just six dancers (complemented in the opening scene only by a group of local dance students) to create three mini-stories inspired by Shakespeare's Romeo and Juliet. Each story is short—the whole work lasts just 60 minutes with brief pauses in between each act—but each also delivers a powerful message.
Act I is called 'Passion' and is set in a disco environment in the present day, hence the need for a few extra dancers. 'Passion' is complicated by the presence of a third person, a rival to Romeo, setting up a triangle of love.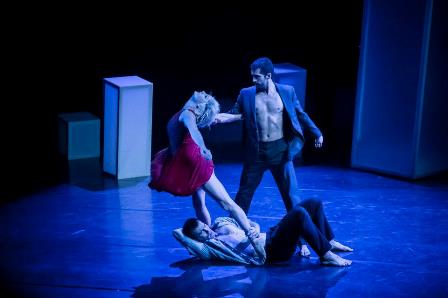 As the work begins we immediately encounter Bruce McKinven's minimal set, which remains in place throughout the piece. It consists of a collection of white translucent boxes of different sizes: the boxes stand at angles to the floor and are spread across the stage space. The intricacies of their construction are only revealed as each story progresses—they become a table, a tomb, a television, whatever might be required as the stories unfold. McKinven's simple costumes, always red for Juliet, are also masterly in conveying an era and a mood in a simple yet powerful manner.
Act II is 'Romance' and takes us back to the 1800s. 'Romance' comes closest to the traditional story and reminds us of the divided families, the balcony and bedroom scenes and the final setting beside the tomb, all of which are well-known from other dance productions. This Act showed David Walters' lighting design at its best. Throughout, Walters lights the piece evocatively according to the progress of the story but in Act II he surprises us with his lighting of McKinven's boxes. There are moments when he focuses his light on single boxes that enclose Juliet and separate her from Romeo and, as Act II comes to a conclusion, he lights up the inside of the box that acts as a final tomb.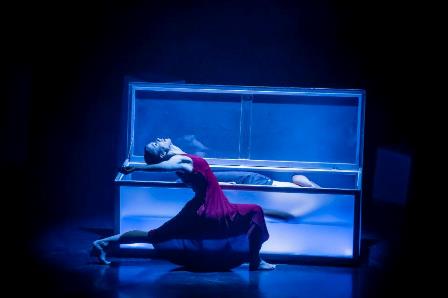 Act III is 'Devotion' and is set in the 1950s. 'Devotion' is perhaps the cleverest of the three stories and shows us a routine of life and love that is interrupted by the inevitability of an end to every union. The dancers' movements gather speed, without losing any choreographic detail, as the repetitive nature of life becomes apparent. In all three stories the lovers are parted in some way although the endings, I think, are open to interpretation. In Act III, for example, did this 1950s Romeo die? Or did he just leave his Juliet, tired of the never ending routine of work and more work? This open ended approach is part of R & J's success as a production that involves us emotionally.
Weir's choreography has always been distinguished by her ability to create strong duets and R & J is no exception. But just as affecting on this occasion are her trios and solos. I admired in particular the trio in 'Passion'. It was often quite rough with contact between the participants in the love triangle sharply rather than lyrically defined. Her ability to make six people seem like many more in 'Romance' was also impressive. A dance in which Romeo, Juliet and four masked dancers changed partners in a tightly knit group set up an image of the ballroom scene from the well-known, full-length ballet.
Each of the six dancers, three men and three women, had their chance to be a Romeo or a Juliet, and each gave an outstanding, physically gutsy performance. But it was Elise May in 'Devotion' who really gave the performance of the night. For a good deal of her time on stage she danced with an arm chair, the chair on which her partner had sat before his exit from her life. Her movement was carefully nuanced and we rode her wave of emotions as she eventually resigned herself to loneliness.
The work was danced to an original, jazz-inspired score by John Babbage, in which the saxophone played a prominent part. When first performed in Brisbane (and also I believe in Adelaide in 2012), the music was played live by the group Topology, of which Babbage is a member. Sadly, this whistle stop regional tour was not able to offer a live performance by the musicians. However, with a dash of colour, a spot of light, a burst of sound and some telling gestures, Weir and her collaborators have created an exquisite and moving small package of love. R & J is a stand-out work that truly deserves the awards it has already won.
An earlier post on R & J is at this link.
Michelle Potter, 18 May 2013
Featured image: Elise May, R & J Act III, Expressions Dance Company. Photo: © Chris Herzfeld, Camlight Productions 2012