15 January 2017 (matinee), Carriageworks, Eveleigh (Sydney). Sydney Festival 2017
What a delight it was to see Dancenorth, whose home is in Townsville, North Queensland, and who are not all that often seen in southern parts. It was even more of a delight to see them (joined by some artists from the Japanese company, Batik) in a very theatrical production, Spectra. Choreographed by the Dancenorth team of Amber Haines and Kyle Page, the show featured just seven dancers. But they held the audience's attention from beginning to end with their fluid movement, their astonishing moments of stillness and their absolute immersion in the inherent nature of the choreography.
Program notes indicated that the idea behind the work was an exploration of 'the Buddhist philosophy of "dependent origination" which states that the secret of the universe lies in the nature of causality—the way one thing leads to another.' But even without this note, it was very clear that the dancers were working with the idea of causation, whether in a group when a touch would cause the one touched to move in a particular way, or whether in the movement of an individual whose sense of lyricism and fluidity had a similar effect.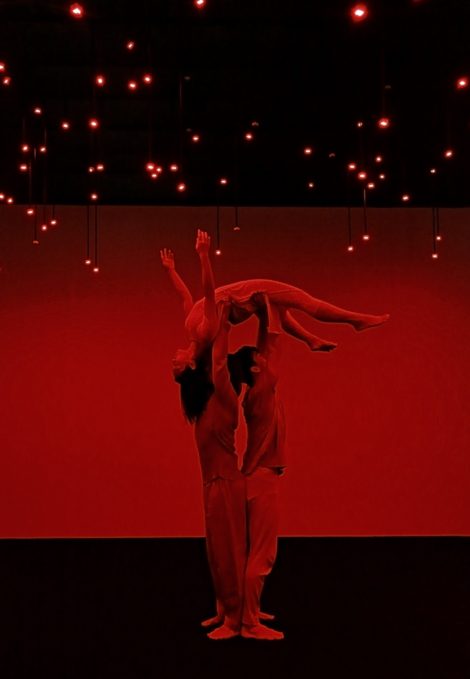 But while the dancers were outstanding, the lighting, by Niklas Pajanti, was absolutely brilliant and was what made the performance so theatrical. The work was lit with downlights, sidelights, tiny star-like lights hanging from the flies, rows of lights, flashes of lights, lines of light. It twinkled, shone, glowed, and enveloped the space. Just spectacular. Music was by Jairo Matsumoto and played live onstage by the composer. It added to the sense that this was an act of collaboration of the best kind.
Thrilling.
Michelle Potter, 20 January 2017
Featured image: Tatsuo Miyajima in Spectra. Dancenorth 2017. Photo: © Prudence Upton