La danseuse. French Film Festival 2017
The publicity for La danseuse, which was shown around Australia during March and April as part of the 2017 Alliance française French Film Festival, assures us that the film is 'based on a true story', or sometimes 'inspired by a true story', about the now 'largely forgotten' Loïe Fuller. Well, it depends what part of the population is being referred to as to whether Fuller is 'largely forgotten' or not, and 'based on a true story' is something of an overstatement I think. The events in the film are fictional from so many points of view that it is hard to justify the description of it as a screen biography.
The best sections of the film are those in which we see the recreations, staged by Jody Sperling, of Fuller's dances. They look spectacular, given the contemporary equipment and facilities that are available and used in these restagings. Of course in Fuller's time, without the benefits of today's technical expertise and equipment, her dances would not have looked quite as spectacular, but on the other hand, with what was available in the late 19th/early 20th century, expectations would have been different and it is not hard to see that Fuller was a visionary and an astonishing artist for her time.
I was also impressed with the performance throughout of Soko, the independent actor, singer-songwriter who took the part of Fuller. She created a believable character, I thought, unlike Lily-Rose Depp who gave a somewhat shallow interpretation of Isadora Duncan, Fuller's rival at the time.
Fuller's own version of her life story is available (with some restrictions in certain cases) in an online version. Details at this link.
Homage to Carla Fracci. Daniel Schinasi
I was surprised to find, while strolling through the lovely little Italian town of Castiglioncello, an advertisement for an exhibition of paintings by Italian neo-futurist artist Daniel Schinasi, which included a painting called Homage to Carla Fracci (see below). We were very close to the venue advertised, a cafe in a nearby park, but the cafe was closed, seemingly in the throes of a small renovation. The manager, however, kindly let us in to look at the paintings.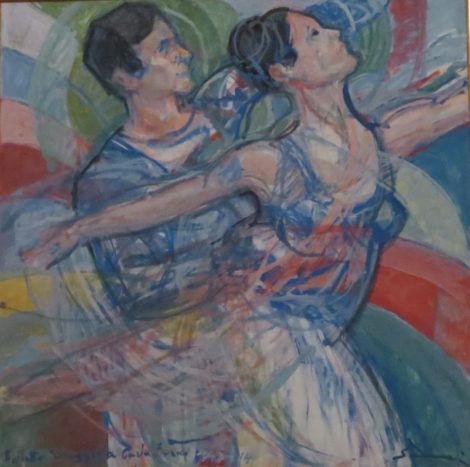 Three of the paintings in the cafe were dance-related and, in addition to the Carla Fracci work with its swirling, circular patterns in the background, I was especially intrigued by one that seemed to by inspired, at least in part, by Picasso's front-cloth for the ballet Parade, although who is it character sitting on the winged horse?
A very interesting small show of work.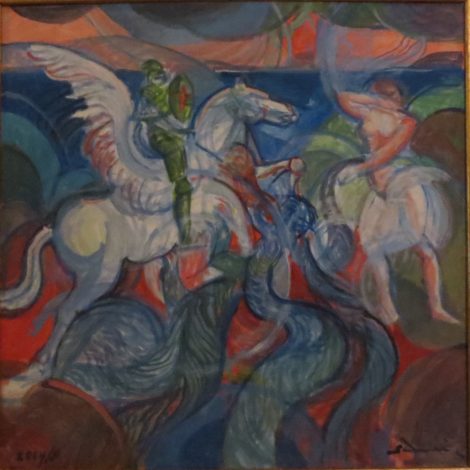 –
The long list of nominations for the 2017 Australian Dance Awards includes four groups/artists from the Canberra dance scene. Philip Piggin has been nominated for Services to Dance; Australian Dance Party for Outstanding Achievement in Independent Dance for Nervous; QL2 for Outstanding Achievement in Youth Dance for Connected, and Liz Lea and collaborators for Outstanding Achievement in Community Dance for Great Sport! Congratulations to all, and good luck for the next round, which will produce the short list.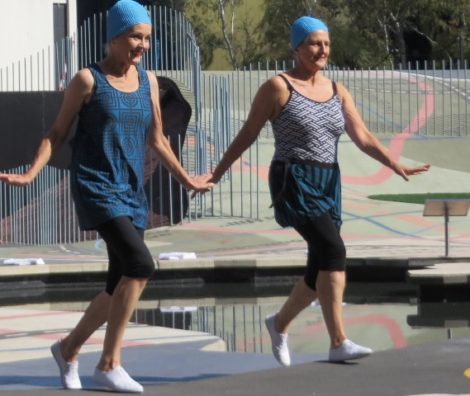 Michelle Potter, 29 April 2017
Featured image: Soko as Loïe Fuller in La danseuse. From the poster advertisement for the film.