The Royal Museum of Fine Arts in Antwerp has one room devoted to sculptures that mostly allude to the past, in many cases to classical antiquity. At first glance the room appears to be simply that—a place where smooth, white marble pieces speak of a period long past. But, suspended in one corner of the room is Bruges 3003 by Jan Fabre and when one's eyes alight upon it one is quickly jolted out of one's comfort zone.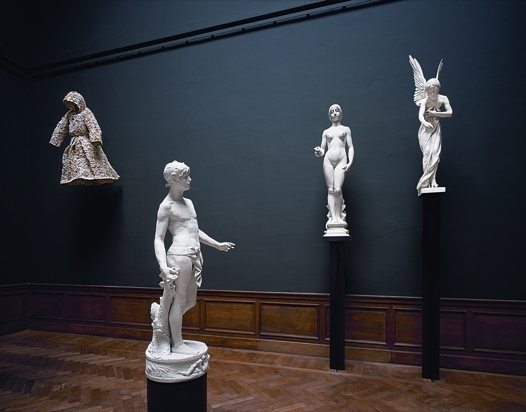 Bruges 3003 was made in 2002, and its title thus anticipates a millennium (plus a bit more). It has an alternative title—'Monk with bones'—and is made from metal wire, human bones and animal bones. One commentator has indicated that Fabre explained these monks' robes (and there are others in addition to the one hanging now in Antwerp) as 'representative of a spiritual body, a kind of exoskeleton'. With their use of human remains they also pursue Fabre's long standing and ongoing interest in the body in all possible forms.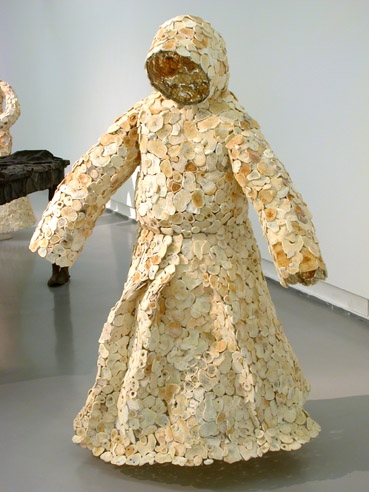 Fabre has installed his work in a fashion similar to the Antwerp hang on previous occasions, notably in an exhibition in the Louvre in Paris in 2008 when various of his art works were hung alongside works by artists from the Flemish and Dutch schools, including Rembrandt and Rubens. Such hangs have not always drawn positive comments, with the Parisian newspaper Le Figaro commenting of this 2008 show '…. why this mania to bring this farce into classical museums, and in particular the Louvre?'
But with his juxtapositions Fabre, who is widely known to the Australian dance community as a choreographer—perhaps more so than as a visual artist, sets up a dialogue between the old and the new, between past, present and future. The room in Antwerp becomes something of a moveable and certainly a theatrical experience. It allows the mind to jump between time periods in a spontaneous way. A viewing is a singular joy, as are the thoughts that arise from a viewing, even down to the movement back and forth contained in the numerical palindrome of the title Bruges 3003.
Michelle Potter, 24 July 2009