In January I received a query via the contact box on this site about some YouTube footage of Graduation Ball. I had never come across this footage before and sadly the vision is of very poor quality. The material has obviously been transferred from format to format on more than one occasion. As for the query, it concerned the date of the footage and eventually I suggested the date of 1947–1949 from the late period of de Basil's company in the United States. What made me initially feel that it was late 1940s was that I thought I saw, for a flash, Valrene Tweedie as one of the 'fouetté girls'. In one of the interviews I did with Tweedie I asked her about the roles she had danced in Graduation Ball and she mentioned that she had been one of the 'fouetté girls' for de Basil towards the end of her career with him. Watching the footage, I thought I caught a glimpse of a familiar facial expression. Peering hard at the opening credits, I noticed the name Paul Grinwis, and further investigation confirmed that Grinwis had been with de Basil in the late 1940s, which confirmed my initial dating.
Below are links to the two segments of footage. Any further information would be most welcome
Further information about some of the images in the National Library's Bodenwieser collection has recently come to light. Those close to Bodenwwieser recently identified the 'unknown dancers' in some of the Library's digitised images. The most interesting comments concern a photograph of dancers on what has been regarded as a 1950s New Zealand tour. Well this is probably not the case.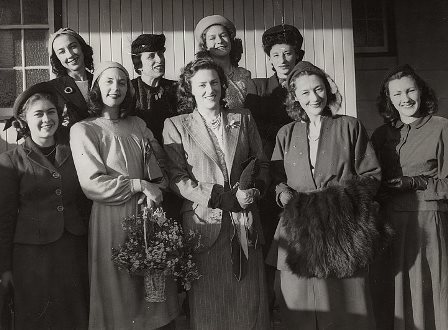 The dancers in the image above have been identified as L—R back row: Jean Raymond, Madame Bodenwieser, Pamela Mossman, Dory Stern; L—R front row: Elaine Vallance, Coralie Hinkley, Mardi Watchorn, Eileen Cramer, Denise Searlie. Those who appeared with Bodenwieser around this time say that neither Pamela Mossman nor Denise Searlie performed in New Zealand and that their time with the company was earlier than the date of 1950 given on the record. They believe that the photograph was taken around June 1948 (the weather is cool as suggested by their clothing) and at that time the Bodenwieser Ballet performed in Brisbane and on the north coast of NSW. They suspect the photograph was shot at Brisbane Railway Station. The National Library catalogue record should reflect this new information shortly. [Update September 2020: Sadly, this new information has not been added to the National Library's catalogue]
My recent interview with Rafael Bonachela is due to be posted soon on the DanceTabs website. I spoke to Bonachela in mid-January and, as ever, was overwhelmed by the passion and generosity of Sydney Dance Company's current artistic director. A link to the post is forthcoming. [Update: here is the link].
Michelle Potter, 31 January 2014
Featured image: Rafael Bonachela at Walsh Bay, c. 2014. Photo: © Peter Grieg