Tatiana Stepanova, who arrived in Australia in December 1939 with the third of Colonel de Basil's touring Ballets Russes companies—the Original Ballet Russe—died late last year in Florida. The company's Australian debut was in Sydney on 30 December 1939 and on that night Stepanova danced in Les Sylphides and was partnered by Serge Lifar. Her performance was noted as an 'astonishing debut' by 'a sixteen-year old girl, who had never before had a leading part'. One reviewer applauded her 'floating serenity' and 'technical fearlessness'.
But even before she had set foot onstage in Australia, news of a potential star was being reported by the Australian press. The Orcades, on which a large contingent of company members had travelled from London, docked first in Fremantle, Western Australia, and The Argus newspaper reported from there that Stepanova was said 'to show promise of surpassing Pavlova'. De Basil was recorded as saying 'She is the kind of dancer one finds once in 50 years. She has created a sensation in Europe'.
Stepanova also appeared in early performances of David Lichine's Graduation Ball, which had its world premiere in Sydney on 1 March 1940. She danced the Sylphide in the divertissement 'The Sylphide and the Scotsman' partnered by Michael Panaieff. She did not created this role—opening night was given to Natasha Sobinova and Paul Petroff, but cast sheets indicate that Stepanova danced it at least as early as 5 March. A number of photographs of her as the Sylphide were shot by Melbourne-based photographer Hugh P. Hall and many show the expressiveness of her upper body and her long and exquisite line.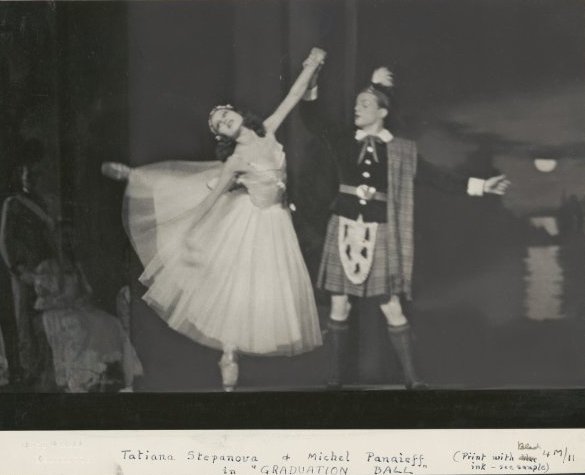 An obituary of Stepanova appeared earlier this month on the ballet.co.uk site. It was written by Renee Renouf Hall who had also been working with Stepanova on her memoirs.

UPDATE: Unfortunately the link to this obituary is no longer available
© Michelle Potter, 28 January 2010
Discover more on Trove.