Ballet Confidential
by David McAllister
[Thames & Hudson, 2023]
Soar
by David McAllister with Amanda Dunn
[Thames & Hudson, 2021—also available as an e-book]
Books reviewed by Jennifer Shennan
David McAllister has through this year, 2023, been Acting Artistic Director of Royal New Zealand Ballet—to oversee the process of appointing a permanent Artistic Director, and to stabilise the management situation after both the previous directors, Executive and Artistic, had departed suddenly from their positions at Company.
It's therefore been timely to be reading Ballet Confidential, to learn about McAllister's own long-term career as a dancer, then his even longer term as Artistic Director, with the Australian Ballet. As well there is his earlier and more personal memoir, Soar, written with Amanda Dunn, both books published by Thames & Hudson.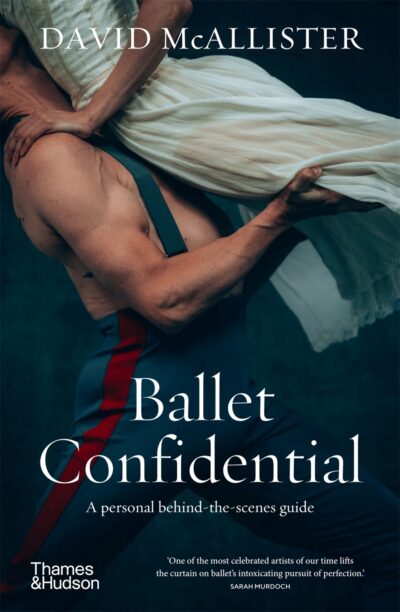 McAllister's writing is eminently accessible, conversational in tone, addressing the reader directly. He keeps a friendly, light, honest and humorous touch throughout—giving the welcome impression that he takes his art, but not himself, seriously. There is sincere respect for the dancers whose dedication and discipline is the seminal part of any company's achievements—as well as insights into the management and governance responsibilities involved in directing that river of talent.
McAllister is out to debunk the reputation of ballet as an elite theatre art that entices only its afficionados, and he offers numerous encouragements to those who think ballet is strictly for the birds, who don't attend performances because they 'can't hear the words' to instead give it a go.
New Zealand readers who have followed the fortunes of our own national company across its 70 years cannot help but compare the scale of company size and resources for dance between the two countries. The Australian Ballet has become a flagship company for its country with a number of high-profile and successful international tours to its credit. Our own company has not toured internationally for a number of years (not a Covid-related phenomenon) but anyone who pays attention to the fortunes and woes of ballet companies worldwide will nonetheless know ours as a stalwart and determined 7 decades-long endeavour that has served drama, joy, vivacity, solace, style and beauty to its home audiences.
Ballet Confidential is not intended as a scholarly history of ballet—but it certainly contains much of interest as McAllister traces some of the seminal figures who have featured in Australia's dancing life. (In this regard I'd have valued an Index for the book—since Soar does include a very good one, and has photos of very high quality on dedicated paper).
The reader can also recognise telling comparisons with New Zealand in other areas—particularly in the acknowledgment of First Peoples' prominence in historical, cultural and social identity. There is also the issue of the resources given to sport across its many codes, with all the touring of teams and spectators alike, and the wealth of domestic and international media coverage beyond compare. Ever positive in his thinking, McAllister nonetheless points out the striking progress across the past few years in elite sports training, injury prevention and management that are such a near and present issue for sportsfolk and dancers alike, and that the relevant medical practitioners have been able to share their approaches to the challenges common to both callings.
It is wonderful to be reminded of AB's major seasons of commissioned full-length choreographies. Graeme Murphy is the shining star in the firmament there—with his extraordinary Nutcracker: The Story of Clara, and the celebrated Swan Lake. (Lucky those of us who crossed the Tasman to see the latter—and top marks to those who made the feature film of Clara, so we have been able to see that too. It's available for viewing on Vimeo through AB website).
David tells the story of being a young dancer in his first year at the Company, 1983, cast in Le Conservatoire, the Bournonville work staged by Poul Gnatt on Australian Ballet. (He had earlier staged it on the Australian Ballet School during the 1960s). David enjoys the symmetry and longevity of that association through being Interim AD of the company Gnatt founded here in 1953—'so Poul is still giving me the chance to do something worthwhile all these decades later'.
The announcement just last week of the new Artistic Director of RNZBallet, Ty King-Wall, a New Zealander with many years' experience in Australian Ballet, is most welcome, and my heart skipped a beat of joy (is that what a cardiologist would say?) to read in King-Wall's profile that he has danced lead roles in Bournonville choreographies over the years, so he understands the technique and style of our company's original tradition.
There are other names to slip in here of the ballet links between our two countries and two companies—apart from van Praagh and Gnatt, and Borovanksy before them—that includes sharing Bryan Ashbridge, Jon Trimmer, Jacqui Trimmer, Harry Haythorne, Roy Wilson, Susan Elston, Fiona Tonkin, Graeme Murphy, Jane Casson, Martin James, Adrian Burnett, David McAllister, and now Ty King-Wall with his dancing wife, Amber Scott. These are ties that bind.
Jennifer Shennan, 17 September 2023
Featured image: David McAllister, 2019. Photo: Georges Antoni