Anne Hendricks Bass, who has died in New York at the age of 78, was one of the most generous donors to the Dance Division of the New York Public Library for the Performing Arts. I met her very soon after I arrived in New York in 2006 to begin my tenure as Curator of the Dance Division. I have so many fond memories of the occasions I worked with her on one or other of her projects. I loved that she was so passionate about dance, ballet in particular, and the visual arts, and that she worked tirelessly to support and promote the things that mattered to her. She was an absolute perfectionist, which I also loved. I count myself fortunate that I met her in so many different situations. Here are some of my favourite memories.
Anne had an apartment on 5th Avenue and I recall clearly going there on one occasion on official Dance Division business. Stepping out of the elevator I was ushered in without noticing what I was walking past. On the way out I almost tripped over what I didn't notice initially. It was a Degas sculpture, the one I use as the main image on the home page of this website, Little dancer aged fourteen (1878-1881). I was staggered to be so close to it and very relieved I hadn't tripped over it!
Anne also invited me to work with her on weekends with some material she had gathered for a film she wanted to make about a young Cambodian, Sokvannara Sar, whose familiar name is Sy. Anne brought Sy to New York to be trained as a ballet dancer after seeing him dance in Cambodia on a visit there in 2000. Those working weekends were spent on her property in South Kent, Connecticut, in truly beautiful surroundings. There were several buildings on the estate and my husband and I were accommodated in the cottage in the image below, seen through the surrounding wintery landscape. The film that we worked on in Connecticut, Dancing across Borders, was made after I had left New York but I will forever remember the beautiful countryside of Anne's Connecticut estate, those mornings and afternoons examining material, and the dinners with Anne and her partner, artist Julian Lethbridge, in the 'big house' each night.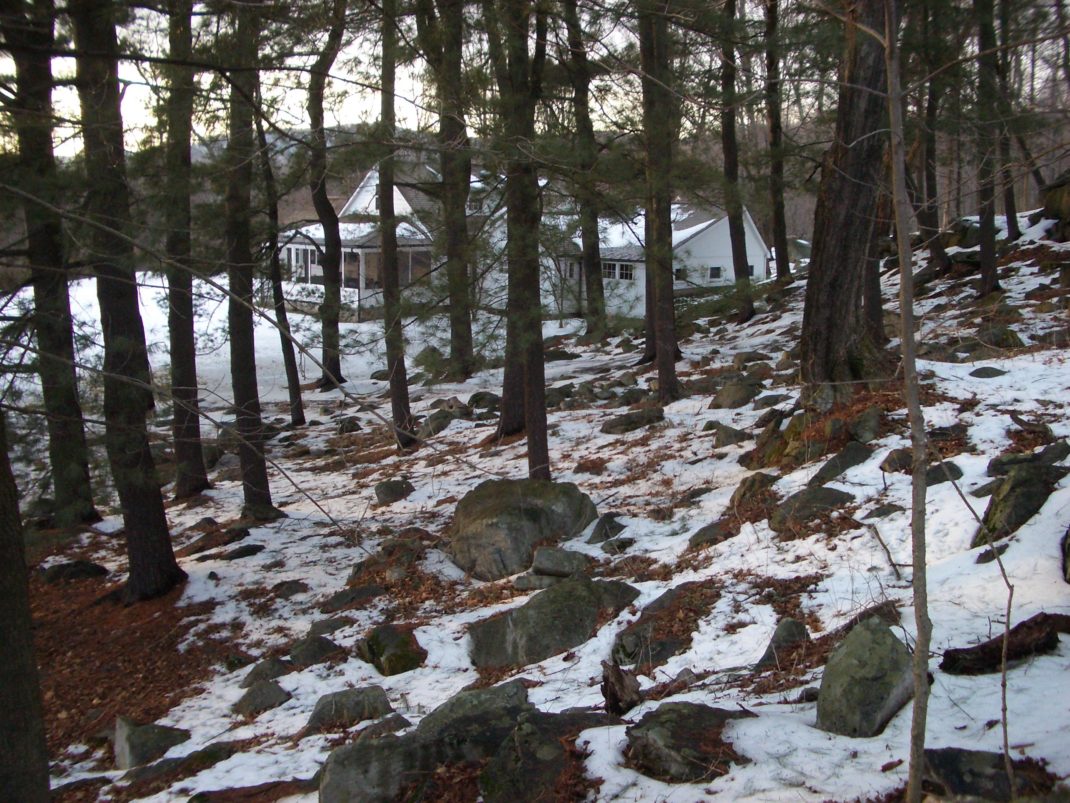 During my tenure as Curator in the Dance Division Anne also initiated and funded a number of significant projects. The two that stand out for me are Speaking of Dancing and the Khmer Dance Project. Both were basically oral history projects. With Speaking of Dancing I had the honour of interviewing Lupe Serrano, which was an audio only interview, and I recall sitting in on another interview, a filmed one this time, with designer Holly Hynes. Other interviews were recorded after I left and interviewees included Carolyn Brown, Wendy Whelan, Julie Kent and Ethan Stiefel.
The Khmer Dance Project began just before I left and was designed to record, on film, interviews with three generations of artists, including dancers, musicians and singers, who kept dance alive during and after the regime of the Khmer Rouge.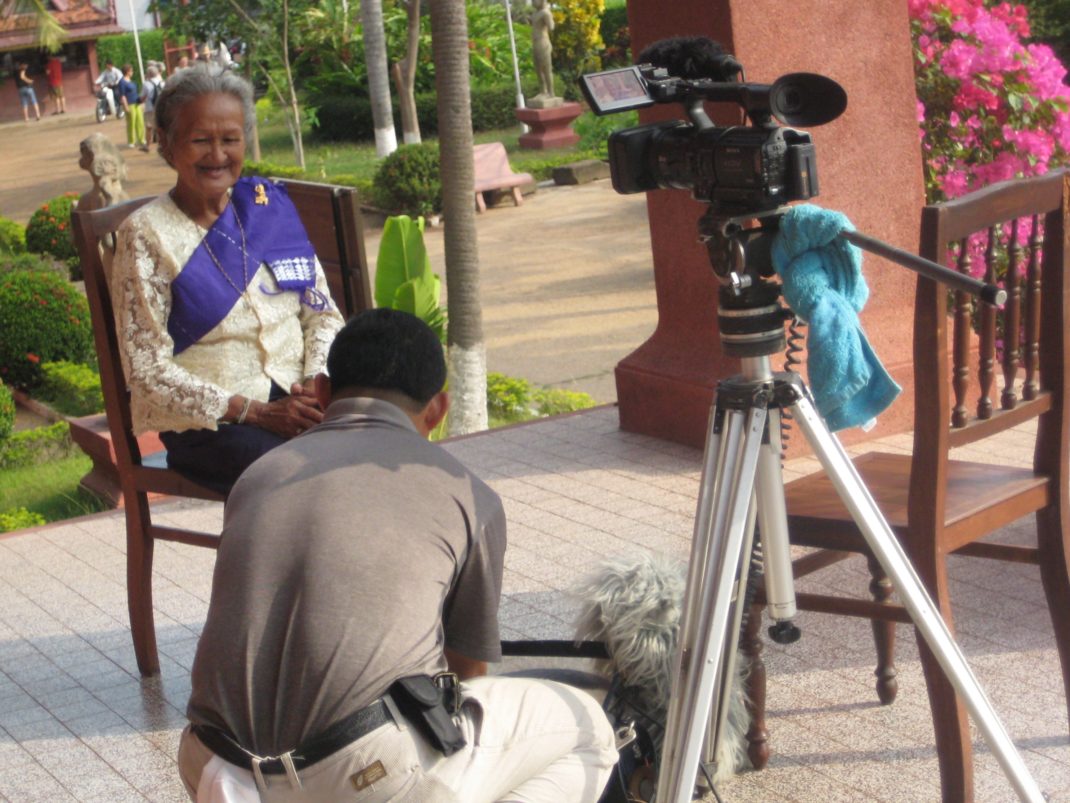 The only photo I have of Anne in my personal collection is below. Taken by an unidentified photographer, it shows Anne on the right of the image standing next to Sy on his first visit to New York from Cambodia.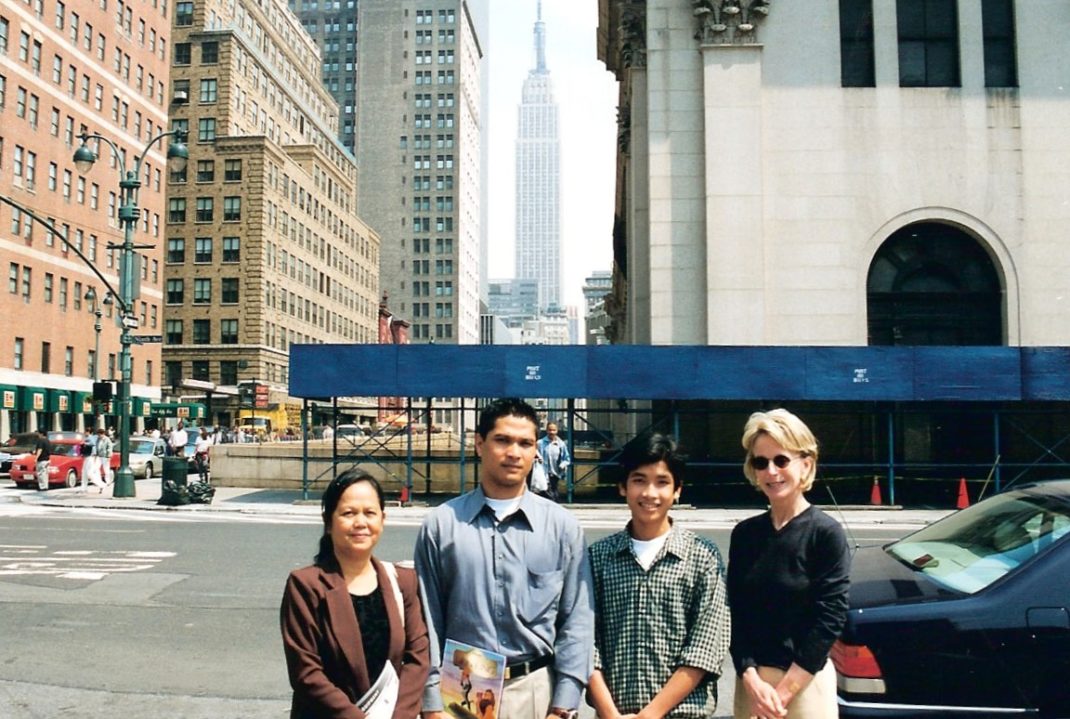 There are countless expensive-to-use images of Anne on the web, but I knew her as she appears in the image above. Anne was an exceptional human being whose humility and generous nature shone whether she was at a glamorous social gathering or standing in a New York street.
The flowers below were a gift from her to me for nothing more than the fact that I was happy to talk to her about my background, especially the work I had done at the National Film and Sound Archive in Canberra, which led to the invitation to work with her on weekends. Who else would send flowers following what I regarded as just a friendly, informal chat? That was Anne.
Anne Hendricks Bass. Born Indianapolis, Indiana, 19 October 1941; died New York City, New York, 1 April 2020
'Only in the darkness can you see the stars'
Michelle Potter, 5 April 2020
Featured image: Anne Bass with Sokvannara Sar, 2010. Detail from a promotional image for the film Dancing Across Borders. © Timothy Greenfield-Sanders. Courtesy Dancing across borders, a film by Anne Bass