28 April 2023. National Arboretum, Canberra
Hillscape, choreographed by Ashlee Bye in association with Australian Dance Party, was performed in the Amphitheatre at Canberra's National Arboretum. It is a stunning outdoor venue with one problem—from where we the audience were required to position ourselves (on the very edge of the huge circular space, mostly standing unless we had brought a folding chair or were prepared to sit on the grass), the dancers were tiny figures in a vast grassy area. Luckily the images below give a close-up look at the nature of the choreography, which was not so clear from the edges of the amphitheatre. Peter Hislop's image, as the featured one on this post, also shows the three black devices that produced (beautifully) Dan Walker's original score commissioned by A Major Lift.
Early in Hillscape, the dancers worked with long pieces of cloth in shades of light and dark pink, sometimes with each performer manipulating an individual piece, at other times working together with one piece of cloth. And this separation/togetherness was an ongoing featured of Hillscape. The three dancers constantly came together and separated.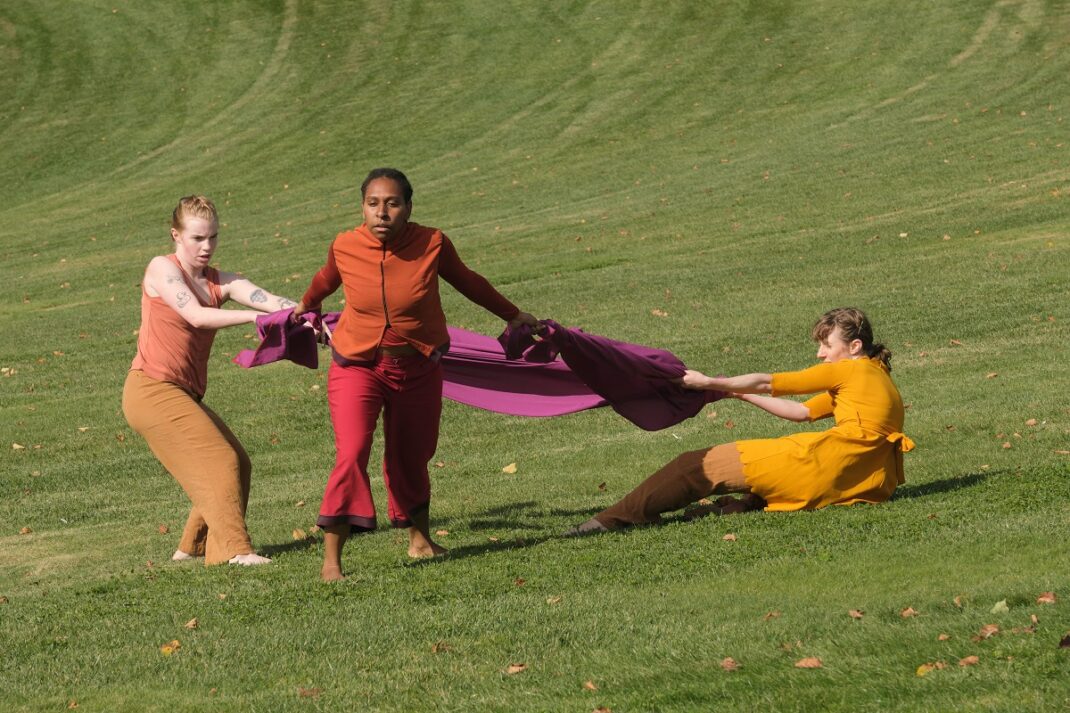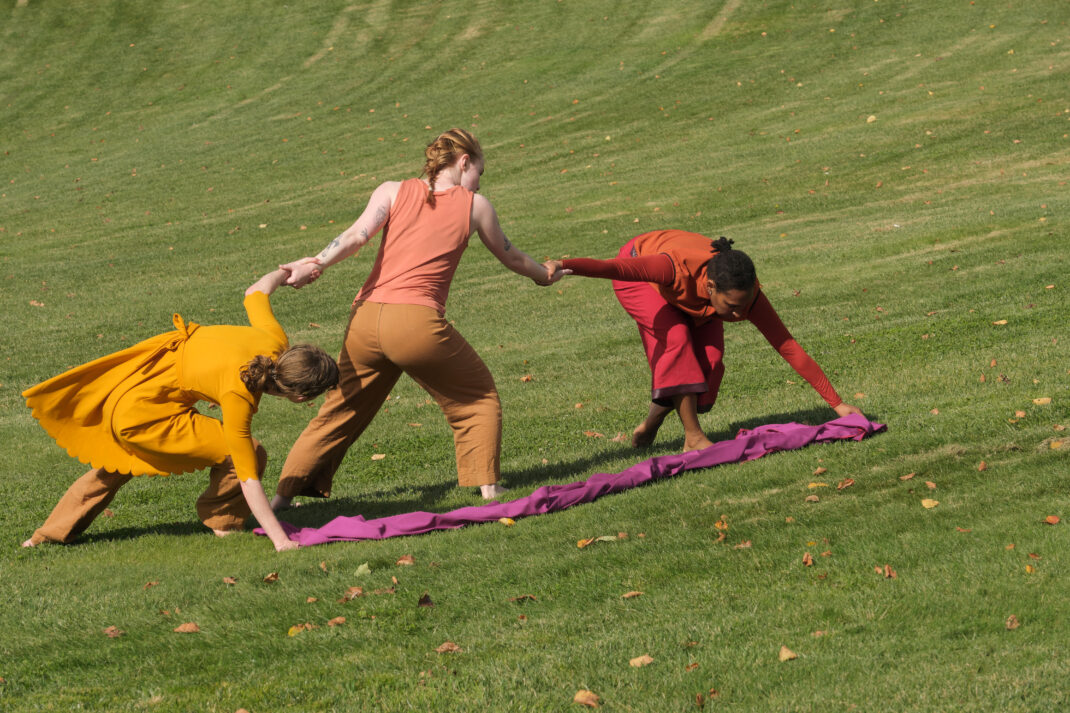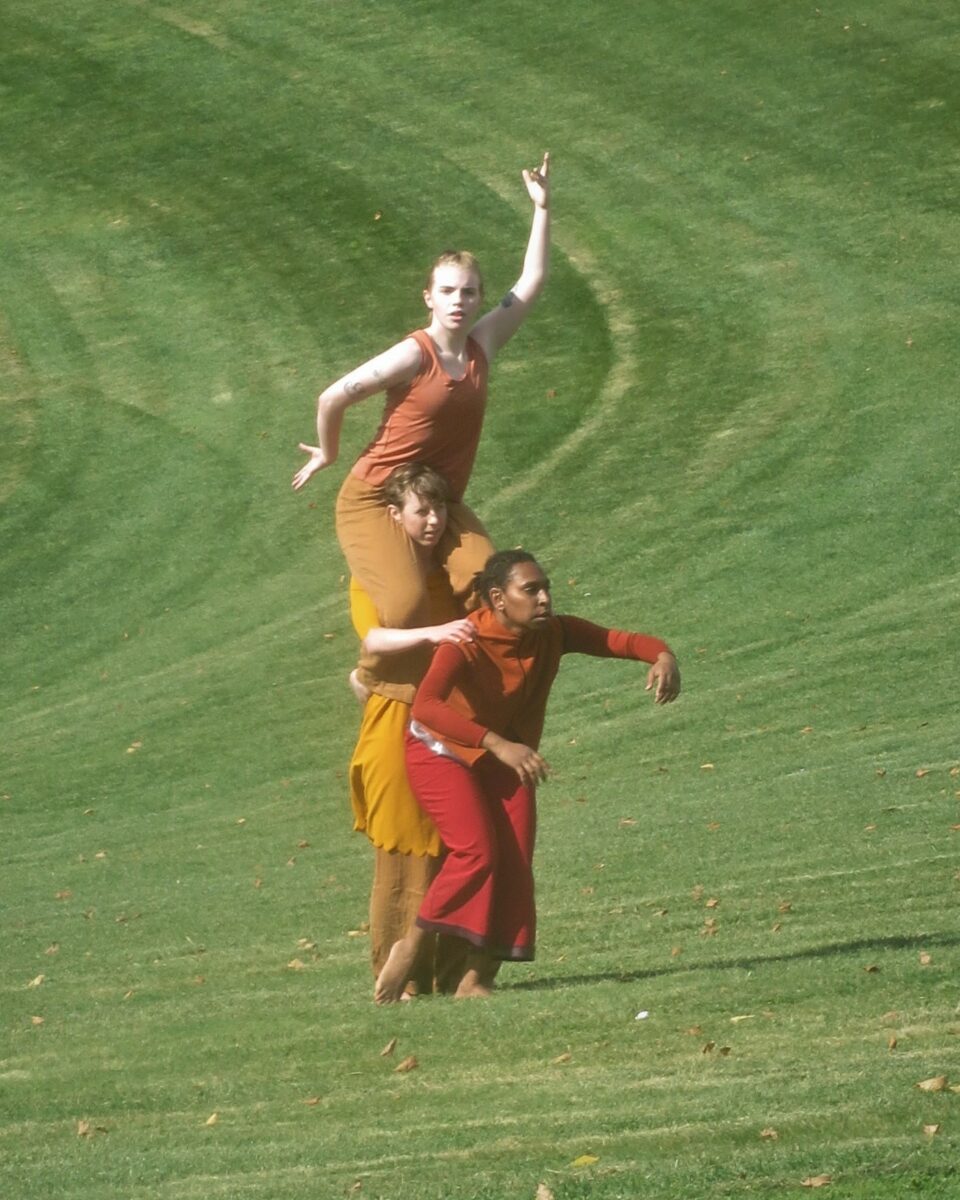 But ultimately the frustrating view we got from afar had to be seen as a reflection of the focus of the work—the endless cycle of generation and regeneration taking place in a vast landscape, made more relevant given that the Arboretum was created on land that was burnt to cinders in the disastrous bushfires that hit Canberra twenty years ago in 2003. There were moments in the work when it seemed that there was a struggle to survive, but others when growth seemed assured, and indeed had happened. But, nevertheless, I wished I could have had a closer view of the choreography, especially the detailed movements but also of the lyrical, swirling sections danced with skill and style by the three dancers.
Hillscape, commissioned by Ausdance ACT as part of its Dance Week program, was a component of Seeds of Life, a session in the 2023 Canberra International Music Festival (CIMF). It was preceded by a performance from clarinettist Oliver Shermacher, which we saw and heard in the Margaret Whitlam Pavilion; and three other musical presentations that took place in various outdoor locations in the Gallery of Gardens. Shermacher's performance was a brilliant display of a highly theatrical attitude to musical presentation as at one stage he involved the audience using their mobile phones to provide a background to his playing, and he sang, spoke, moved (danced?) and generally surprised throughout.
Despite my frustrations, I am pleased I was able to see Hillscape, which had just one performance as part of CIMF. It not only suggested that Ashlee Bye is a choreographer to watch, but continued Australian Dance Party's image as a company presenting site-specific works with unusual vision and inventiveness.
MIchelle Potter, 29 April 2023
Featured image: Patricia Hayes-Cavanagh, Ashlee Bye and Yolanda Lowatta in Hillscape, Australian Dance Theatre, 2023. Photo: © Peter Hislop.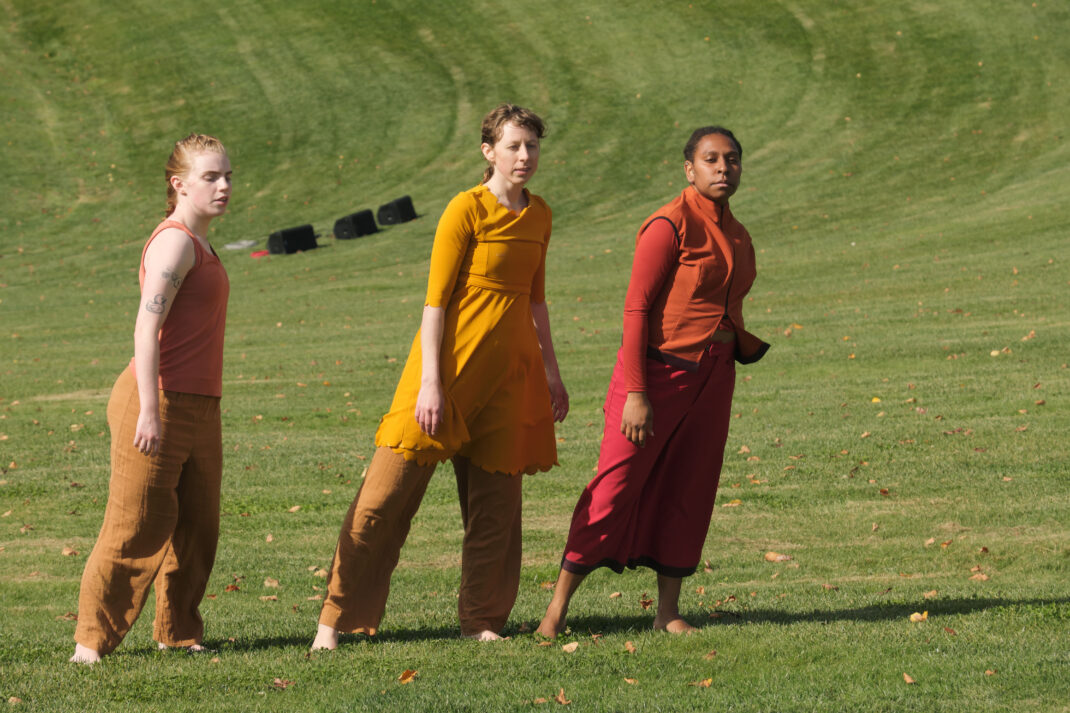 Below is what the performance looked like from the edges of the amphitheatre!