2 April 2022. The Playhouse, Canberra Theatre Centre
The work of Jake Silvestro defies categorisation. He is at once a dancer, a circus performer, a physical theatre artist, and a visual artist. All these qualities appear quite clearly in his solo show, December.
As we enter the theatre for December, our eyes are drawn to a dimly-lit stage covered by detritus that looks initially like rocks but turns out to be large sheets of crumpled paper. A fireplace without a surrounding wall sits in one downstage corner. We can hear the sound of birds chirping in the background and, as the show proper begins, the lighting changes to a reddish glow. Silvestro walks into this setting and rustles around in the scrunched paper. He uncovers some items including a small box, which we later discover is filled with pieces of chalk and other materials used for drawing; and a curved piece of wood of some sort, which later turns out to be part of a Cyr wheel. December is Silvestro's personal reflections on the disastrous fires that consumed parts of the Australian bush in December 2019 and into 2020. That reddish lighting of course suggests those fires! And the set suggests a burnt out residence.
Throughout the piece, Silvestro moves around the set sometimes in a slow, thoughtful walk, but most times with spectacular leaps, runs, tumbles and jumps. He sometimes uses the props on the set as aids or additions to his movement. A dance with two chairs, one untouched by the fire, the other damaged, which he uncovers from amongst the crumpled detritus, shows us his skills in incorporating objects into his choreography. His interest in the visual arts takes over on a number of occasions and he manipulates large pieces of cloth so they become a background for his drawing and painting. He takes out some chalk from the box he found and draws geometric patterns on the stage floor. I wonder what he is doing but decide he must be drawing the floor plan of the burnt out residence. Or perhaps how the house will look when he rebuilds.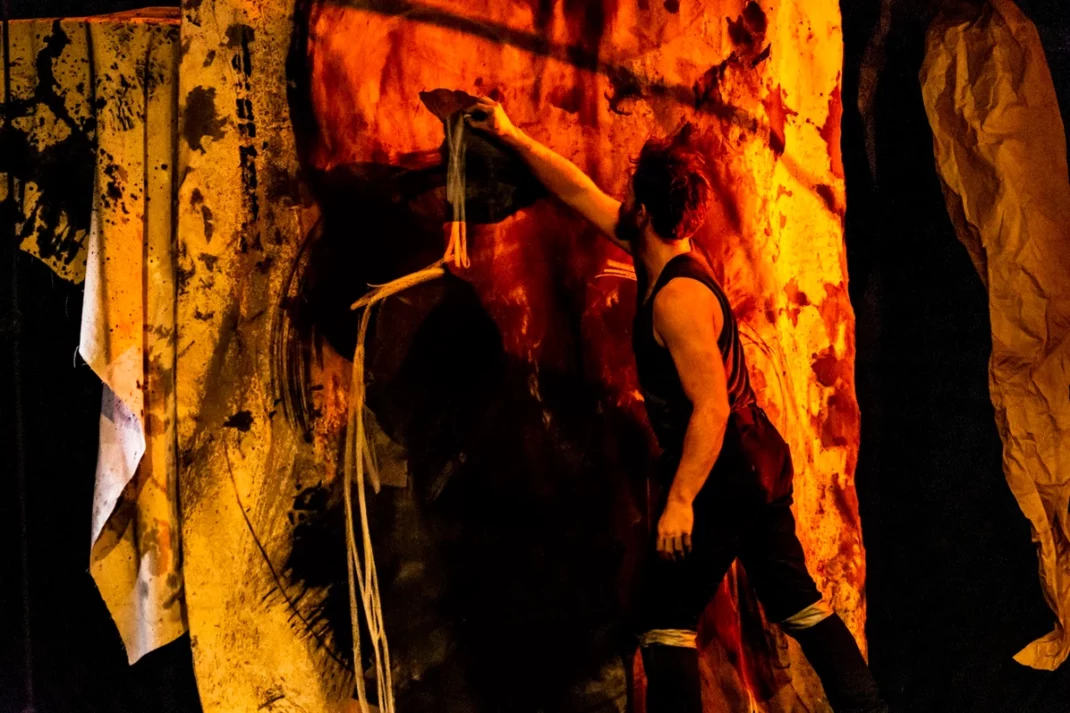 At one stage Silvestro picks up some pieces of fabric that he fashions into items that represent people. One represents a baby. He cradles it in his arms. Another is a head (of a woman, a partner perhaps). He touches it lovingly and then dances with it. A storyline is in there somewhere but it's up to us to make it up.
Two particular moments stand out for me. In one Silvestro picks up the piece of curved wood he has rescued from the crumpled mess on the floor and joins it to another larger piece of circular material so that a Cyr wheel is created. He is a fabulous performer on this item of circus paraphernalia and his whirling and spinning while inside the wheel are breathtaking. In another he adds a brightly coloured shirt to his rather workman-like costume (that of someone who has been fighting the fire perhaps), picks up some brightly coloured hoops and proceeds to engage us with a brilliant display as he manipulates the hoops, letting them play up and down and across his body. It is a particularly joyous moment compared with most of the rest of the work and suggests perhaps that there is hope for the future.
December was an engaging show filled with many emotions and some great movement. I wish, however, that there had been some sort of handout, or information board in the foyer, that at least gave credits. I have no idea who did the lighting, who designed the soundscape, who was responsible for the setting and so on. Some of us like to know, especially if we are writing up the show. Perhaps next time?
Michelle Potter, 5 April 2022