Dance for Ukraine, a humanitarian appeal to raise money for Ukraine and its people, was put together and directed by Alina Cojocaru (Romania) and Ivan Putrov (Ukraine). It was staged on 19 March 2022 at the London Coliseum and was streamed on Marquee TV making it accessible for those of us who live outside London. It was a great opportunity to see a range of artists dancing a range of choreography, some of it familiar, some not, some filled with sadness and mourning, some filled with joy and hope. It was also a great opportunity to donate via the (minimal) cost to stream, with the possibility of making a further donation as well.
The gala opened with a dramatic and moving rendition of the Ukrainian national anthem. This powerful and emotion-filled singing by a small choir of voices led by Ksenia Nikolaieva was followed by short, spoken introductions by Cojocaru and Putrov, who trained together as children in Kyiv. Then the dancing began.
It was a initial shock that the first dance was a pas de deux from Liam Scarlett's No Man's Land. I am lucky enough to have seen this work twice, once with English National Ballet, who commissioned the work in 2014, and once with Queensland Ballet, who staged it in 2017. It is an extraordinary work and my initial shock was nothing to do with its appropriateness for the gala. It was appropriate as this pas deux concerns a woman's reaction to her realisation that the man in her life was not returning from war. My feeling of shock was that we were seeing a work by Scarlett, one which I thought I would never see again. It was, however, an exceptional experience to see once more the sense of loss conveyed by Scarlett's choreography and, of course, death is now part of the Scarlett story so a certain degree of symbolism could easily be felt. The Act II pas de deux from Scarlett's version of Swan Lake was also featured later in the program.
Looking at the program as a whole, the standout dancer for me was Francesco Gabriele Frola partnering Mayara Magri in the Ali and Medora pas de deux from Le Corsaire. Frola is now a principal with English National Ballet and his technique and stage presence are spectacular. He is one of those dancers who gives one goose bumps from the minute he steps onstage, not to mention the gasps that can't be held back when watching his manèges, his beats, his turns and his beautiful attention to his partner.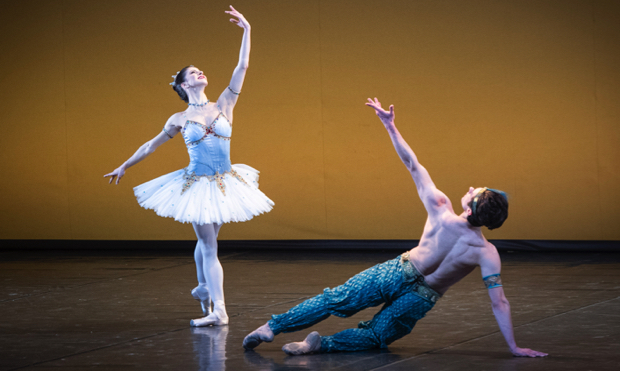 Also highly interesting were two male solos—The Dying Swan danced by Cuban born Javier Torres with choreography from Michel Descombey and Lacrymosa danced by Royal Ballet first soloist Luca Acri with choreography by Edward Stierle. This Dying Swan was a far cry from the Anna Pavlova version with which many are more than familiar. It had a very human element to the choreography as we watched a man, whose life seemed to be crumbling under physical pressures, hover closer and closer to death, although fluttering hands and arms paid service to the original solo. Luca Acri danced his solo, Lacrymosa, to a section of Mozart's Requiem and showed off a stunning technique full of control, fluidity and power.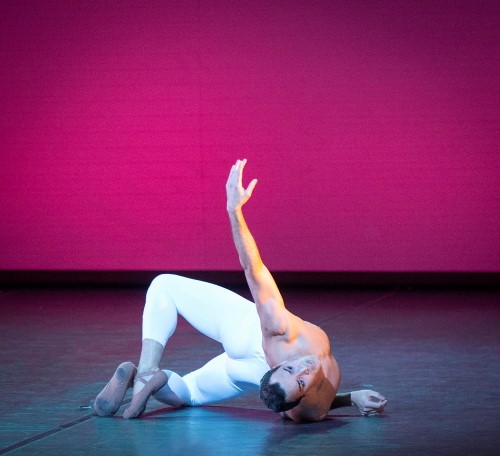 There were some items that were not so steeped in sorrow. I enjoyed a beautiful performance of Balanchine's Tchaikovsky pas de deux danced by the magnificent Marianela Nuñez partnered by Reece Clarke and also a work I had never seen before, one of Ben Stevenson's Three Preludes danced by Junor Souza and Emma Hawes. The Stevenson work, danced around and on a portable barre, was quite simple but beautiful in the way it showed an arrangement of shapes that can be put together by two dancers working with a strictly classical vocabulary. Then there was a performance of the grand pas de deux from Carlos Accosta's production of Don Quixote performed with panache by Miki Muzitani and Mathias Dingman.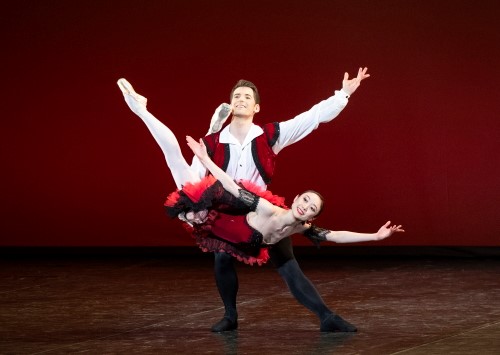 Other works included a section from FAR by Wayne McGregor, an extract from John Neumeier's Lady of the Camellias with Alina Cojocaru and Mathieu Ganio, a section from Bournonville's La Sylphide, a work called Ashes choreographed by Jason Kittelberger and danced by Natalia Osipova, and a section from Kenneth MacMillan's Requiem.
Cojocaru and Putrov have said 'We are united in our belief that art can and must stand up for humanity. So many of our fellow artists believe the same and have joined us to show their support for the people of Ukraine in this moment of need.'
Michelle Potter, 26 April 2022.
With thanks to Elliott Franks for permission to use his images. The streaming of Dance for Ukraine on Marquee TV ended on 24 April.

UPDATE: Availability extended until 2 May.