11 May 2023. Glasshouse, Port Macquarie
Following on from a season in New Zealand, the Grand Kyiv Ballet of Ukraine gave the first Australian performance of its double bill, Forest Song and Don Quixote, in the New South Wales coastal city of Port Macquarie. Both works were condensed versions of evening-length ballets and, while I had no advance problems of having an engagement with a condensed version of Don Quixote, having seen that ballet multiple times around Australia and elsewhere, I wondered how I would manage with Forest Song, promoted as a Ukrainian classic making its Australian premiere. Well, I had no need to worry. Both works were accompanied by spoken interludes that filled out the storyline—an essential accompaniment to Forest Song, at least for me.
Forest Song, the ballet, was adapted from the 1911 poetic play of the same name by Ukrainian writer Lesya Ukrainka and was first staged as a ballet in the 1940s. It tells the story of a clash between humans and the spirits of the forest as exemplified by the activities of a young musician, Lukash, and his relationship first with Mavka, spirit of the forest, and then with a scheming peasant woman, Kylyna, who is pushed along in her quest for Lukash by her conniving mother.
In many respects, much of the choreography is quite static. One pose follows another without much 'joining' movement, and I suspect this relates back to the fact that it was created 80 or so years ago. A showy end where fouettés, and grand allegro seem there for effect rather than for any other reason similarly appears to date back some years. But a highlight was the wedding scene between the hero, Lukash, and the peasant daughter, Kylyna. It was filled with folk dancing of the kind we used to see in Australia, back in the 1960s or so, from visiting companies from the Ukraine region. It contained much clapping from bystanders and solo acts from various male cast members.
But in this wedding scene the standout performers for me were Margaryta Kuznietsova as the Mother and Veronika Stepanenko as her daughter, Kylyna. Kuznietsova maintained her characterisation so strongly throughout the scene, as did Stepanenko. It was a thrill to see their emotions so plainly exhibited and to see the physicality that they used to maintain the characterisations.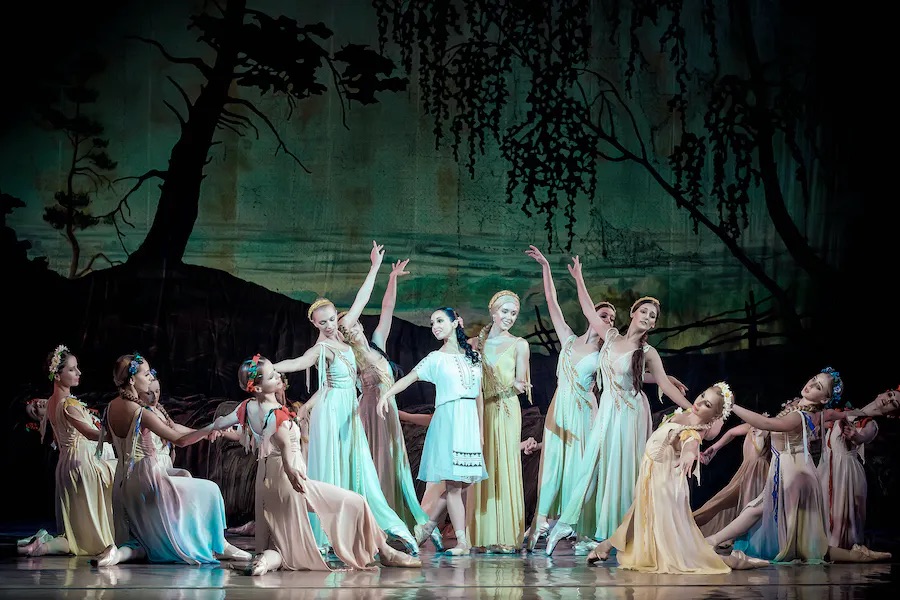 Forest Song in this Grand Kyiv Ballet production is not like any other ballet I have seen. In many respects it reminded me of an old-fashioned pantomime where overacting was always evident and where the dance segments were popped in between text and acting. But I think it is important to see this work for what it is and not wish it looked more like what we know of ballet today. For me it was entertaining and made me look back on shows I have seen in the past (and even shows in which I performed as a very much younger person).
As far as entertainment is concerned, Don Quixote, which in this case consisted of parts of the Prologue, and parts of Acts I and III, was quite fascinating. In particular it was a surprise to see such a different Gamache In this production. We usually see him, Kitri's rich suitor, as an overdressed dandy. But with the Grand Kyiv Ballet he was an ageing man without a fancy hat and with a wig that showed a balding head—no hat, no long, curly wig, just a man with limbs that weren't working well. He was dressed in a decorative violet nd white suit but without the lace and frills we usually see. And his acting was well-tuned enough for us to see that he was interested in Kitri. It was actually a welcome change from the overkill of the usual Gamache. As for Sancho Panza if you thought you had seen him thrown in the air by the people in the square in other productions, well think again and go and see the Grand Kyiv Ballet version of these moments. Sancho Panza is thrown so high he just about reaches the fly system.
But the absolute highlight of Don Quixote was the dancing and overall performance of Mie Nagasawa as KItri. She has such a presence onstage and she involved herself in every moment in a very personal way—never really losing the character she was portraying. And as for that moment in the Act I pas de deux where Basilio (Victor Tomashek) lifts Kitri up high and holds her there with one hand as the music pauses, I gasped because not only did he do that, he also walked backwards for several steps while holding her there.
Stepanenko as the Street Dancer and Kuznietsova as the leading Spanish dancer also impressed me (again) with their beautifully fluid upper body movements and their powerful presence.
I could probably be more critical about various technical matters, but there's no point. I enjoyed these two works, for different reasons in each case. It was entertaining theatre such as you don't often see and there are great reasons to go to the show, including that it supports the Ukraine community. It is an idea, however, to go without preconceived ideas of what you think ballet should be and do. Ballet can be many things. Here is the link to the dates and venues.
The evening ended with a request for the audience to stand for the singing of the Ukrainian National Anthem, an emotional ending to an unusual evening.
My visit to Port Macquarie was generously assisted by Concert Events Ltd and Lionel Midford Publicity and I was also privileged to be given a tour of the beautiful Glasshouse theatre, including its backstage area and the decorative elements that make the interior so appealing.
Michelle Potter, 12 May 2023
I have no full captions for the images, which I think come from a range of performances in different areas.