2 October 2018. Canberra Theatre
The last 'superstar' ballet gala I saw was in New York in 2010. It featured eight male dancers and was called Kings of the dance. Such seasons are not common in Australia, but a new Canberra-based organisation, Bravissimo Productions, has made a commitment to remedying this situation. They have staged a two night, Canberra-only season showcasing ten dancers from Australia, Cuba, Italy and the United States in a program of solos and pas de deux. The 'superstars' were joined by senior vocational students from various training establishments in an effort by Bravissimo to allow such students to share the stage with professional dancers.
The evening was in three sections and the most exciting part was the middle one. It began with Moskovsky Waltz danced by American-born, Bolshoi-trained Joy Womack, currently principal dancer with Universal Ballet in Korea, and Italian artist Francesco Daniele Costa. Those of us who remember the first performance in Australia of Spring Waters (choreography Asaf Messerer) when the Bolshoi Ballet visited Australia in the 1960s (or maybe it was even the late 1950s) were transported back to our teenage years. Moskovsky Waltz, with choreography by Vasily Vainonen, had a similar feel. Its fluidity, its freedom, its gorgeous lifts, were beautifully performed by Womak and Costa. It was just stunning.
The middle section concluded with Ako Kondo and Chengwu Guo from the Australian Ballet dancing the pas de deux and variations from Le Corsaire. Guo's interpretation of his role in the pas de deux did not initially have the swashbuckling glamour one often sees. His eyes were often cast down as if acknowledging his love in a demure and quite moving manner. But by the time we got to the variations Guo was at his startling and incredible best as he threw himself into the spectacular jumps and turns that characterise the variations and coda. Breathtaking really. As for Kondo, she scarcely faltered and her technical accomplishments were outstanding. But what really made it such a show-stopper—the audience cheered and shouted throughout— was not only the technical prowess we saw from each dancer, but the relationship between the two of them. They danced together, for each other and with each other.
In between these opening and closing items of the middle section was a great solo from the versatile Costa—Le Bourgeois, danced to a song by Jacques Brel. It was amusing, clever, partly interpretive of the words of the song, and wonderfully performed in a contemporary manner. We also saw another pas de deux from Le Corsaire, the Pas d'esclave danced by Joseph Gatti of United Ballet Theatre in Orlando, Florida, and Cuban-born Venus Villa. This time, coming as it did from a different part of the full-length Corsaire, we did encounter a swashbuckling pirate in Gatti and an up-front slave girl in Villa. The middle section also included a solo by Avery Gay and a group item by senior students from an unidentified establishment (National College of Dance, Newcastle, NSW, I think).
Other items from the first and third sections of the program included Kondo and Guo dancing the Act II pas de deux from The Sleeping Beauty—and how beautiful it was to see it without the over decorated set that accompanies it in the recent Australian Ballet production. It was danced against a plain backcloth, lit pale pink, and it was a treat to be able to focus on the choreography, and in particular on the slowly unfolding beauty of Kondo's movements, which so often seem to be in slow motion. There were also two pas de deux performed by Taras Domitro and Adiarys Almeida, the pas de deux from La Bayadère Act II and the grand pas de deux from Don Quixote; a contemporary pas de deux from Avery Gay and Tristan Ianiero; the pas de deux from Act II of Swan Lake danced by Gatti and Villa; the balcony pas de deux from Romeo and Juliet danced by Costa and Womack; and another amusing solo from Costa entitled Moscate. There was also some student work including a lovely opening sequence, a short Etudes-style work, choreographed by Daniel Convery.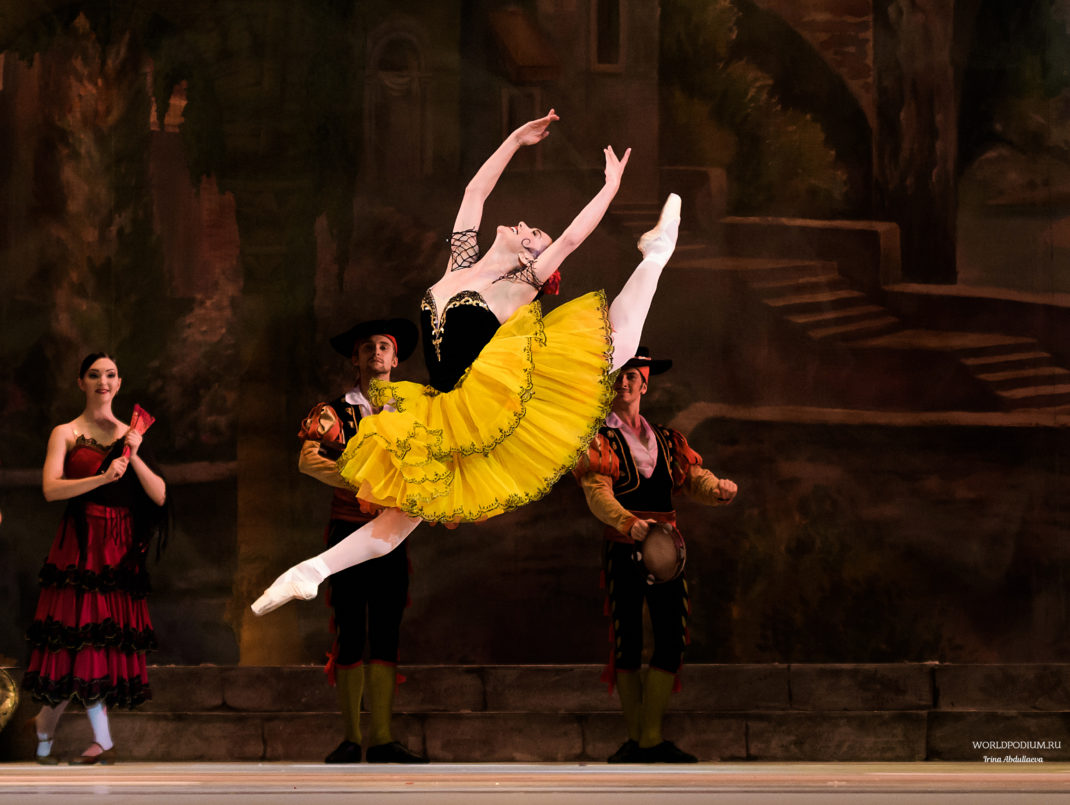 This gala was an exceptional initiative by Bravissimo Productions and we can only hope that there will be more. But there were one or two issues that shouldn't go unmentioned. The stage lighting left something to be desired—there were occasions when the dancers were almost dancing in darkness. There were also a few rather long pauses between items and I thought the music (which was recorded) needed adjusting on some occasions. In particular, the music for the Swan Lake pas de deux was way too loud to the extent that it sounded screechingly awful. It quite took away from the calm serenity that I think should be the overarching mood of the pas de deux. The printed program also needed proof reading to remove the occasional spelling error and inconsistency. And it would be good to have acknowledged specifically where the student dancers came from.
Then, while I admired Convery's opening item, which was nicely suited to the different ages and expertise of the performers, we could have gone straight into it rather than have several young dancers come out first (in front of the curtain) and do a bit of stretching and limbering. Apart from the fact that they had no space, they had trouble finding their way back behind the front curtain, which didn't open until they had all left, and it seemed like we were going to be subjected to something quite amateur (which we weren't). I would also loved to have had some more appropriate images to use. Neither of the images used in this post are specifically from the gala.
One final comment: Bravissimo Productions secured generous sponsorship for the gala from Lennock Škoda, who treated us all to free chocolate coated ice cream bars during the intermission!!
Michelle Potter, 3 October 2018
Featured image: Australian Ballet dancers Ako Kondo and Chengwu Guo in The Sleeping Beauty. Photo © Jeff Busby. Courtesy the Australian Ballet