Digital screening, July 2023 (filmed on 6 July during the Melbourne season of Jewels)
Given my reaction, or lack of a reaction for the most part, to the live performance of Jewels I saw in Sydney, I paid my subscription to watch the work streamed during a performance in the Melbourne follow-up season. I was hoping of course to feel differently. But I was again disappointed, not by the dancing—the Australian Ballet is in great form—but by the gushing praise and exaggerated enthusiasm for what seems to me to be a work that is showing its age in so many instances. I continue to think, as I did on my previous viewing in Sydney, that the way Balanchine groups the corps de ballet, at least in Jewels, has had its day. We have moved on in terms of grouping dancers on stage in the way that Balanchine admired, which is often somewhat statically or in an obvious geometric and stage-centred fashion.
But also I think that Jewels presents stereotypical views of French, American and Russian dance and society. Again we have moved on and there is more to France and its culture than perfume, haute couture, romance and other such items mentioned in discussions of 'Emeralds' for example. Then, I don't really like dance being used to tell me that Americans are sassy, brash and cocky when not everyone is like that. It all reminds me a bit of the much-discussed way other cultures were used in some still-performed 19th century ballets. There is nothing of the racist or other unpleasant aspects of stereotyping in the case of Jewels, but we have just moved on. 'Diamonds' is more interesting in many respects because no one seems to relate it to characteristics of the Russian people and their culture but to how ballet developed in Russia. So there seems to be a difference in how we are meant to see the three sections, which adds to my problems with the work.
Quite honestly, I wish that various outlets would desist from raving on about Jewels rather than seeing it as a moment in a wider Balanchine repertoire. Some of the choreography is startling and more than interesting to see, but do we really need to call it a masterpiece? In my opinion, it is better seen as an historic work from the 1960s.
Despite the above, I did admire some particular dancers whom I didn't see in Sydney. In 'Rubies' Isobelle Dashwood as the solo dancer was stunning. What a great dancer's body she has—slender, tall and long-limbed, she is actually a perfect Balanchine dancer. What was so impressive though was the charisma she exuded at every moment. And she didn't overplay the sassy bit but rather just danced the choreography and presented it beautifully to the audience. Someone to watch for sure.
Also in 'Rubies' I enjoyed the work of Brett Chynoweth as the leading male dancer, joining Ako Kondo in the pas de deux sections. Chynoweth threw himself into the choreography with gusto. Every gesture, every step was exciting to watch in its attention to shape and detail.
It was a pleasure too to see Sharni Spencer and Callum Linnane as the leading dancers in 'Emeralds'. I admired their dancing in Sydney as the leading dancers in 'Diamonds' and the same beautiful connection between them was on show in 'Emeralds'. Perhaps especially noticeable in 'Emeralds' was the detail, so in tune with the music, that they brought to every single movement. A terrific partnership again.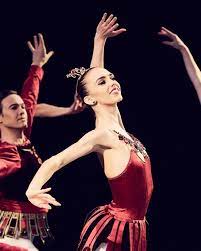 Another highlight was Duncan Salton's rendition of the piano sections of the music to which 'Rubies' was danced, Stravinsky's Capriccio for Piano and Orchestra. Exciting listening.
Michelle Potter, 15 July 2023
Featured image: Sharni Spencer and Callum Linnane in 'Emeralds' from Jewels. The Australian Ballet, 2023. Photo: © Rainee Lantry