17 January 2019. The Playhouse, Canberra Theatre Centre.
Here is a slightly expanded version of my review of Coppélia in its storytime form. The review has already appeared in The Canberra Times online but is yet to appear in print.*
This Coppélia is the third production in the popular Storytime Ballet series produced for young people by the Australian Ballet. It follows storytime productions of The Sleeping Beauty and The Nutcracker. These productions are advertised as being for children aged 3 and up but I was curious to know how 'up' things could be. So I took along two grandchildren (both boys) aged nine and eleven.
Coppélia, with its blend of humour, magic, easy to follow mime, and joyous activity, lends itself well to being rethought as an experience for the young. Its story is simple and it contains some fascinating characters. Apart from the main couple, Swanilda and Franz, who eventually resolve their problems, there is the eccentric Dr Coppélius, a toy maker who dabbles in his own brand of magic and, of course, Coppélia, the life-sized doll Dr Coppélius has created and hopes to bring to life. It is this doll we see sitting in the window of Dr Coppélius' house and who is the cause of issues between Franz and Swanilda.
Dr Coppélius can be a formidable character but, in this production, anything alarming about him is reduced by the fact that he takes on the role of narrator. On stage narration has become a feature of the Australian Ballet's storytime ballets and it is beautifully done on this occasion by Sean McGrath, whose acting and strong, clear voice were commented on by my young companions. The basics of his role in the full-length ballet were there. He loses his key when being jostled by the village folk thus allowing the village girls to enter his house, he reads from his book of spells to attempt to bring Coppélia to life, and so forth. But his character doesn't really develop fully, which, although understandable, is a shame.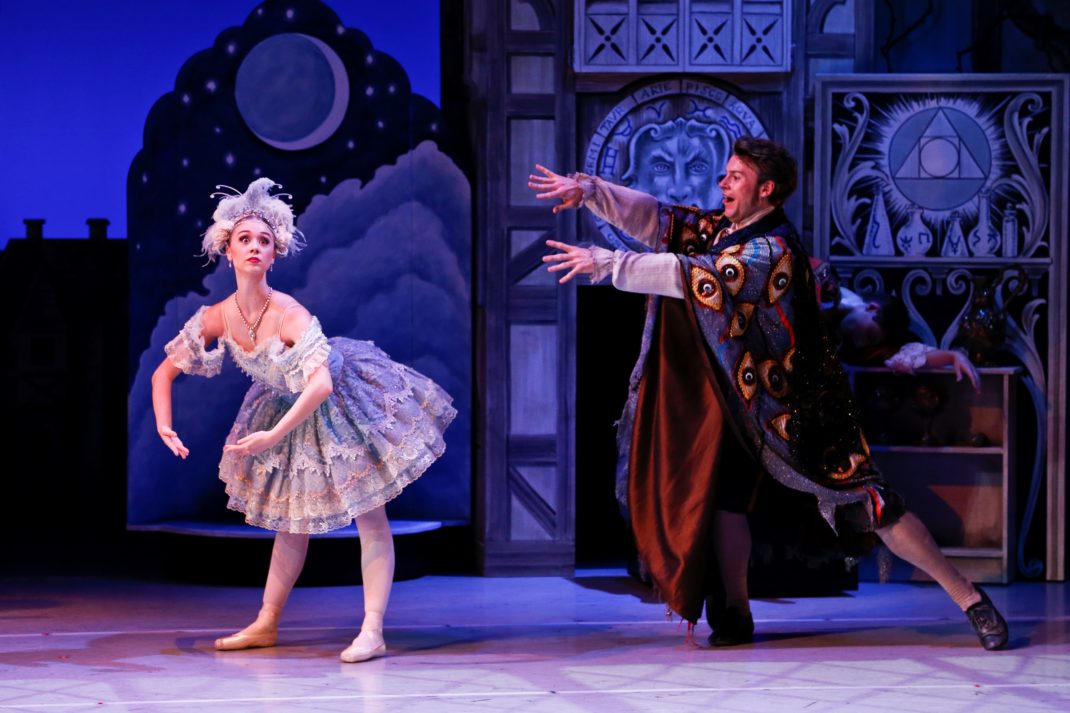 Sean McGrath and Dayna Booth in the Australian Ballet's storytime Coppélia. Photo: © Jeff Busby
As far as the dancing goes, and after all it is still a ballet we are watching, the small company of just 12 artists (largely of graduates of the Australian Ballet School) does an excellent job. The main roles of Franz and Swanilda are rotated amongt company members. We saw Benjamin Obst as Franz and Jasmin Forner as Swanilda and both showed outstanding technical abilities. My companions were especially impressed with Obst's tours en l'air and his grand pirouettes to which he added a showy jump every so often. I was impressed with Forner. Readers of The Canberra Times' arts pages may remember a story about Forner published last year, which told of her recovery in Canberra Hospital from serious injuries sustained in a car accident. We saw her in Canberra last year as part of the Australian Ballet School's graduation season, but she has developed more strength since then and danced beautifully. Watching her now, her recovery and return to ballet seem quite miraculous.
The ending of this Coppélia was without a wedding and its pas de deux, and we saw only the Dawn solo and not Prayer. So again there was something missing from the storyline and for me it all fell a bit flat. But nevertheless the ending was presented as celebratory occasion and the young people in the audience left feeling happy.
The full-length Coppélia is a three-act ballet with changes of set for each act. Designer Hugh Colman skilfully designed a single set for the storytime production, which with just a few moveable facades, and some fine lighting by Jon Buswell, could easily transform itself from village square to Dr Coppelius' workshop and back to the square within the 50 minutes of this production, which had no interval at all.
The Canberra Theatre Centre's Playhouse is a perfect venue for these storytime productions. It has a delightful intimacy that encourages participation from the very young, who made the most of the opportunity to assist Dr Coppélius with his magic, some using magic wands, others their magic fingers. My nine year old didn't want to be part of the magic bits, although the eleven year old had no problem joining in and wiggling his fingers. I suspect, however, that for those young people who are slightly older, it was the strength of the dancing, from dancers not much older than they are, that attracted them. But there was definitely something for young people across quite a reasonable age range.
Michelle Potter, 19 January 2019
* UPDATE: Date of publication in print was 21 January 2019.
Featured image: The Australian Ballet's storytime Coppélia. Phopto: © Jeff Busby