10 May 2014 (matinee), Joan Sutherland Theatre, Sydney Opera House
What an inspiring performance the Australian Ballet gave of Wayne McGregor's Chroma. Not an easy ballet to bring off, but all the diverse features that make McGregor's choreography so eminently watchable were there. Limbs extending through space, off-centre partnering, moves that were in turn twisted, contorted, angular and sometimes smooth and undulating. And all were all set cleanly and articulately against John Pawson's stripped back, white box space with its rectangular 'window' of changing colours. McGregor is a master at exploiting the balletic body to produce astonishingly shaped movements—movements of the twenty-first century perhaps? What I especially like is that his choreography make us see how perfectly amazing the balletic vocabulary can be.
I particularly admired Vivienne Wong's performance throughout the work and also a powerful trio from Brett Chynoweth, Rudy Hawkes and Andrew Killian—fast, assertive dancing from them all. But it was a duet from Lana Jones and Daniel Gaudiello that stole the show for me. McGregor's choreography suits Jones with her strong, unassailable technique and Gaudiello has such a way of adding his own signature to everything he does while still remaining true to the intentions of the choreographer.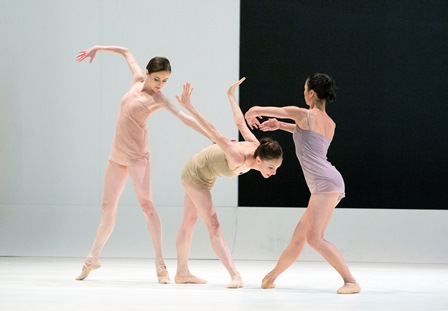 Stephen Baynes' new work, Art to Sky, began with some lovely, lingering choreography, beautifully performed by Leanne Stojmenov and Gaudiello again. It was romantic, softly falling from step to step. The corps de ballet also had some memorable choreography in the opening sections, surprising at times and always pure and fresh. But after that there were a few too many somersaults, cartwheels and legs in the air, not to mention twee sections of humour that didn't quite work. It is a little problematic too that one of George Balanchine's most exquisite ballets (in my mind anyway) is Mozartiana danced to the same music, Tchaikovsky's Mozartiana, that Baynes chose for Art to Sky. Balanchine has a habit of lingering in the mind, making it hard to accept anything else to the music he uses.
Hugh Colman's shadowy, upstage portal that comprised the set, lit by Rachel Burke to give a hint of the mysterious, were strong additions to the look of Art to Sky. Colman, Burke and Baynes work well together as collaborators and bring a sense of visual cohesion to each other's work.
The program concluded with Jiri Kylian's companion pieces, Petite Mort and Sechs Tänze and it was a treat to see some more Kylian back onstage with the Australian Ballet. It was interesting to have Kylian on the same program as McGregor, as also happened last year with Bella Figura and Dyad. Kylian, too, pushes the dance vocabulary and gives us a surprising array of movement, but he adds a degree of humanity and humour to his works that McGregor passes over (at least in Chroma, although perhaps not to the same extent in others of his works).
This mixed bill was a relief from the full-length ballets that we are told draw the best houses. To me the house looked pretty much full for what was a diverse and well danced program. I'd like more in this vein.
Michelle Potter, 11 May 2014
Featured image: Natasha Kusen and Andrew Killian in a study for Petite Mort. The Australian Ballet 2014. Photo: © Paul Scala