10 May 2014 (evening), Joan Sutherland Theatre, Sydney Opera House
It is a long time since I have had a seat in the circle for a ballet performance (in any theatre come to think of it), but that's where I was seated at the Sydney Opera House for Imperial Suite, the Australian Ballet's mixed bill of Ballet Imperial and Suite en blanc. It was certainly exciting to see Ballet Imperial from that vantage point. Looking down on a George Balanchine work gives a stunning view of the patterns of his choreography—the circles, squares, diamonds, straight lines, and flowing waves of dancers threading their way through the arched arms of other dancers—provided of course that the work on view is well danced and well staged. Which it certainly was at this performance. The ballet was beautifully led by Lana Jones and Adam Bull, with Jones the shining ballerina and Bull the gallant Balanchinian partner.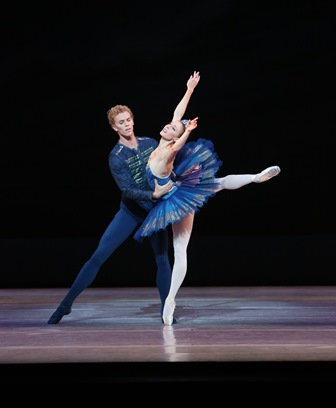 There were some particularly lovely moments in the pas de deux in the first movement. I loved the backwards hops on pointe with the leg in arabesque after Jones rose from a swoon-like fall with her arms around Bull's neck, and also a little later her lift of the leg to second position followed by a slow pull in to retiré, followed by the same sequence of movement on the other side but at double speed. Both were exciting to watch and Balanchine is so good at showing these things more than once so we don't miss them! And of course Bull was there supporting all these technical feats. Both dancers allowed us to see Balanchine's exquisite musicality.
Hugh Colman's new tutus are just gorgeous. Regal in blue and black and one or two complementary shades for the soloists, they are made with sharp lines to the skirt so they seem to represent the cut of a diamond or other precious stones, and they are decorated with a silver sash-like decoration at the back. Very imperial!
What a joy the performance was and it inspires me to say 'thank you, thank you'. And with Eve Lawson on board as a repetiteur with the Australian Ballet—and what an asset she is—I am looking forward to (or perhaps 'hoping for' are better words) a revival of Theme and Variations soon.
Serge Lifar's Suite en blanc closed the evening. It is certainly a classically-based work and has many interesting features. Its opening scene as the curtain rises, with dancers arranged on several levels on the stage and clad in various white costumes with a very slight touch of contrasting black, usually generates a round of applause, as it did on this occasion. But Lifar's limitations as a choreographer are, perhaps unfortunately, highlighted by placing Suite en blanc on the same program as Ballet Imperial. Suite en blanc looks very static in comparison and movement is in no way a static event.
Nevertheless, there were some outstanding performances from some cast members and it is always special to see good dancing. Amber Scott and Rudy Hawkes performed stylishly in the pas de deux and Scott was a stand-out in the 'Variation de la flûte'. But I especially admired Ako Kondo for her technical accomplishments in the 'Pas de cinq' and Laura Tong for a beautifully languid and delicious 'Variation de la cigarette'.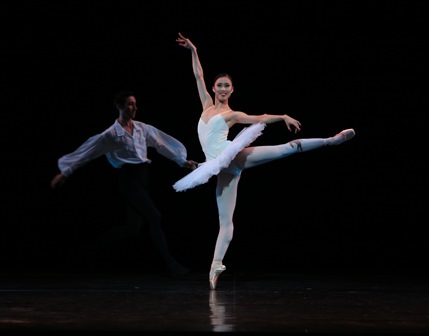 Michelle Potter, 11 May 2014