29 August 2015 (matinee), State Theatre, Victorian Arts Centre, Melbourne
What does twenty-first-century ballet encompass? What does it look like? And does it differ from ballet of the twentieth century? In many respects the Australian Ballet's latest mixed bill program, 20:21, suggests an answer in Tim Harbour's latest work, Filigree and Shadow, the centre work in the 20:21 program. The work is strongly danced. Its powerful, dramatic choreography is coupled with Benjamin Cisterne's equally dramatic lighting, and with an exceptional, minimalist stage setting by Kelvin Ho that combines curved and flat walls. Its commissioned score from the German duo, 48nord, binds the work together.
Unfortunately for Harbour, however, his work in the triple bill program is preceded and followed by works from two of the twentieth-century's most admired choreographers—George Balanchine and Twyla Tharp. Master choreographers. And not only does it have to contend with that kind of program placement, Filigree and Shadow doesn't seem to take us anywhere. It is, we are told in Australian Ballet marketing and in program notes, about Harbour's feelings of aggression. I found it hard to identify with those personal feelings (of anger?) that Harbour seemed to want to show.
Balanchine's Symphony in Three Movements, which opened the program, might be thought of (wrongly I suggest) as lightweight by comparison. It's pretty to look at and high-spirited emotionally. But it asks us to look at complexity of structure (in the choreographic patterns that it puts before us) and musicality (in its reflections of and relationships to Stravinsky's symphonic score). Balanchine was never one to make his ballets overly personal. We can bring our own ideas to the work and that is, I believe, how to engage an audience. Harbour's very personal approach doesn't do this and, as a result, the Balanchine work has so much more to offer.
The six principals in Symphony in Three Movements in the performance I saw, Ako Kondo and Chengwu Guo, Lana Jones and Ty King-Wall, and Amber Scott and Rudy Hawkes, all brought their individual qualities to the performance. Kondo and Guo were thrilling technically but also brought pleasure and excitement to their dancing, and Jones was playful and nicely partnered by King-Wall. The central pas de deux from Scott and Hawkes gave clarity to the unusual choreography with its turned up feet and hands bent at the wrists.
The closing work, Tharp's In the Upper Room, was an acquisition for the Australian Ballet during Ross Stretton's artistic directorship. Those who were lucky enough to be at the opening night in 1997 are unlikely to forget the occasion. Since then I have seen Upper Room performed by other companies in the United States but have always been a little disappointed. Beyond the Australian Ballet, no one else seems to have the energy, the staying power, and, behind the marathon of dancing, the reckless insouciance to carry it off.
The performance I saw this season wasn't an opening night, and nor did it have quite the same thrill as that very first viewing—it wasn't as well danced for a start. But this time I admired hugely the four ladies on pointe, in particular Robyn Hendricks and Amanda McGuigan, whose beautifully proportioned bodies and stellar techniques made the most of Tharp's uniquely beautiful take on classical moves. I love this work, even when it doesn't reach the heights of that first, great performance of 1997. It is a thrill to have it back in Australia, and also a thrill to see Ross Stretton acknowledged on the cast sheet.
Michelle Potter, 30 August 2015
Featured image: Artists of the Australian Ballet in Filigree and Shadow, 2015. Photo: © Jeff Busby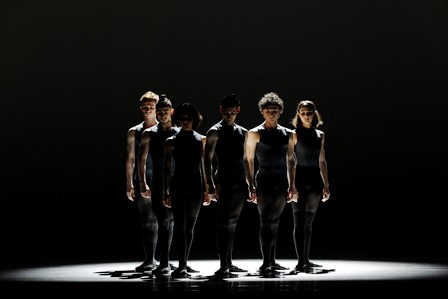 Note: My review of the first Australian Ballet performance of In the Upper Room was published in Dance Australia in June/July 1997 (can it really be almost 20 years ago?). My posts about Upper Room in the U.S. are at various links including Pacific Northwest Ballet and American Ballet Theatre.