It was a pleasure to catch up with Stephanie Burridge in Canberra in early October. Currently a permanent resident of Singapore, Burridge was back in Canberra to work with GOLD, Canberra Dance Theatre's group of performers over the age of 55. As the longest serving former director of Canberra Dance Theatre, Burridge was invited to return to restage a work she made for CDT in 1988, Something to Remember. I was not in town to see a performance but my Canberra Times article, which gives the back story, is below amongst the list of press articles for October. [Update 28 April 2019: online version no longer available].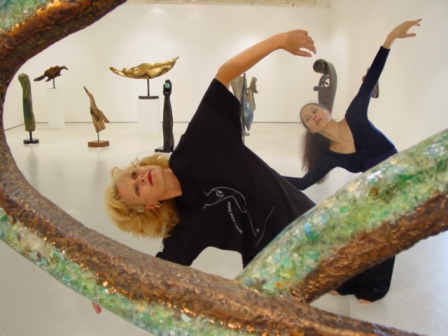 Burridge, who is married to the first Singaporean director of the Singapore Arts Festival, continues to choreograph and perform. She teaches Dance and Contextual Studies at LaSalle College of the Arts and Singapore Management University and is series editor for the Routledge publishing company's Dance in Asia and the Pacific. To date Burridge has edited books on dance in Cambodia, India, Malaysia, Australia and Taiwan.
Dancing on the Piazza Castello, Turin
It's always surprising when and where dance happens. This performance was taking place on the Piazza Castello in Turin very early on a misty Sunday morning in October.
News of Reed Luplau and his work with Lar Lubovitch came to me from a colleague in the form of a program from a recent season by the Lubovitch company in Washington DC. Here is a link to the program. I look forward to seeing more of Luplau's own choreography at some stage. I really enjoyed the only one of his choreographic works I have seen, which I wrote about way back in 2009.
'A welcome, sinking feeling'. Review of Michael Francis Willoughby in Elohgulp, Jigsaw Theatre Company. The Canberra Times, 1 October 2013, ARTS, p. 6. [Online version no longer available].
'Bendy, bawdy and brilliant'. Review of EMPIRE, Spiegelworld. The Canberra Times, 12 October 2013, p. ARTS 22. [Online version no longer available]
'From Russia, with no love'. Review of Swan Lake. Russian National Theatre Ballet, The Canberra Times, 15 October 2013. [Online version no longer available].
'Burridge conjures golden performance'. Article on Stephanie Burridge and her work for Canberra Dance Theatre's GOLD group. The Canberra Times, 18 October 2013. [Online version no longer available].
Michelle Potter, 30 October 2013