27 July 2023. Talbot Theatre, Thomas Dixon Centre, Brisbane
It would be hard to find a performance more thrilling, more emotionally driven, more technically fascinating than the sixth production from Queensland Ballet under the banner Bespoke. Made up of works from Remi Wörtmeyer, Paul Boyd and Natalie Weir, this program was rightly advertised as 'compelling, challenging and always thought provoking'.
The evening began with Wörtmeyer's Miroirs (Mirrors in French) danced by 10 dancers to piano music of the same name by Maurice Ravel. It was played onstage on this occasion by Daniel Le. Choreographically, Miroirs was an interesting combination of classical vocabulary and more contemporary style movement. The classical sections were nicely structured in a spatial sense with dancers creating a range of unexpected groupings. On the whole it was a relatively fast-paced work and often surprising in the strong imagery that emerged from partnering.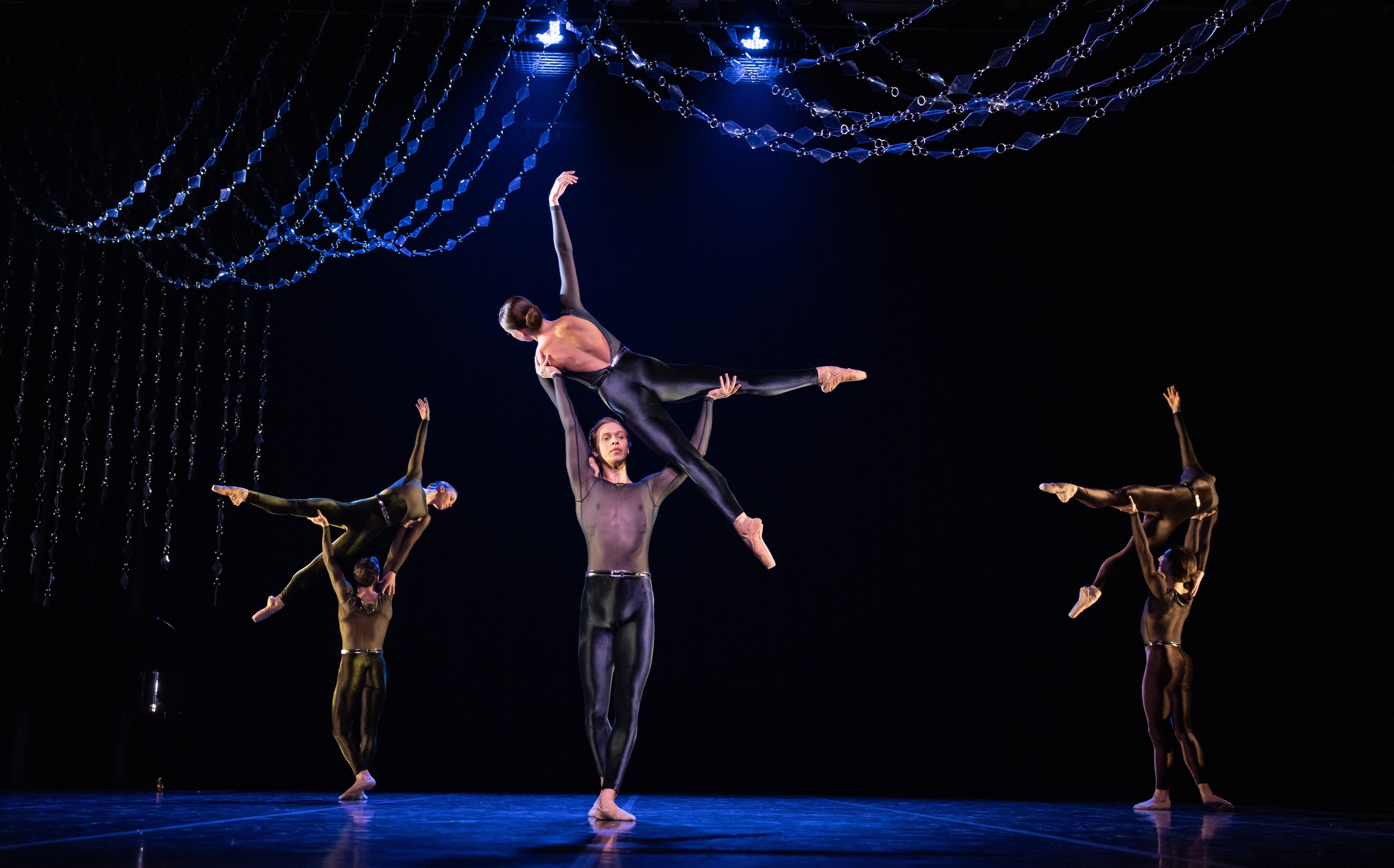 The more contemporary movement was often quite grounded and for me these sections didn't work so well, or at least didn't blend easily with the more classically-based sections. The work ended with a pas de deux danced by Mia Heathcote and Victor Estévez. It was a quiet ending compared with the speed and action of the first and much longer section and, despite excellent dancing from Heathcote and Estévez, the ending felt somewhat out of place.
Wörtmeyer was responsible for the attractive costumes and set design. His set consisted of nicely arranged strings of light and reminded me of a deconstructed chandelier. His costumes were simple, close-fitting tights and tops but were made elegant with the addition of small, silver decorative elements at the waist and elsewhere on the costumes.
Second on the program was Tartan choreographed by Paul Boyd to an assorted collection of sound, from a rendition of Donald where's your trousers? to music from the Royal Scots Dragoon Guards! The work tells the story of an elderly Scottish gentleman, played by former Queensland Ballet dancer Graeme Collins, who relives his past and imagines the people he grew up with return to his house and interact once more with him.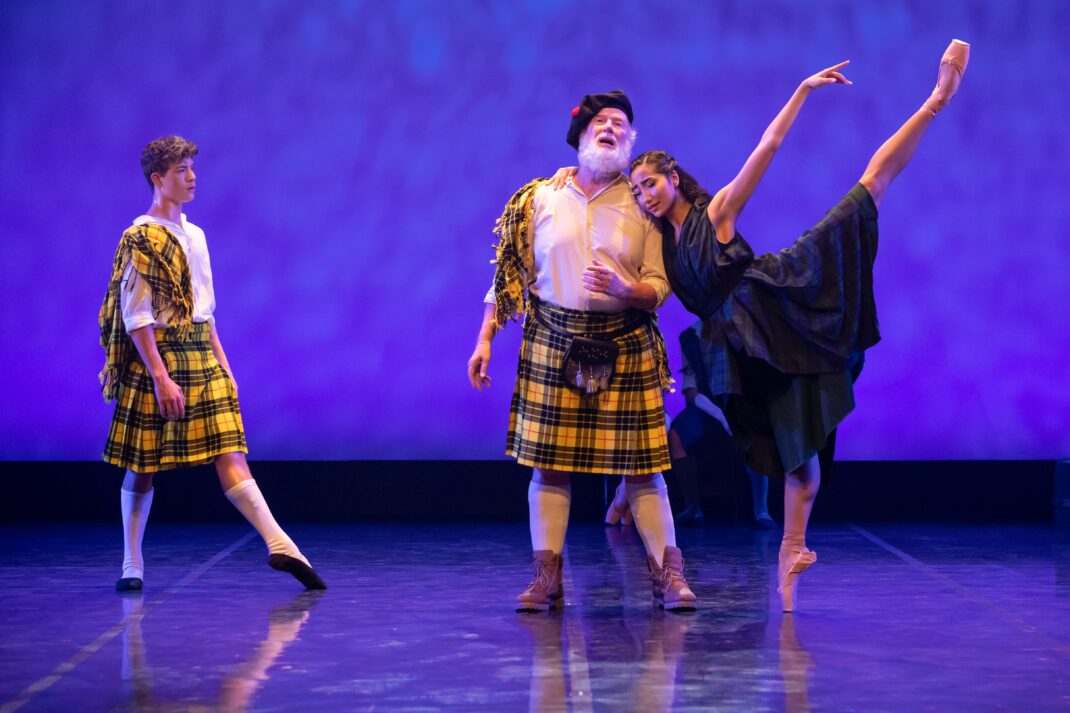 Tartan was choreographed in spectacular fashion to combine traditional Scottish steps with ballet and contemporary movement. I especially loved the way Boyd often combined, or intertwined, two varieties of fifth position of the arms, one strictly classical, one with fingers held in a Scottish manner. But here was much more than that, including the bends of the body in a reverence with torso stretched forward and spine parallel to the floor; pointe work for the girls on occasions; lots of pliés in second position; the fast, definitive moves of the feet close to the ankles; and so on. Then there were the surprising moments when the dancers appeared (like ghosts?) from under and inside a box-like table to the hilarious scene, led by Josh Fagan, accompanying Donald where's your trousers?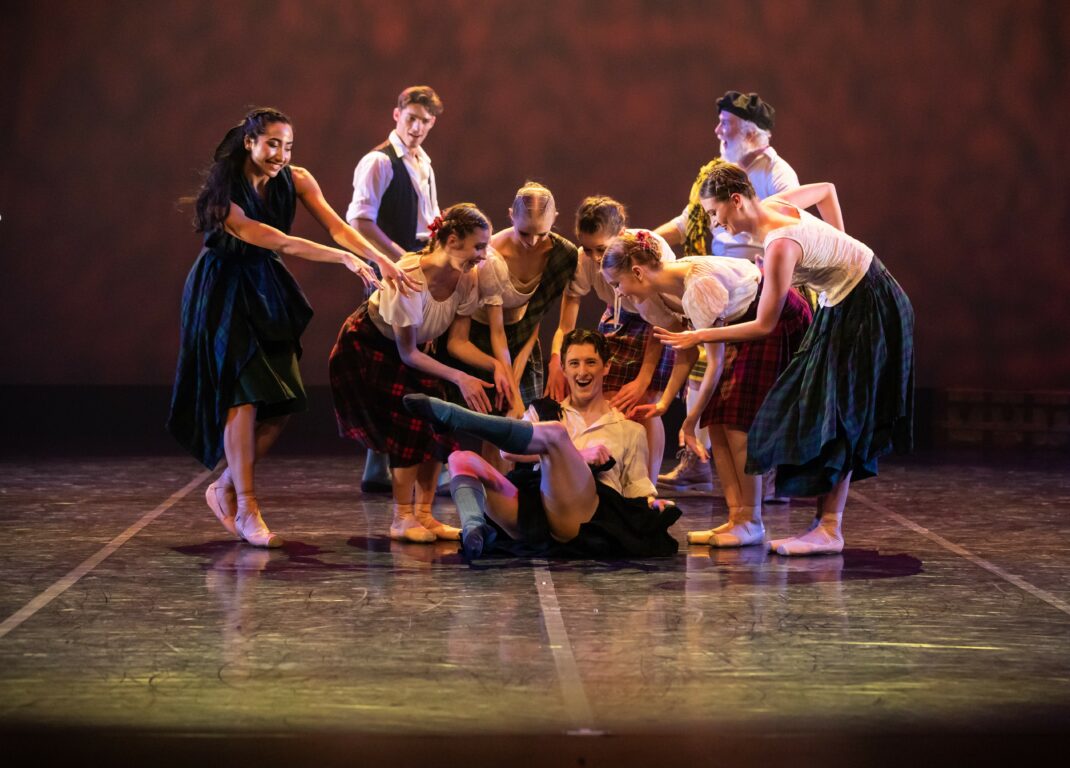 The dancers, all from Queensland Ballet's Jette Parker Young Artist Program, performed with huge commitment and skill. Apart from their actual technique I loved the way they projected their presence out to the audience. It was an absolute joy to watch them and, If their performance is anything to go by, the future of Queensland Ballet is assured.
Natalie Weir's Four last songs closed the program and, for me at least, it was the highlight. I have long admired Weir's choreography, on the one hand for the emotive qualities with which her works are always imbued—We who are left made for Queensland Ballet in 2016 (restaged 2022) instantly springs to mind—but also for the way in which she has always used partnering to display choreographic possibilities. Both those qualities were apparent to an exceptional degree in Four last songs.
Weir's Four last songs used the composition of the same name by Richard Strauss to tell a story about life and death with a strong sense of a life that is lived to the full before, inevitably, death arrives. The work was led by Lucy Green and Patricio Revé and I admired the way Weir had set choreography in the early stages that was joyful—Green's little skipping-like movements shorty after her first entrance for example—but which gave way to something slower as age progressed. The work concluded with strong movement that was actually beautifully uplifting as the inevitability of the end of life was accepted.
The work of Green and Revé was mirrored by four couples representing, on the surface, four seasons, but those seasons also reflected four stages of life. The dancing of the four couples showed Weir's long standing interest in partnering and ranged from beautifully swirling lifts to slower, less extravagant but still quite spectacular ones as life progressed. As for the four men, Weir tells us in her notes that they represent 'one man, a thread of humanity'. There was one stage when the four men held sway with a magnificent series of entrances and exits interspersed with spectacular jumps. It was extraordinary dancing from all the dancers.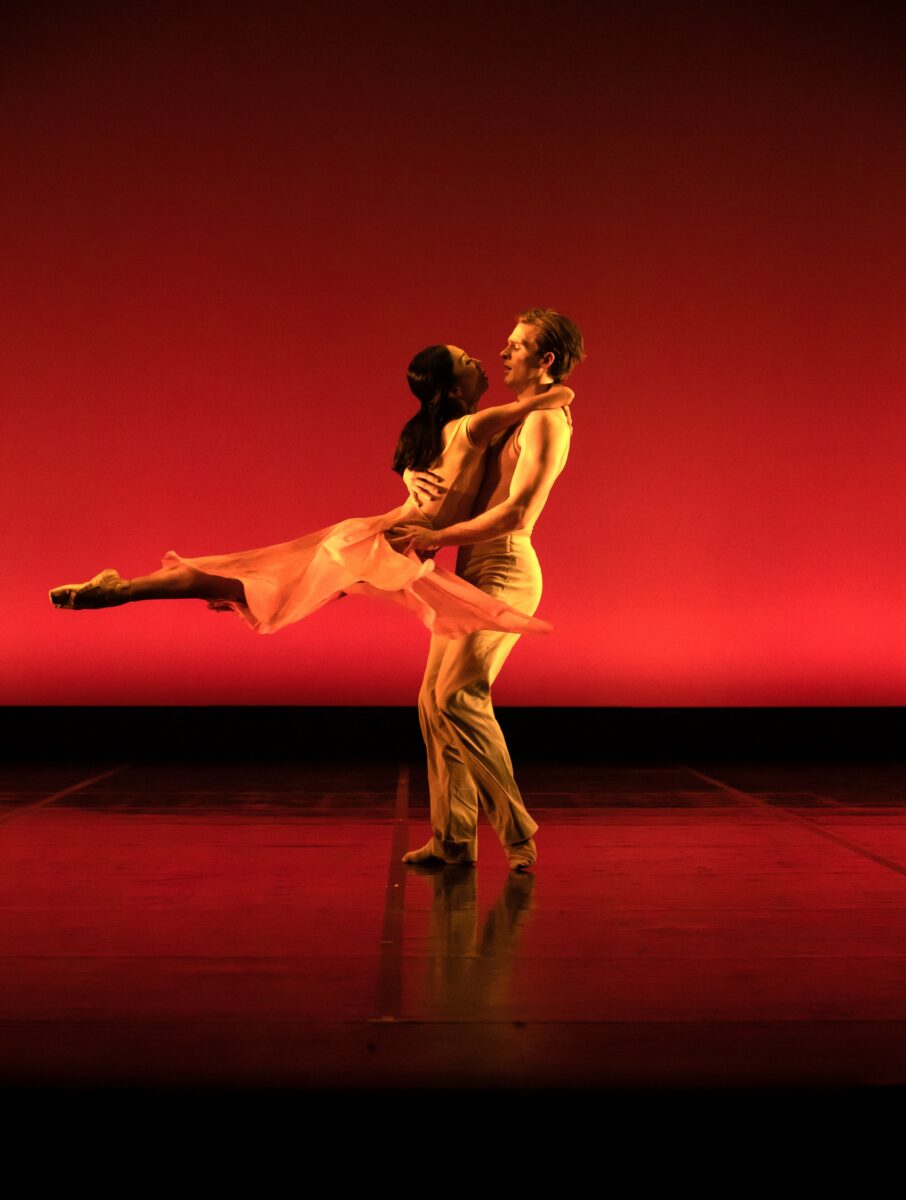 I have often wondered how Weir manages to imbue her work with the emotion that we always feel when watching it. It is of course partly the dancers' ability and the coaching they receive to act out the scenario. But it is also Weir's choreographic ability to create movement that tells the story. Those little early skipping movements from Green, for example. Then there were those beautiful swirling lifts that told so much about life, including the lifts performed by Callum Mackie and Lina Kim who performed as Autumn or a late stage of life in which more sleep was apparent. Kim's body was often held parallel to the ground as if her body was still sleeping while being lifted. And more. Four last songs was a stunning work from Weir.
Bespoke 2023 was a triumph.
Michelle Potter, 29 July 2023
Featured image: Lucy Green and Patricio Revé in Four last songs. Photo: © David Kelly