10 December 2011, Opera Theatre, Sydney Opera House
Graeme Murphy's Romeo and Juliet for the Australian Ballet continues to generate discussion and mixed reviews, and I recently took a second look at it at a Sydney mid-season matinee performance. It is impossible to ignore the dominance of the scenic elements and the challenges of the constantly changing times and locations, and why should we ignore them anyway as they are an intrinsic part of the collaboration and choreographic plan. So I still like to see this Romeo and Juliet as a postmodern work, despite all the problematic issues that the term 'postmodern' generates. Postmodernism, at least in areas of the visual arts, allows a collage of non-sequiturs and apparently frivolous allusions, which gives a pastiche we can either love or hate, but not ignore.
On this viewing, the sometimes overbearing scenic elements, and the episodic nature of the changes of time and location, did not startle to the same extent as they did that first time. On any second or subsequent viewing, whatever the work, one naturally notices different things. During the opening scene, set in what my ever-entertaining companion at these matiness thought looked like a scene from Dungeons and Dragons, it was Murphy's attention to detail in his handling of the minor characters that attracted my attention. At the side of the main action and above it on the 'bridge', groups of bedraggled-looking townsfolk engaged in their own comments on the feuding being carried out centre stage. Murphy has always been a dab hand at this kind of background action—no standing round twiddling thumbs and admiring dresses. His works are choreographed down to the last detail.
The ball scene contains one of the best-known sections of the Prokofiev score, a section I will never be able to call anything other than 'the cushion dance'. My approach to this scene will forever be coloured by my very first viewing of a ballet with the name Romeo and Juliet when, as a child, I saw a film of the Bolshoi Ballet with Galina Ulanova as Juliet. Well there were no cushions for the male guests to toss onto the floor in Murphy's version of the magnificent 'cushion dance', but there was some startling and bold choreography. I especially admired the dramatic swirl of movement as the male guests held their partners, who leant back precariously as they were turned in a tight circle and who, with knees bent and feet together, jabbed the floor aggressively with their pointe shoes.
Akira Isogawa's wedding dress for Juliet in the Japanese-inspired scene also caught my eye. Although it is pretty much impossible to learn much about the construction and detail of individual costumes from a seat in the auditorium, this dress seemed to be beautifully made from delicately patterned silk, or synthetic silken-look fabric. But it was the shoulder feature that surprised me. The straps that held the dress together over the shoulders were wide and crossed over just as they joined the bodice rather than in the middle of the of the upper back. It was a simple and almost unnoticeable touch, and perhaps not of major significance in the overall scheme of the ballet, but so elegant.
I was lucky enough to see Juliet Burnett in the leading role on this second viewing. She handled Murphy's ever-changing and ever-challenging choreography as if she were born to dance his steps. She was bubbling with youth as she ran across the stage on pointe in the opening sequence. She soared through lifts in Murphy's pas de deux and in those scenes in which the black-garbed holy men transported her across the stage. Her expressive arms gave a joyous quality to those moments where her young love for Romeo needed to be shown. But those arms also conjured up something entirely different, something leaden and full of fear when, for example, she reached out in an attempt to pick up the bottle of poison from her bed. It was this quality of being able to express emotion so well through the body, and not just through facial expression, that made her performance so exhilarating. But perhaps most of all it was a thrill to watch her portray the character of Juliet and to maintain that characterisation across the entire ballet, despite the changes of time and location. A stellar performance from Burnett who was partnered by Rudy Hawkes as Romeo.
Of the other cast members, Josef Brown made a welcome return to the ballet stage as Lord Capulet with Ingrid Gow as his Lady Capulet. Brown played Lord Capulet with a calm yet imposing presence. His handling of Juliet in the scenes with Paris rarely showed anger but rather some kind of fatherly determination. It allowed Murphy's choreography, which in these scenes contains conflict within it, to shine through.
Michelle Potter, 11 December 2011
Featured image: Artists of the Australian Ballet in Romeo and Juliet, 2011. Photo: © Jeff Busby. Courtesy of the Australian Ballet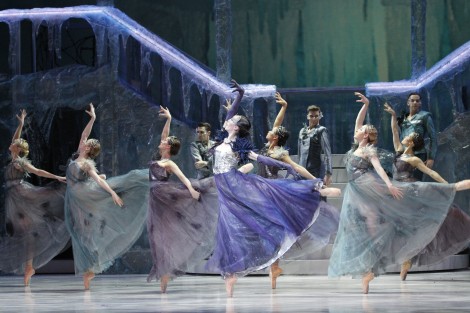 Here is the link to my original post and comments on this production of Romeo and Juliet.
UPDATE, 12 December 2011: I have just reread more carefully the original post written after opening night in Melbourne in September. In it I wrote: 'Manion's strongest contribution [Gerard Manion was the set designer for this work] was a visually arresting painted front cloth comprising a huge bunch of gold, pink and blood red lilies from which the deepest colours drained to grey as the cloth rose at the beginning of the work'. Well this was not part of the Sydney production! Why not? I have no idea, but it was a sad omission in my opinion.