Since seeing Stephen Baynes' production of Swan Lake, first in 2012 and more recently in its revival of 2016, I have been thinking frequently about the nature of the character of von Rothbart, 'an evil geni', according to the cast lists of the earliest Russian productions. After reading on the Australian Ballet's website that, in the Baynes Swan Lake, Rothbart is a 'dangerously seductive dandy' my interest quickened.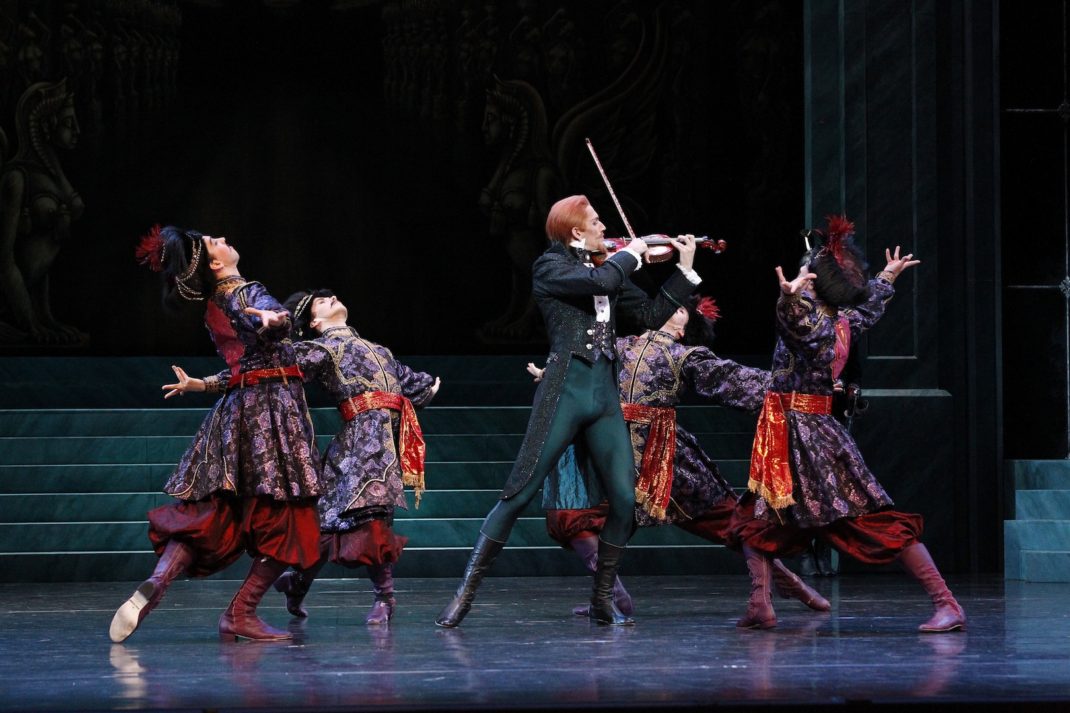 Hugh Colman has dressed Baynes' Rothbart in a red wig when he appears in the palace ballroom in Act III. I was startled the first time I saw it to tell the truth, so carrot-coloured was it. It is not new knowledge, of course, that Rothbart means 'red beard' in German and many designers have referred to that meaning. Kristian Fredrikson's headdress for Rothbart in Stanton Welch's Swan Lake for Houston Ballet, for example, has straggling red 'hair' emerging from it and a pair of glassy red eyes on the sides (as seen in the featured image above). I was interested too to discover that, in Cyril Beaumont's in-depth analysis of the ballet in his book The ballet called Swan Lake, there is a very detailed account of how Rothbart was meant to look in the Petipa-Ivanov version of the story—even down to the angle of the eyebrows and the shape of the beard.
But perhaps most interesting of all about Beaumont's analysis is that he suggests that a character like Rothbart (one who is able to take on a variety of forms as he does in most traditional productions of Swan Lake) is often encountered in medieval romances and other early forms of literature—he gives an example of Archimago in Edmund Spenser's Faerie Queene, who also has the power to assume diverse forms. In the story as adapted by Petipa for the production of Swan Lake on which most traditional productions centre, the swans are the victims of a character who has bewitched them, and who assumes the form of an owl to watch over them. The owl at times takes on a human form and in Act II appears in various places around the lake as an evil sorcerer. He listens to the conversation between Odette and Siegfried before disappearing. It then makes sense that he assumes another form in Act III, when he brings Odile to the palace, since he knows of Siegfried's plan to marry Odette, which would outsmart him and remove his power.
I have no issues whatsoever in rethinking the story or the characters—Rothbart can even be a 'dangerously seductive dandy'. But can he just turn up in Act III without there having some kind of manifestation of what he represents in the previous act? It makes a mockery of the story if some kind of force, call it evil, sorcery, seductive dandyism, or a combination of features, has not had an impact previously.
In the Baynes production, I kept wanting the projections that appear in the sky in Act II to be some manifestation of Rothbart. But I am reliably assured by a well-known dance writer/critic who spoke to an equally well-known member of the ballet staff at the Australian Ballet that those projections are swans and only swans. So for the moment I'll just keep thinking that the Baynes Swan Lake is dramatically unsatisfying because I can find nothing that strongly prefigures Rothbart's appearance in Act III.
Recipients of the 2016 Benois de la danse awards were announced in mid-May. It was a pleasure to read that Hannah O'Neill was the joint recipient of the award for Best Female Dancer for her performance in the title role in Paris Opera Ballet's production of Paquita. She shared the award with Alicia Amartriain of Stuttgart Ballet.
But I was also delighted to see that John Neumeier had received a Lifetime Achievement Award. I still get shivers down my spine thinking of his exceptional Romeo and Juliet, which I saw recently in Copenhagen. And we have the pleasure of seeing his Nijinsky later this year in Australia.
I am also a fan of the choreography of Yuri Possokhov, who received the award for Best Choreographer (also shared). I haven't seen the work for which he was awarded, the Bolshoi Ballet's Hero of our time, but I have great memories of his version of Rite of Spring made for San Francisco Ballet.
The full list of awardees is at this link from Pointe Magazine. There is also the official site of the awards which gives a much longer account of the event, and includes a list of the nominees from whom the winners were selected. [Update: Link to official site no longer available]
While searching for audio excerpts to use in my recent 2016 Dance Week talk, I came across some interesting snippets in an oral history interview I recorded with Bill Akers in 2002. Akers, who held several positions with the Borovansky Ballet and the Australian Ballet, worked closely with Helpmann on many occasions and, in particular, lit Helpmann's Australian-produced ballets. I found his comments on the relationship between The Display and Yugen especially insightful. Although it is well-known that The Display was, in part, based on an incident that occurred early in Helpmann's life, before he went to London in the 1930s, that Yugen was in some ways the antithesis of The Display is perhaps not so well-known. In the first audio excerpt, Akers talks about the early incident that clearly stayed in Helpmann's mind throughout his life. In the second Akers reminds us of that incident, and then mentions how Yugen relates to it.
The full interview with Akers is available online via the National Library's oral history site.
My article 'Robert Helpmann: Behind the Scenes with the Australian Ballet, 1963-1965' has been published in Dance Research, 34: 1 (Summer 2016), pp. 47-62. It fleshes out some of the ideas I have considered on this website relating to Helpmann's two early ballets for the Australian Ballet, The Display and Yugen. The cover image on this issue of Dance Research is by Walter Stringer from the collection of the National Library of Australia. It shows Gail Ferguson as a Woman of the Village, in Yugen, mostly likely taken during a 1970s revival.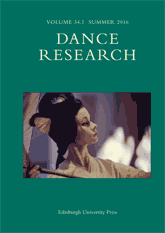 Michelle Potter, 31 May 2016
Featured image: Detail of Kristian Fredrikson's headdress for von Rothbart in Houston Ballet's Swan Lake. Photo: © Michelle Potter, 2011