Last week I interviewed designer Hugh Colman for the National Library of Australia's oral history program. Colman is currently working on designs for the Australian Ballet's new production of Swan Lake, due to open in Melbourne in September and, while Swan Lake did enter into the conversation, Colman was appropriately discreet on the recording about those aspects of the production, including his designs, which are not yet public property. But the discussion that did develop set my mind racing.
In 2004 I was invited to write a program note for the second season of Graeme Murphy's Swan Lake. The brief was that it was not to be so much about the Murphy production but about the popular appeal of the ballet. I loved writing this piece. I called it 'Do you know Swan Lake?' after the question, with its suggestion of what to do if the answer was yes, that was occasionally bandied around in schoolyards several decades ago, and that my father also loved to use to tease his daughter.
If I were writing the program piece now I would probably use other examples of how Swan Lake has permeated the popular imagination. There is a recent episode of that English detective series for television Midsomer Murders, for example, which is loosely based on Swan Lake. It features a (fictitious) former Russian ballerina preparing ballet students for a concert in a local church hall. And what are the students rehearsing? Why 'Dance of the Little Swans' of course. And the story reaches its high point when the former ballerina is rescued in the nick of time from following in the footsteps of Odette and being drowned in Swansdown Lake by the 'perp', as culprits are called in these kinds of shows. Not exactly great drama, but nevertheless it works on the assumption that the general audience for television knows Swan Lake. Then of course there's The Black Swan, the movie, not great drama either in my opinion, but it has spawned a large amount of web comment from so many, from dancers to psychiatrists and of course the general public.
The question of popular appeal has been brought to the fore once again, in Melbourne only at this stage, with Gideon Obarzanek's latest work There's definitely a prince involved reviewed elsewhere (with comments) on this site. Not everyone enjoyed the deconstructivist approach that Obarzanek took, but there's no denying that There's definitely a prince involved deals with that mysterious attraction that Swan Lake has over the public.
What is it about this ballet that continues to fascinate? And I continue to search in my mind for the production that most clearly captures the essence of the work for me. Perhaps that is yet to come, and perhaps that is what continues to fascinate.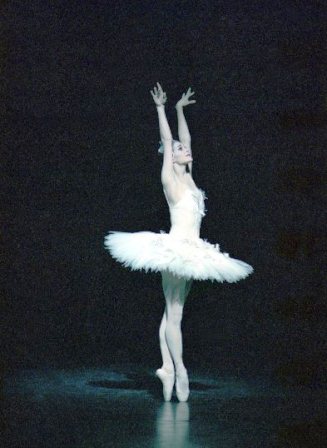 Michelle Potter, 10 March 2012
Here is the link to my 2004 program article. I have not been able to find contact details for the photographer, Michael Cook, whose photograph appears with the article. I would be pleased to hear from anyone with information that might assist.