This is an expanded version of a review written for The Canberra Times. The original review is no longer available online.
Autumn in Canberra is usually the best of seasons. March 2012 has, however, been marked by excessive rain and a performance was touch and go on 16 March when the Australian Ballet arrived bringing its Telstra Ballet in the Park Gala to the city. But the company had not performed in Canberra for several years so people came in droves to Commonwealth Park for the performance, which was scheduled as part of the annual Canberra Festival. Dressed in rainwear, they sat under their umbrellas, picnicking regardless, and waiting. About five minutes before the show was due to start, the rain stopped, the umbrellas went down and the very large audience was treated to a series of ballet bonbons showcasing some of the company's top dancers.
Lana Jones and Daniel Gaudiello, dashingly costumed in red, black and gold, opened the evening with Petal Miller-Ashmole's pas de deux, La Favorita. Both Jones and Gaudiello have strong, sure techniques―those double fouettés from Jones were stunning―and cover the stage majestically with their movements. It was a joy to watch them dance together. They also both have great onstage personalities and what made this item the stand-out of the evening for me was their ability to project those personalities off the stage and into the audience. We weren't seated in a space enclosed by walls and a roof and the extent of the 'auditorium' was vast, so being able to project in such a situation was some feat and not achieved to the same extent by others during the evening.
Another highlight was Rachel Rawlins and Ty King-Wall dancing the pas de deux from Giselle Act II. Rawlins is such a mature artist and captured beautifully the ethereal qualities of Giselle, as she danced to keep her one true love alive until dawn. Rawlins looks as though the balletic vocabulary is such a part of her very being that it is completely effortless, even during those demanding moments in Giselle's variation where she travels backwards, upstage, executing a series of fast beats and relevés. King-Wall partnered her elegantly and his variation showed off his own fine beaten steps and elevation.
I was also impressed by Juliet Burnett and Andrew Killian who danced the pas de deux from Nutcracker. Burnett was poised and controlled in one of the most classical of pas de deux. Her adagio movements unfolded with an elegance and calm sense of control and she allowed us to see the structure of every développé, every arabesque. Killian was a suitably caring cavalier and danced his solos with great style.
We also saw the rising star of the company, Chengwu Guo, in two items, the pas de deux from Don Quixote and Le Corsaire. While Chengwu's turns and jumps were spectacular, I missed the sexuality that more mature performers are able to bring to these works. There were strong flourishes every so often from Chengwu but there was a kind of restraint in the upper body rather than what I think the roles demand, the appearance of throwing caution to the wind in a display of unbridled passion. Chengwu partnered Reiko Hombo in Don Quixote and Miwako Kubota in Corsaire.
Also on the program was the Act III pas de trois from Graeme Murphy's Swan Lake with Amber Scott, Adam Bull and Amy Harris. It was especially interesting to see Murphy's contemporary choreography on a program that consisted of works in an older classical style. The Murphy style stood up beautifully although this pas de trois generally suffered from being seen out of the context of the complete ballet and without the set, which on reflection adds a brooding quality to the unfolding drama of this particular moment in the work.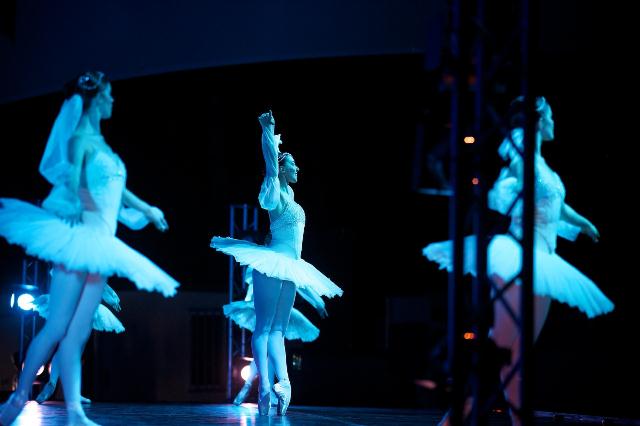 Completing the program were the pas de deux from Stephen Baynes' Molto Vivace, smoothly danced by Amber Scott and Adam Bull, and excerpts from La Baydère where Lana Jones and Daniel Gaudiello returned as Nikiya and Solor and in which the three variations were danced by Hombo, Harris and Dimity Azoury.
Canberra region audiences used to see the Australian Ballet once a year but a decision, an unpopular one in the eyes of audiences, was made some years ago now to remove Canberra from the touring schedule. The size of the audience for the Telstra event, which took place in less than ideal weather conditions, seems to me to be a clear signal to the Australian Ballet that it is time to return to the national capital on a more regular basis. The announcement that Garry Stewart and an unnamed collaborative team will make a new work for Canberra's centenary in 2013 is a start.
Michelle Potter, 20 March 2012