It was good to read that Rafael Bonachela will take on the directorship of Sydney's Spring Dance program for the next three years. I am sure Bonachela will bring huge enthusiasm not to mention knowledge and understanding of the contemporary dance scene to the job.
Some of my most unusual and rewarding dance experiences in recent years have been at Spring Dance. Philippe Priasso's amazing interlude with an earth mover was one. Meryl Tankard's Oracle another. Here is a link to the Spring Dance tag.
And on the subject of Tankard I have just received publicity for the restaging by Lyon Opera Ballet of Bolero. I wrote about Bolero in an earlier post and also noted then that the Lyon restaging would be part of a triple bill program that also includes works by Kylian and Forsythe. Do we have to go to Lyon these days to see such a program? Perhaps the company from Lyon is worth considering for Spring Dance? Or another Australian dance festival?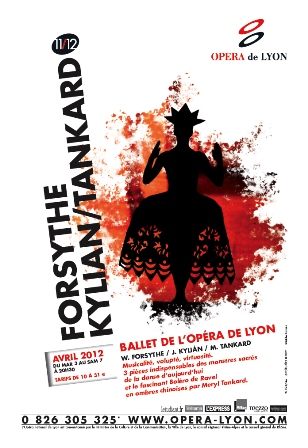 My Fellowship at the National Film and Sound Archive to investigate the film and television commissions of Kristian Fredrikson officially came to a conclusion at the end of February. I gave my staff presentation, 'Kristian Fredrikson: on screen', towards the end of February, appeared on 666 ABC Canberra to talk to presenter of Saturday Breakfast, Greg Bayliss, about the Archive and my research, and I will be presenting in Melbourne in April as part of the Arts Centre's Spotlight series.
A number of surprises emerged from being located at the Archive. On the one hand I had liberal access to the collection held there, which consists not only of film and video material but all kinds of other documentation and, on the other, I had access to the expertise and network of connections of the Archive's curators. I discovered a design commission that had not been mentioned in any of the sources I had investigated so far: Fredrikson designed the operatic backgrounds for a children's television series screened by SBS in 1985 called The Maestro's Company. And I was also put in touch with the director of The Magic Telescope, an unrealised film for which Fredrikson created some designs that are totally unlike anything else I have seen from him to date. In addition I watched all the better known productions on which he worked including the delicious Undercover, which led to a number of other discoveries regarding the origins of the dance scenes that make up the finale to that movie. Through another Archive connection I discovered more about The Lovers of Verona, featuring Kathy Gorham and Garth Welch and produced by the ABC in 1965.
I was also able to relive through film and video some of the best known early Sydney Dance Company works. I was reminded time and time again as I watched productions like Poppy, King Roger, Daphnis and Chloe, After Venice and others what an amazing and versatile performer Janet Vernon was. I watched too a performance of Old Friends, New Friends (1984), the precursor to Nearly Beloved. It wasn't designed by Fredrikson but happened to be on the same tape as After Venice. What a joy it was to see Vernon in that work and to watch as she worked her way through a whole range of different emotions.
Canberra news: Dimity Azoury and Jasmin Durham
Demographically Canberra is small in comparison to Melbourne, Sydney, Brisbane and other major Australian cities. So it is a pleasure to hear that two Canberra-trained dancers, Dimity Azoury and Jasmin Durham, have made a mark just recently.
Azoury, a former pupil of Kim Harvey, has been nominated for the Australian Ballet's 2012 Telstra Awards. The major award is worth $20,000 and having sat on the judging panel on one occasion (the year Lana Jones was the recipient of the $20,000), I know that the year-long assessment process is gruelling, but nevertheless I believe a formative experience for those involved, including the judges. For more on the Telstra Awards, which include a People's Choice Award worth $5,000, see the Australian Ballet's website. [Update April 2019: page no longer available].
Jasmin Durham, who trained in Canberra with Lisa Clark, has been accepted into the Australian Ballet, and began her professional career in January. I recall watching her several years ago now in a student performance, and a scholarship competition and her talent was absolutely clear. She joins a number of other Canberra-trained dancers in the company including principals Lana Jones and Rachel Rawlins and her corps de ballet companion Dimity Azoury.
Michelle Potter, 29 February 2012