8 December 2012 (matinee), Joan Sutherland Theatre, Sydney Opera House
I finally got a chance to take a second look at the Australian Ballet's new production of Swan Lake. With Leanne Stojmenov and Daniel Gaudiello in the lead there was much to enjoy. It was a pleasure to see Gaudiello back onstage and I admired his clear reading of the role. He was especially impressive in Act II. His meeting with Odette was full of excitement, tenderness, pleasure and love, expressed not just in the face but in his movement and partnering as well. It contrasted nicely with his moody behaviour in Act I. Stojmenov responded to his attention and together they made this meeting something that almost had me on the edge of my seat with anticipation of what was to come.
Stephen Baynes' choreography remains impressive on a second viewing. I noticed in particular this time the elegant waltz of the princesses in Act III with its lovely swirling, bending bodies. And there are moments of exquisite beauty in Act IV where circles of movement predominate. This time I did notice what happened to Siegfried. He left the stage amid a bevy of swans just in time to get ready to be fished out of the lake as Rothbart sailed by. Nothing dramatic in his exit, but then Odette's exit didn't have much drama to it either. I admired Juliet Burnett's pouting princess. Being used to princesses who all act the same and smile through everything, it was a pleasure to see her bringing real character to a role.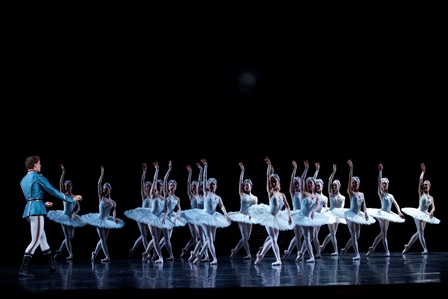 The work still remains a disappointment, however. As I did during and after the first viewing, I wished that a dramaturg had been brought in. The story doesn't quite hang together for me without the ongoing and menacing presence of von Rothbart, or at least of some kind constant figure or presence of evil throughout the acts (it doesn't have to be an owl running around the stage with a cloak flying behind it). Although we are given flashes of lightning at various points, and projections of large flapping wings attached to a weird body and head at others, this is not the same as a continuing presence of evil. Without some kind of ongoing menace, the whole black/white, good/evil theme loses its strength. And without it, it makes nonsense of that moment at the end of Act II when Odette has to leave Siegfried, drawn away by a force more powerful than he is. What is drawing her back, automaton-like, in the Baynes production?
There was also a major problem in Act III with the set and the stage space it occupies in Sydney. Gaudiello in particular was denied the opportunity to execute his solo and his part in the coda to the fullest extent of his ability. It was cramped more than I have ever seen it on that stage with this production and Gaudiello's dancing suffered badly through no fault of his own. I can't see that that stage is going to get any bigger any time soon—it's been like it is for forty years. So it seems to me that the Australian Ballet needs to commission sets that are capable of being used in Sydney without compromising any dancer's performances.
This Swan Lake is, however, a visual treat. The corps de ballet continues to look beautifully rehearsed and their work has such clarity these days. Hugh Colman's costumes are gorgeous. But I wish the dramatic line had more coherence.
Michelle Potter, 8 December 2012
The original Swan Lake post is at this link.
.