18 September 2012, State Theatre, Victorian Arts Centre, Melbourne
Stephen Baynes wanted his new Swan Lake for the Australian Ballet to reflect, as he put it in his notes, the 'deeply Romantic aesthetic' of Tchaikovsky's score. A singularly musical choreographer, Baynes has succeeded in creating some absorbing, and often romantic in the wider sense of that word, choreographic moments. They come in particular in Act I with Baynes' overall treatment of this act; in his newly conceived opening section of Act II when Siegfried first encounters Odette; and in an inserted pas de deux for Odette and Siegfried in Act IV.
In Act I Baynes' choreography is beautifully paced. It fills out every note of the music, brings a real freshness to the dances and makes this opening act full of human interest. Ty King-Wall, Lana Jones and Dana Stephensen as Benno, the Countess and the Duchess respectively danced a thrilling pas de trois (or was it a pas de cinq since two other men joined King-Wall at one stage?). The meeting between Siegfried and Odette was a meeting between two human beings rather than a prince and a frightened swan protecting her brood and the choreography sank and rose in sighing movements. The inserted pas de deux too was Baynes at his best and is just what the last act needs, a final intimate encounter between Odette and Siegfried.
There was a new energy in the corps de ballet too. Perhaps it is a new production that has generated a precision in the work of the corps that I haven't seen recently? Perhaps it is that the company has a new ballet mistress and repetiteur in Eve Lawson? Whatever the reason, it is a treat to see the dancers moving together so well.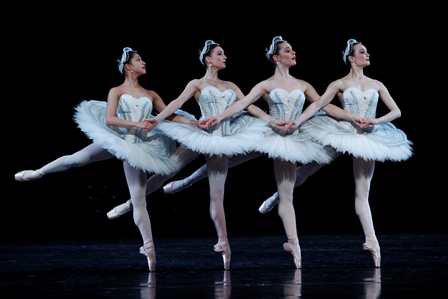 Most of Act II, however, is classical (in the Ivanov manner) as Baynes has kept a lot of the choreography from older productions so as to keep this famous white act recognisably traditional. Amber Scott as Odette seems on the surface to be perfectly suited to the role. Her body is proportioned in true classical ballerina style and her technique is clean and centred. But Act II seemed to me to exude a particular coldness. I'm not sure whether the lack of passion was a result of Baynes and Ivanov (or 'after' Ivanov) being mixed together, or whether Scott and her Siegfried, Adam Bull, just weren't reacting to each other in an emotional sense. There was just one moment in the pas de deux when Scott moved from supported arabesque to attitude and her foot seemed to caress Bull's back as the leg bent into attitude and wrapped around Bull. But it was gone in a flash and it was the only time I thought there was an emotional connection between them. There were, however, lovely performances from the four little swans and from the leading swans, danced by Juliet Burnett and Amy Harris.
Act III had a little more emotional power and Bull finally seemed to overcome his depression, which admittedly was what we were intended to see as his mood, as he declared his love for Odile. Rothbart, played by Brett Simon sporting carrot-coloured hair, was a surprise arriving as he did with a retinue of Spanish dancers, and a Russian dancer and four Cossacks. His personality was further established as he sat on the throne next to the Queen (Lisa Bolte), engaging her in conversation. But again the recognisable pas de deux and variations from what we know as the traditional version seemed to me to intrude.
There is much else to say about this new production—the development of the role of Benno and others in Act I; the importance of Siegfried; the designs; the projections of a swan/menacing figure (Rothbart?); the funeral with which the work begins and much more, which I hope to consider in future posts. I wondered whether the work would have benefitted from having a dramaturge work with Baynes and designer Hugh Colman as there were times when I wondered who was who and what was happening—Rothbart's lifting of a limp Siegfried from the lake as, in the final moments, Rothbart sailed by standing resplendent in a mechanical swan was a surprise as there was no previous indication that I saw that Siegfried had thrown himself in the lake. But it needs more than one viewing to be able to give an informed account and in depth critical analysis. At the moment I feel that leaving some traditional choreography was a mistake and that this Swan Lake would have worked better for me had it all been Baynes.
Michelle Potter, 20 September 2012
UPDATE: Swan Lake: a second look is at this link.