13 September 2012, Canberra Theatre
This is an expanded version of my review of Terrain published in The Canberra Times, 15 September 2012, under the title 'Dancing into luscious terrain'.
Bangarra Dance Theatre's Terrain is a mesmerising work in nine short parts. Billed as a hymn to country, it evokes the changing landscape of Lake Eyre while at the same time reflecting on the relationship of indigenous Australians to their land. Its power emerges at every level—choreographically, visually and musically and through some exceptionally fine performances by the dancers as well.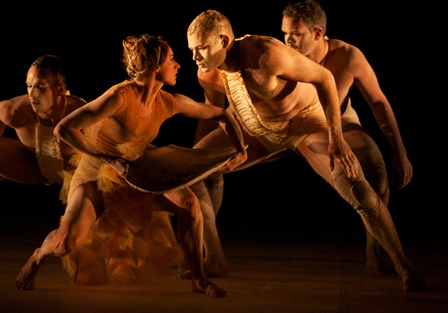 Terrain is the work of choreographer Frances Rings and her dance making has many touches that mark her choreography as unusual and distinctive. She groups people together tightly at times and then suddenly a single body is thrust upwards and extends out of the complexity of it all. She often works on bodies that are positioned upside down so the legs and feet are the main focus. Sometimes the choreography jerks and bobs as in the section called 'Spinifex'; at other times it flows smoothly and this is the quality we see in the final section 'Deluge'. Occasionally a political stance draws out movement of a more forceful kind as in 'Shields' in which issues of land rights and recognition of indigenous people determine the choreographic style. The work has the stamp of Bangarra in the grounded quality of its movement: bodies rarely attempt to defy gravity. But it has the stamp of Rings in its delicacy and intricacy of movement.
The standout section for me was 'Reflect' in which Rings brought to life the meeting of earth and sky at the horizon. With its muted colour scheme of earthy green and brown, and consisting simply of a solo for Deborah Brown followed by a duet between Brown and Leonard Mickelo, it had a simplicity and purity to it. It called up a mysterious place where two worlds converge. 'Spinifex' was also bewitching as an ensemble of female dancers pranced and twisted across the stage in choreography that was inspired by the trees around Lake Eyre. My eye was also often drawn to Waangenga Blanco in several sections. He dances with such a fluid upper body and his movement streams out to his fingertips. His dancing was especially strong in the finale, 'Deluge', when water and hence life began to flow into Lake Eyre.
The work of Bangarra has always been distinguished by a strong visual aesthetic. For Terrain set designer Jacob Nash began with a bright, white stage that was gradually filled with changing colours and light. His major contribution was a series of abstract back cloths and each was a distinctive work of art in its own right. They ranged from a strong red and black cloth with a central focus of a circular black and white motif for 'Scar', to the soft green and brown impressionistic cloth against which 'Reflect' was danced. All the cloths were enhanced by the lighting design of Karen Norris, and indeed her lighting was a major design element in the first three sections.
Jennifer Irwin's costumes were quite stunning. Diverse in their cut and in their sculptural qualities, they were beautifully textured and designed so that light playing on them could change their appearance completely. The women's skirts for 'Spinifex', for example, often looked like lace as bodies swirled into a patch of light. A feathered, tight fitting, short bolero style jacket was alluring in 'Salt' and the flowing, lightly patterned skirts for men and women in 'Deluge' captured beautifully the feel of water.
Terrain was danced to an original score by David Page. It was lush and romantic at times, sparse and even harsh at other times. It flowed along with the choreography and vice versa.
Terrain is a wonderfully integrated work in which people, politics and country are delicately balanced. The spirit of a constantly changing Lake Eyre courses through the entire piece and the work secures Bangarra's position as a treasure on the Australian dance landscape.
Michelle Potter, 15 September 2012
Featured image: Tara Gower in 'Scar' from Terrain, Bangarra Dance Theatre, 2012. Photo: © Greg Barrett