13 May 2023. Joan Sutherland Theatre, Sydney Opera House
'Paragon' is a noun that means 'a model of perfection and excellence'. The Australian Ballet's resident choreographer, Alice Topp, set out in her latest production, named Paragon, to demonstrate something of the excellence and perfection (or attempts at perfection perhaps since perfection is something that we can only hope to achieve), which has characterised the past 60+ years since the Australian Ballet gave its first performance in 1962.
Following the overture to Christopher Gordon's very danceable score, Paragon began with three performers on stage, one holding a swathe of white translucent fabric onto which were projected images of dancers from earlier Australian Ballet days. Once the white cloth was removed, the use of images from earlier eras was projected largely onto vertical panels positioned upstage, and continued as a significant feature of the work. The outstanding audio-visual editing was by Ario Dean Cook.

But links to the past were also featured as several former Australian Ballet dancers worked among and with current dancers. David McAllister and Paul Knobloch appeared with current dancers in a powerful section called 'Quake', for example. Then some of the most moving scenes were 'Saudade' (meaning 'Yearning') with Fiona Tonkin and Adam Bull, 'Home' with Lucinda Dunn and Joseph Caley, and 'Sehnsucht Couple' with Madeleine Eastoe and Marcus Morelli (with Sehnsucht also meaning 'Yearning' or 'Desire'). In each of these the choreography was filled with unusual lifts, extraordinary extensions of the legs, bounding jumps and jetes, and other twists and turns of the body, often in an uncompromisingly upside down position or across the floor. And every dancer, retired or not, performed with more than admirable strength and exactitude, perhaps even bordering on perfection.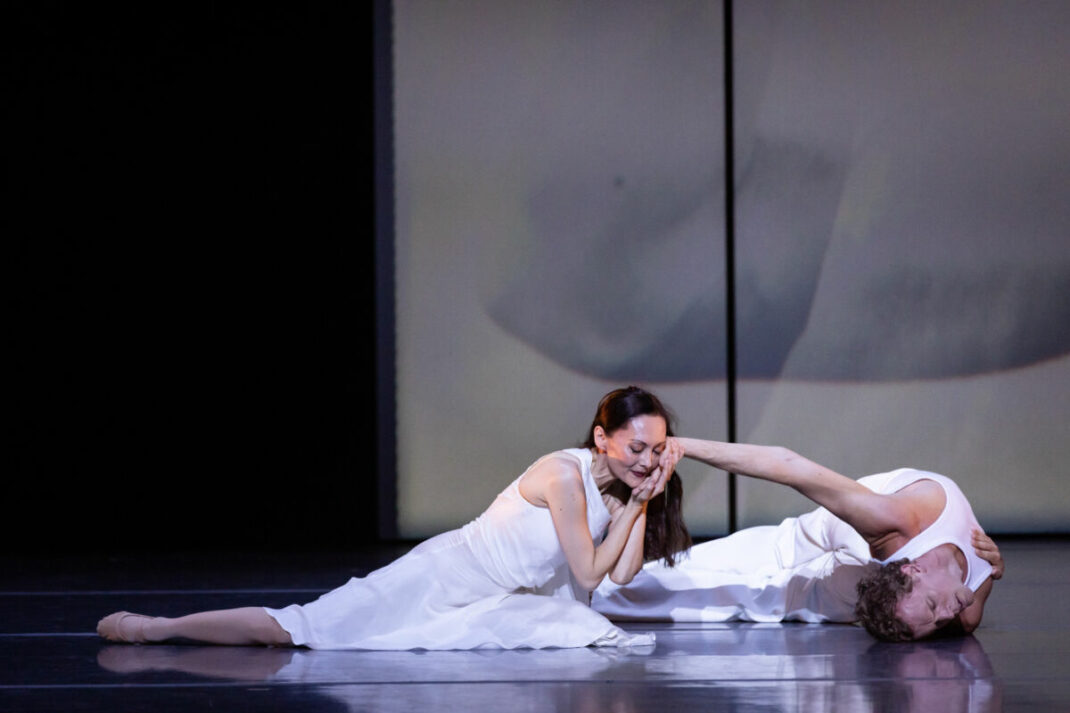 A scene that I found fascinating was 'Vogue', which made reference to the Australian Ballet's commissioning of designers. In the background we saw projected images of various designs on paper for past Australian Ballet productions, while onstage every dancer wore something contemporary and quite 'vogue-ish', often a jacket worn over a sparse costume, mostly of bikini-like proportions. Costumes for Paragon were by Aleisa Jelbart, with set and lighting by Jon Buswell.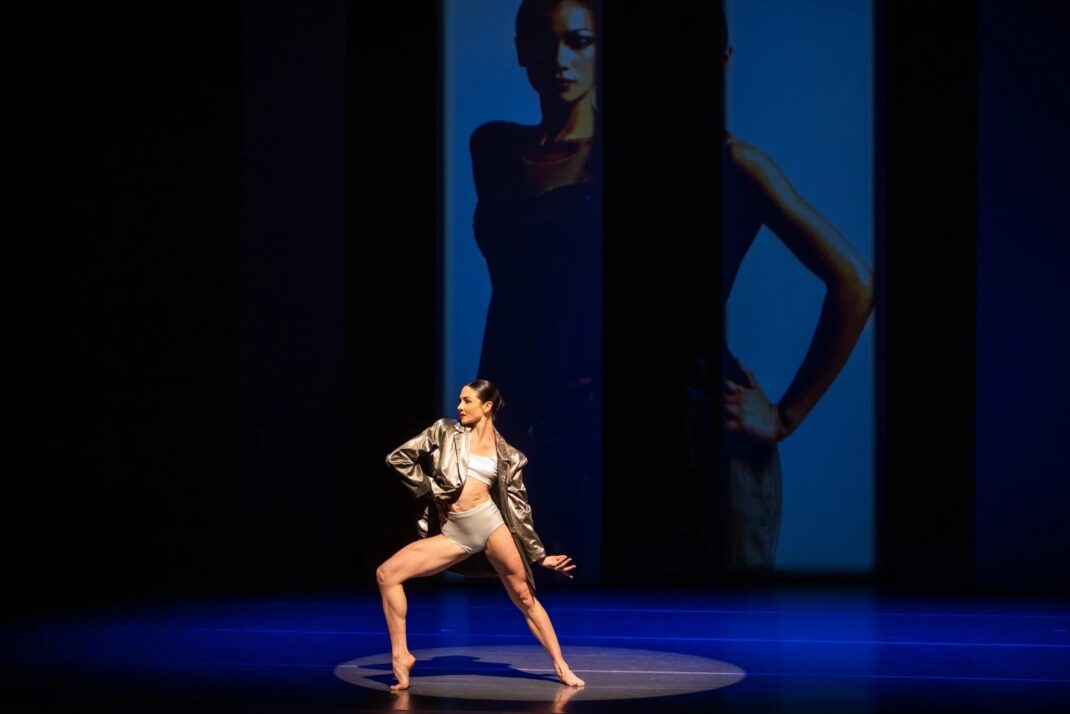 Yes, there was a strong feeling of nostalgia as the work progressed, which perhaps came to a head in the final section when Kirsty Martin and Steven Heathcote led the finale. But Paragon also gave the audience a remarkable look at Topp as a choreographer. It showed her working with a vocabulary that is clearly one of contemporary ballet, pushing boundaries, and thinking outside the square when it comes to what ballet can present in a narrative sense. Within it all was a beautiful tribute to the history of the Australian Ballet.

Paragon was part of the Australian Ballet's double bill called Identity. THE HUM by Daniel Riley was the other work on the program. See below for a list of those retired performers who contributed to Paragon.
Michelle Potter, 14 May 2023
Featured image: Opening scene for Paragon. The Australian Baller 2023. Photo: © Daniel Boud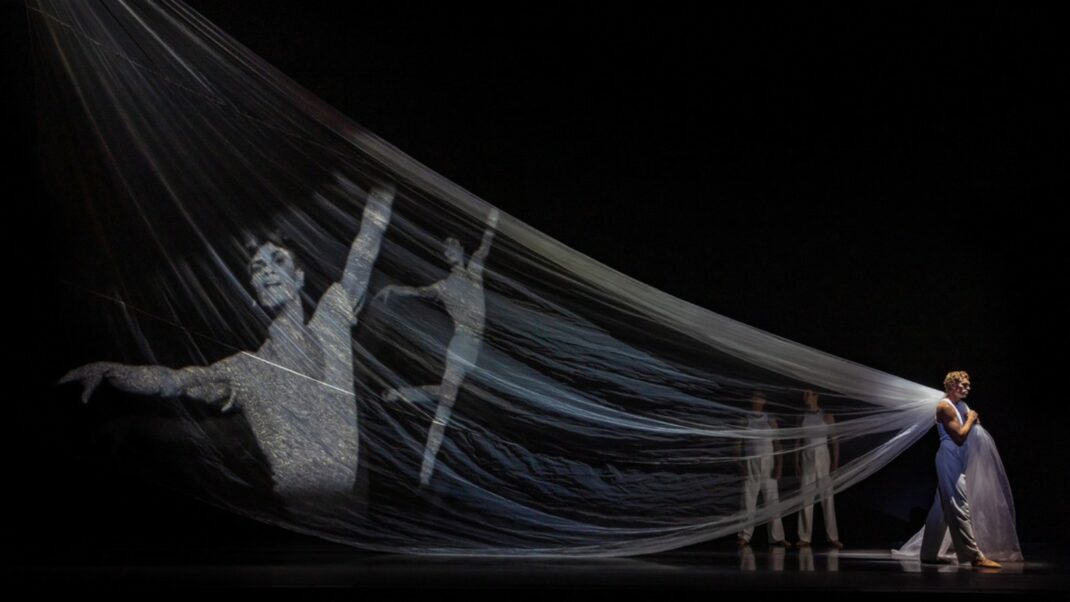 Retired dancers appearing in Paragon:
Simon Dow, Lucinda Dunn, Madeleine Eastoe, Steven Heathcote, Paul Knobloch, Sarah Lehmann (Peace), Kirsty Martin, David McAllister, Marilyn Rowe, Leanne Stojmenov, Jessica Thompson and Fiona Tonkin.