13 April 2013 (matinee), Joan Sutherland Theatre, Sydney Opera House
My single viewing of the Australian Ballet's current production of Don Quixote was entertaining, if not theatrically thrilling.
I enjoyed seeing Reiko Hombo and Yosvani Ramos in the leading roles of Kitri and Basilio. The male jota-style variation in Act I suited Ramos beautifully and showed off his neat footwork and the lightness of his jump. His portrayal of Basilio worked really well in Act III when his 'death' scene captured a certain craziness and was quite hilarious. But I missed a sense of passion in his encounters with Kitri.
Hombo performed nicely and her technical execution was precise and clear. But again I missed the fiery quality I associate with Kitri and I felt the consequent lack of a strong emotional connection or a sense of physical repartee with Basilio.
What I really liked about the production was the characterisation of the Don, played by Steven Heathcote; Sancho Panza, the Don's squire played by Frank Leo; and the wealthy Gamache, played by Matthew Donnelly. At last here was an approach that didn't seem to think that over-the-top behaviour was necessary in these kinds of roles. All were still strong individuals demanding of our attention and thoughts but without the ridiculous pantomime elements that for me went out of fashion years ago.
Amongst the corps and soloists I admired Brett Chynoweth as one of the leading townsfolk, Dana Stephensen as one of Kitri's friends and Eloise Fryer as Amour. Both Stephensen and Fryer looked wonderful onstage. They were technically assured and dancing as if they loved it. No Don could have resisted Fryer's arrows! Chynoweth was full on into the action at every moment.
It's a hard act, still, to follow in the footsteps of Rudolf Nureyev and Lucette Aldous and the cast that made up the first Australian Ballet production way back in the 1970s. But some have followed on brilliantly since then, and maybe some casts that I didn't see in this season did in fact inject some of the fiery and passionate give and take that makes this ballet a bit more than just interesting entertainment. The subscriber I sat next to yesterday was singing the praises of Lana Jones and Daniel Gaudiello.
And for those who weren't even born in the 1970s that first Don Q is still available on DVD as a digitally remastered version of the original film.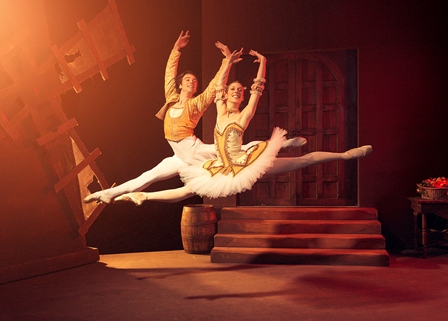 Michelle Potter, 14 April 2013