13 Rooms, 11–21 April 2013, Pier 2/3 Hickson Road, Walsh Bay
The city of Sydney has just finished playing host to an ambitious project of installation art, or more correctly perhaps of performance art in which human bodies behaved as sculpture, sometimes moving sculpture, sometimes talking sculpture, existing for a moment in time before going home, or in some cases being replaced by another shift of bodies. The event took place in the mysteriously cavernous space of Pier 2/3 with individual installations/performances showing in purpose-built, small white rooms designed by Harry Seidler & Associates.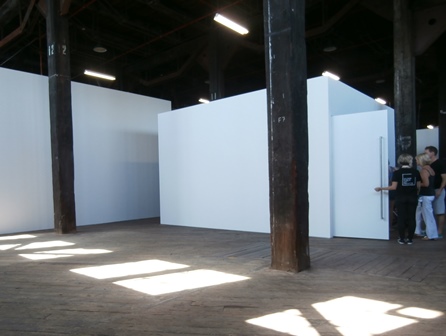 There was a dance element to one installation, Revolving Door by American artists Allora & Calzadilla. This piece of performance art was choreographed by Rafael Bonachela and performed by dancers of Sydney Dance Company augmented by students from Brent Street, a Sydney performing arts academy. The human 'door' of what was a circular space inside one room was a line of bodies representing the internal structure of a revolving door. This human chain of bodies came to a standstill occasionally, as indeed revolving doors do when no-one is using them, then took up the movement again sometimes with linked arms, sometimes with raised arms. Occasionally they would clap hands, lift arms, sit down or engage in some other simple activity.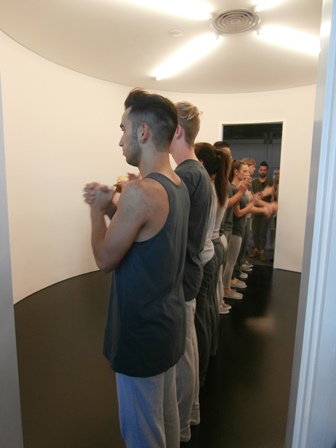 There was of course no music for the dancers to keep time with so to keep the rhythm and to maintain a straight line they had to rely on body time, a concept with which Bonachela is, I'm sure, familiar given his interest in the work of Merce Cunningham. The need to maintain a completely blank look appeared to be another requirement and there were one or two unsettling moments for me, and perhaps for other viewers, when it became apparent that one dancer was focusing on me in order to maintain his blank expression. Does one look away or stare back, I wondered?
Revolving Door also had its amusing moments. Some viewers ventured into the circular space, which had an exit door on two sides, and got caught up in the movement, escaping just in time as the human door pursued its relentless pathway.
And just as body time, where dancers have to sense how and when the bodies of their colleagues move, is a characteristic of Cunningham's work, so was performance art a component of the early aesthetic of Merce Cunningham and John Cage and their designers, in particular Robert Rauschenberg. Together Cunningham, Cage and Rauschenberg and a collection of dancers and other artists and musicians presented at Black Mountain College in North Carolina in 1952 what is generally regarded as the first 'happening' in the United States, Theatre Piece No. 1. Rauschenberg went on to create many acts of performance art, usually with dancers involved, while Cunningham's Events reflect an ongoing interest in one-off activities.
The whole event was interesting from the point of view of what is generally regarded as the impermanence of performance art. These installations were largely works that had been installed elsewhere around the world including in Manchester in 2011 and Essen in 2012. As John McDonald remarked in his review of the show for The Sydney Morning Herald on 13‒14 April: 'It is a relatively novel idea that performances may be reconstructed by different performers years after their first appearance…Many of the most famous pieces were staged in obscure locations to small audiences. We know them only in the form of grainy, decayed videos or poor-quality stills'.
Another installation I especially enjoyed was Damien Hirst's work, first made in 1992, in which a set of twins sits in front of two of Hirst's spot paintings, which although they look alike are quite different from each other. The situation gained an added interest when a set of twins from amongst the onlookers asked to be photographed in the installation.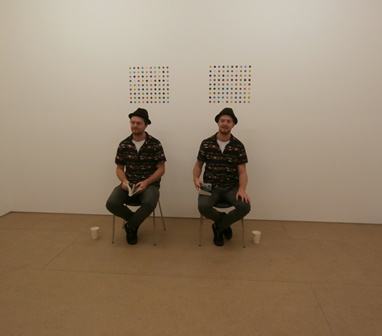 And on the day I visited, the performer in John Baldessari's Thirteen Colourful Inside Jobs was engaged in repainting her room from aqua to flamingo pink.
13 Rooms was an undertaking of Kaldor Public Art Projects.
Michelle Potter, 22 April 2013
Featured image: Moment from John Baldessari's Thirteen Colourful Inside Jobs, 13 Rooms, Kaldor Public Art project.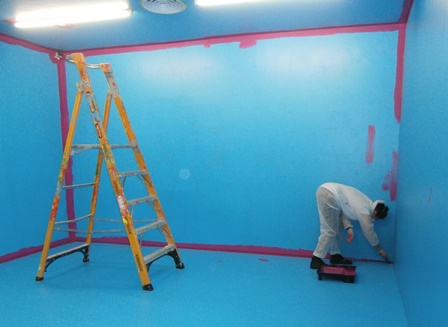 All photos: © Michelle Potter