ArtSound FM, Canberra: new dance segment
Beginning in May I will be hosting a ten minute monthly dance segment on ArtSound FM, Canberra's community radio station focusing on the arts. The segment will be part of Dress Circle a program hosted by local arts identity Bill Stephens. Dress Circle is broadcast on Sundays at 5 pm and repeated on Tuesdays at 11 pm and my segment will focus on dance in Canberra and surrounding regions. Michelle Potter … on dancing, as the segment will be called, will be a feature of Dress Circle on the first Sunday of each month.
In the first program, which will go to air on 5 May, I will be talking about the Australian Ballet's visit to Canberra with their triple bill program Symmetries, which opens on 23 May. Leading up to the program I have been talking Garry Stewart about his new work, Monument, and have been discovering some unusual and amusing stories about George Balanchine's ballet The Four Temperaments. Monument and The Four Temperaments will be accompanied by the pas de deux from Christopher Wheeldon's After the Rain in this Canberra-only program.
I will also be sharing some information about Liz Lea's new work, InFlight, which will premiere at the National Library of Australia on 31 May. InFlight is danced by four female performers who are inspired to become aviatrixes when they see their heros, Charles Kingsford Smith and Charles Ulm, taking to the air in 1928 and breaking the trans-pacific flight record.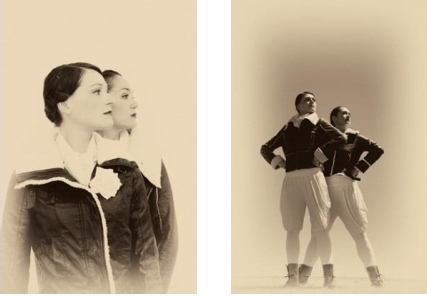 There will be other snippets of news as well, and I hope to have time to look back on some of the dance events I have enjoyed in the previous month.
Elizabeth Dalman and Australian Dance Theatre
There was some lovely news earlier this month from Australian Dance Theatre—Elizabeth Dalman has been named patron of ADT for the company's 50th anniversary year, 2015. Dalman, along with Leslie White (1936‒2009), founded ADT in 1965. White moved on to other things in 1967 and Dalman continued to direct the company until 1975. After a varied career overseas, both before and after the ten years she spent at ADT, Dalman returned to Australia in 1986 and in 1990 founded the Mirramu Creative Arts Centre at Lake George, near Canberra. She continues to direct the Centre and its associated Mirramu Dance Company. Fifty years of ADT will also mark fifteen of Mirramu.*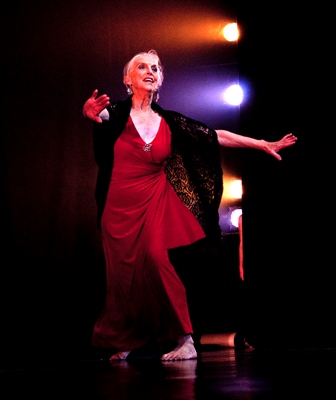 I didn't post my Canberra Times review of Sapling to Silver when it was performed in Canberra in 2011, so here is a link to the review. [UPDATE August 2020: Online link no longer available]. Here is a link to posts about Elizabeth Dalman.
In April I had the pleasure of presenting an illustrated talk, The fabric of dance, at the National Gallery of Victoria, Melbourne, in conjunction with the Gallery's exhibition Ballet and Fashion. In this talk I looked at how the tutu had developed over three centuries or so, and in particular at how its development had been influenced by changes in fashion and by new materials and fabrics that had become available. But, in putting the talk together, I found I was quite unexpectedly wanting to suggest a link between one of the costumes on show in the exhibition and Louis XIV in his famous role as Apollo in Les Ballets de la nuit of 1653, which I did. I am hoping to post the text of the talk, and the accompanying PowerPoint slides, on this site in due course.
One of the images I showed during the talk was of Paris Opera Ballet dancer Carlotta Zambelli, which I was only able to show as a black and white scan from an article first published in the Australian dance journal Brolga in 2005. My postcard of Zambelli was in colour but it disappeared as a result of being lent when that issue of Brolga was being prepared for publication. I despaired of ever seeing it again but it was returned to me a week or so after the Melbourne talk. So for anyone who was at the talk, below on the right is the image in colour, alongside another (also returned to me at the same time in the same circumstances) of Zambelli with an unknown partner in La ronde des saisons in 1906.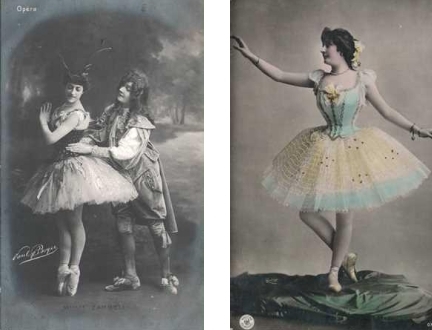 The Rite of Spring: Stephen Malinowski's animated graphical score
I found what I think is an excellent review of Stephen Malinowski's animated graphical score of Stravinsky's Rite of Spring. I mentioned this score in a previous post without making much comment myself although what the animated score did instantaneously for me was bring me to a realisation of why I disliked Raimund Hoghe's Sacre so much. Hoghe completely ignored the fact that the music has so much colour, drive and rhythm. The colour, drive and rhythm of the music is perfectly obvious when listening to the music of course, but seeing the animated score absolutely drives it home and opens up a new view of the intensity of the music. Here is the link to the review.
Michelle Potter, 30 April 2013
* Dalman has always been a strong voice in the dance world and she argued against a name change to Meryl Tankard Australian Dance Theatre when Meryl Tankard became director of ADT in 1993. A brief account of that interlude appears in my recent publication Meryl Tankard: an original voice (2012). In a letter to Dance Australia Dalman argued that the company should not carry Tankard's name as it was important to 'maintain continuity and … respect for the historical background of the company'.