15 July 2015, Q Theatre, Queanbeyan
Elizabeth Dalman's L begins with a solo dance, 'The firebird', performed by Miranda Wheen. Wheen wears a red tutu that Dalman herself wore as a young ballet student in Adelaide and, as Wheen finishes her solo and makes her exit, a red feather drops from her costume. It is picked up by Dalman who enters as Wheen exits. The feather, Dalman exclaims, holds the story of 'a vibrant life'. What follows is indeed the story of Dalman's life in dance, largely the 50 years since Dalman established Australian Dance Theatre in Adelaide in June 1965. L has in fact been made in celebration of that 50th anniversary. The name of the work, L, is the Roman numeral for 50 and also the first letter of Liz, the name by which Dalman was known when she directed ADT between 1965 and 1975.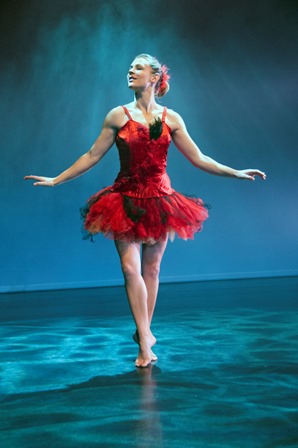 L is a reworking of an earlier evening-length piece, Sapling to Silver, which Dalman made in 2011. Although Sapling to Silver also celebrated Dalman's career in dance, L has an even stronger focus on Dalman and has clearly benefited from the input of a dramaturg. It is tightly constructed and follows a logical, easily understood pathway.
Some of the dance segments are drawn from the early ADT repertoire. They feature choreography in the style of those who influenced Dalman at the time—Eleo Pomare, Martha Graham and others of that era—and music and songs by the Beatles, Janis Joplin, Yoko Ono and other artists of the 1960s and 1970s. Other segments are newer and have been made during the time Dalman has spent at her Mirramu Creative Arts Centre on the shores of Lake George at Bungendore just north of Canberra.
The separate elements of L are drawn together by the story, narrated by Dalman over the course of the various sections, of a eucalyptus tree that grows and flourishes before dying—a metaphor for life. The narrated storyline is accompanied at times by danced segments, including 'Sapling' to music by Colin Offord. 'Sapling' is strongly danced by Vivienne Rogis and Rogis' constant and commanding presence throughout L highlights another strand of Dalman's career. In 2000, Rogis was co-founder with Dalman of Mirramu Dance Company.
One of the most moving segments in the work is 'Tree spirit', danced by Dalman and, as the spirit of the tree, the newest member of Mirramu Dance Company, Hans David Ahwang. Ahwang seems possessed by that tree spirit as he dances around Dalman, crouching, hovering, leaping. His body quivers at every move and his eyes dart and then focus strongly. The choreographic detail he displays is spellbinding.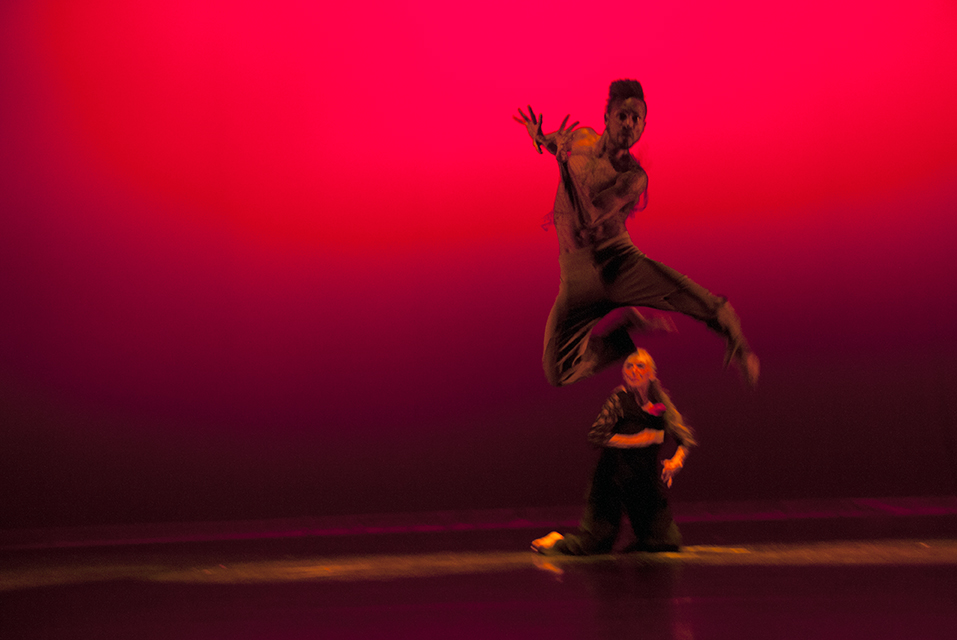 As this section finishes Dalman holds up a stone she has gathered from the spot on which her tree used to stand. It has, she says, the face of a young woman written on it and, as Dalman leaves, Miranda Wheen begins a solo, 'Young Woman', in which she flies through the air, turning and twisting with all the vigour of youth. These two sections work beautifully together as a juxtaposition of dancing generations.
L then takes on a more sombre tone as Dalman dances 'Old Woman' with choreography by Adriaan Kans, followed by 'Dyin' Time' to music by the folk trio Peter, Paul and Mary and danced by the whole Mirramu company. I wondered about these last sections. At 81 Dalman, to her credit, never tried in L to pretend she was still a young dancer. But 'Old Woman', which Dalman performed with remarkable power and strength, was perhaps a little too long, and maybe 'Dyin' Time' was unnecessary, even though the words expressed what Dalman hopes to achieve—that is to pass on her heritage to her company of dancers? But the celebratory tone of the finale, into which Dalman had choreographed the curtain calls, removed the darker notes of the previous two segments. On balance, L is indeed a celebration of Dalman's truly vibrant life.
The Queanbeyan performance was a precursor to a gala event in Adelaide to be held on 18 July. Dalman was not impressed that public funding for an ADT gala in Adelaide was pulled. So, determined that ADT's 50th anniversary should not go unnoticed, she self-funded L to be performed at the Dunstan Playhouse, Adelaide Festival Centre where the program will include an excpert from Garry Stewart's Be Your Self performed by the current ADT dancers.
Michelle Potter, 17 July 2015