When I reviewed Mirramu Dance Company's Morning Star on this website back in March of this year I mentioned Jade Dewi Tyas Tunggal as one of the performers who really stood out for me. That post received comments from two readers commenting on Jade and her qualities as a performer. Well, last week I had the opportunity to speak to Jade for a preview story for The Canberra Times. Opal Vapour opens in Canberra shortly and I was interested especially in talking to Jade about her Javanese heritage and how it feeds into Opal Vapour.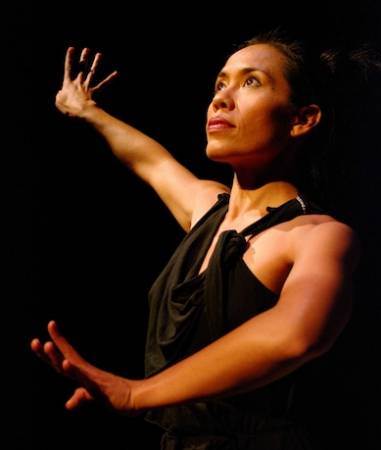 It struck me as we were talking that what I have admired about Jade Dewi Tyas Tunggal's dancing (such as I have seen to date anyway) is the same quality that I have noticed on those occasions when I have watched Javanese performers. I recall walking into a hotel lobby in Yogyakarta (so long ago that Yogyakarta was still spelt with a 'Dj' instead of a 'Y') where a woman was singing to the sole accompaniment of a stringed instrument, the rebab. The sound was refined and the singer had such power and dignity coursing through her body. It was impossible not to be totally entranced. Even the large rat that scurried across the lobby could not detract from the mesmerising effect this singer and her musician had.
Jade says she is interested in the idea of embodiment in performance, being present to audiences. This idea is clearly part of her practice and largely the reason why her performances are so captivating, just as that Javanese singer was so powerful.
But Jade also talked about feeling very Australian. Part of the inspiration for Opal Vapour came from the idea of water as a metaphor. She was interested in the idea that water was a life giving force as she watched the Australian drought coming to an end. Water had a power to transform a landscape and she began to think about pouring certain qualities into dance and then pouring them out and inviting other qualities to enter. So the comment that she has 'an amazing imagination' is so true.
I can't wait now to see Opal Vapour, which seems to bring together such a range of influences, including the power and resilience of Jade's Javanese heritage. Read more in the story in The Canberra Times, including the meaning of the yellow net seen in the image below.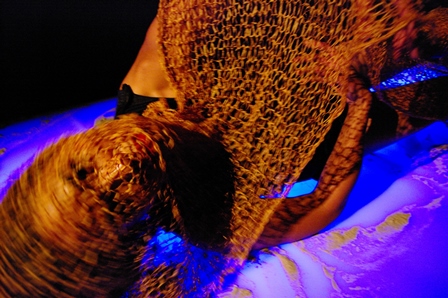 Michelle Potter, 1 June 2013
UPDATE: Here is a link to my review of Opal Vapour published in The Canberra Times on 18 June 2013.