With Alexei Ratmansky's Cinderella now playing a Sydney season with the Australian Ballet, it was a delight to hear that in 2014 Sharmill Films will be screening Ratmansky's Lost Illusions, a work based on the novel by Honoré de Balzac and made in 2011 for the Bolshoi Ballet. It opens at cinemas around the country on 29 March 2014.
I am, however, also looking forward to the visit to Australia (Brisbane only) in 2014 by American Ballet Theatre when Ratmansky's gorgeous work, Seven Sonatas, will be part of the company's mixed bill program. I wrote about this work in an earlier post. It is truly a work worth seeing.
In the meantime I am looking forward to further viewings of Cinderella very soon. More later.
Canberra Critics' Circle Awards: Dance 2013
The dance awards in the annual Canberra Critics' Awards this year went to Liz Lea and Elizabeth Dalman. Lea was honoured for the diversity of her contributions to the Canberra dance scene, in particular for her input into the dance and science festival she curated in collaboration with Cris Kennedy of CSIRO Discovery, and for her initiatives in establishing her mature age group of dancers, the GOLD group.
Dalman received an award for Morning Star, which she created on her Mirramu Dance Company earlier in 2013. Morning Star was based on extensive research in and travel to indigenous communities and the final product used an outstanding line-up of performers from indigenous and non-indigenous communities and mixed indigenous and Western dance in insightful ways.
Canberra's National Portrait Gallery was recently the venue for a short program of dance presented by two Sydney-based independent artists, Julia Cotton and Anca Frankenhaeuser. Called Movers and Shakers and held on the last weekend of the Gallery's exhibition of photographs by Richard Avendon, the short, 30 minute program was largely a celebration of dancers Avendon had photographed over the course of his career, including Merce Cunningham and Rudolph Nureyev. Cotton and Frankenhaeuser are mature age performers and it was a joy to see that, as such, they had taken their work to a different plane in terms of technique but had lost none of the expressive power that has always been at the heart of their dancing.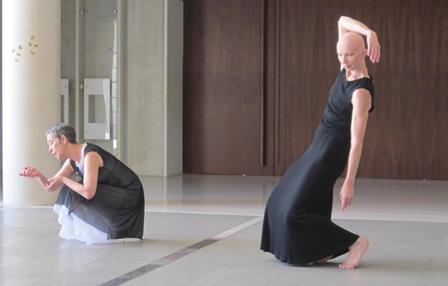 The tiny objects you see on the white pillar on the left of the image above are little decorative items representing bees, which Frankenhaeuser initially wore on her face and which she removed and stuck on the pillar at one stage in one of her solos. This part of the program referred not to a dance portrait but to Avendon's well-known shot of a beekeeper. It was a particularly strong and confronting solo by Frankenhaeuser who danced around the pillar—and was sometimes almost completely hidden by it—using little more that fluttering hands to convey her story.
Hot to Trot: Quantum Leap
Hot to Trot, a program for young, Canberra-based choreographers has been around for fifteen years, although the recent 2013 program is the first one I have managed to see. As might be expected the short pieces, which included a few short dance films, were of a mixed standard. One stood out, however, and deserves a mention—Hear no evil, speak no evil. It was jointly choreographed by Kyra-Lee Hansen and Jack Riley who were also the performers. The dance vocabulary they created was adventurous and compelling and the work itself was clearly and strongly focused and well structured.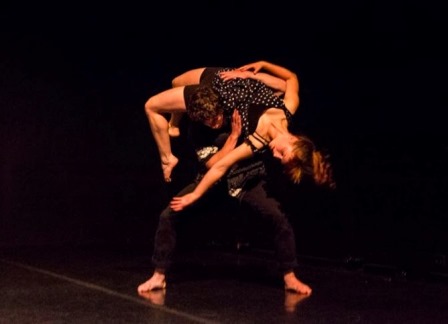 Jack Riley will join the WAAPA dance course in 2014.
Meryl Tankard and Régis Lansac
News came in November from Meryl Tankard and Régis Lansac. Tankard's acclaimed work The Oracle was performed in mid-November in Düsseldorf, Germany, by Paul White, now a member of Tanztheater Wuppertal, as part of a celebration of the legacy of Pina Bausch.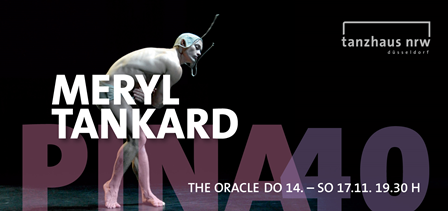 At the same time, the gallery of Mac Studios in Düsseldorf held an exhibition of more than twenty large-format portraits of Tankard by Lansac. All were produced in the summer of 1984 in the Wuppertal apartment of the American art critic David Galloway. One of Lansac's most striking images held in Australian public collections also comes, I believe, from the shoot Lansac undertook in this apartment. Follow this link.
Michelle Potter, 30 November 2013
Featured image: Xiomara Reyes and Herman Cornejo in Seven Sonatas, American Ballet Theatre. Photo: © Rosalie O'Connor