The recently released online tribute to retiring director of the Australian Ballet, David McAllister, has much to enjoy. Titled Celebrate David McAllister, it is hosted by Virginia Trioli with concept and curatorship from Fiona Tonkin. Tonkin, towards the end of the stream, explains the origin of the initiative.
We never gave up David. We had mainstage galas set for you, we had a one-off 'gala-ette', and now we have this online streaming tribute. We could not let COVID-19 stop us offering you a collective, heartfelt thank you
In three parts, it covers first up McAllister's performing career with some wonderful footage—those fabulous turns in La Fille mal gardée—; the second looks at what Trioli refers to as 'some of the milestones David has achieved' during his term as artistic director; and in the final section artists from around the world—dancers, choreographers, directors, crew and others—pass on memories and good wishes for the future.
I especially enjoyed the final section. Some messages were a little tearful, others somewhat hesitant, but all were heartfelt. I loved Liz Toohey leaning forward towards the camera and saying 'best partner in the world'. Then there was Lisa Pavane stringing together adjectives that began with D, then A, then V, then I and then D again. And just fancy Richard Evans, Executive Director 2002-2007, being taught Giselle in his kitchen (by David of course). 'I can't look at Giselle the same way again,' Evans admits 'It was a famous night.'
Below is a link to the full feature.
As a sideline to the above, a short video made by the National Portrait Gallery to celebrate the Peter Brew-Bevan photograph, part of the NPG collection, is also a good watch, even though it has no focus on the retirement. See this link.
And on a personal note, David launched two of my books A collector's book of Australian dance (2002) and Dame Maggie Scott. A life in dance (2014). He is a terrific speaker! Now there's a potential future.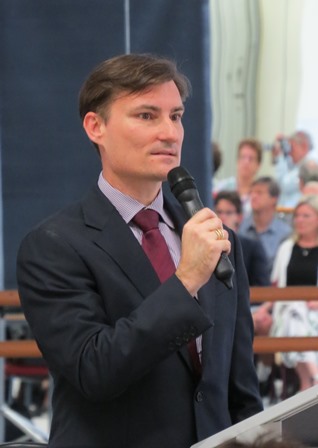 Michelle Potter, 15 December 2020
Featured image: David McAllister and Liz Toohey in the Bluebird pas de deux from The Sleeping Beauty. The Australian Ballet, 1984. Photo: Walter Stringer. National Library of Australia