There has been much to watch via digital streaming over the past few weeks. The Australian Ballet, Sadler's Wells, New York City Ballet, Royal Ballet of New Zealand, and others have all provided some excellent footage of works from their repertoire. Some of the works I have seen via digital streaming I have already mentioned on this site, but there are two impressive productions I have just watched that I have not yet written about (except in relation to previous live productions).
Bangarra Dance Theatre's filmed version of Bennelong is outstanding. I have been impressed with the work on the occasions when I have seen it live—my review is at this link. But it was exciting to see it on film as well. What I liked especially was being able to see Jennifer Irwin's costumes close up. Her leafy outfits for the dancers in the opening movements were just beautiful, and it was fascinating to see close up the textures of the fabrics used for the women in Bennelong's life, who appear towards the end of the work. I also loved being able to see Beau Dean Riley Smith's facial expressions throughout. He was such an impressive performer in this role. The film was (and still is at the time of writing) available via the Sydney Opera House website.
The second film that I really enjoyed was New York City Ballet's production of Balanchine's Apollo. It has been a while since I have seen Apollo live and I was staggered by the performance and interpretation of the title role given by Taylor Stanley, NYCB principal. He danced with such athleticism and displayed precision and strength throughout. He saw himself as a god and was determined to act accordingly. It was an eye-opener. This film was available on nycballet.com but finishes on 1 May. But … next up from NYCB is Ballo della Regina. I'm sure it will be worth watching.
Wednesday 29 April 2020 was International Dance Day. But much (if not all) that had been planned was not able to come to fruition. Some of the Canberra dance community did, however, put together a short video, Message in Motion. It centres on a speech by South African dancer and choreographer Gregory Vuyani Maqoma and is spoken by Liz Lea. The opening movement sequences are from James Batchelor, who is currently confined in Paris where he has a residency.
George Ogilvie ((1931-2020)
I was sorry to hear that George Ogilvie, theatre director, had died in Braidwood, New South Wales, on 5 April 2020. I especially regret that he did not live to see the Kristian Fredrikson book published, although he knew that it was on its way. Ogilvie was one of the executors of the Estate of Kristian Fredrikson, and so I had some dealings with him as a result of his holding that position. He and Fredrikson enjoyed a productive and close collaborative connection beginning in the 1960s when Ogilvie was working as artistic director of Melbourne Theatre Company. They then went on to work together in productions by various theatrical companies including the Australian Ballet and the Australian Opera (as it was then called).
Ogilvie also taught mime for the Australian Ballet School in its early years and in his autobiography, Simple Gifts, he recalls his time there, mentioning in particular his recollections of Graeme Murphy.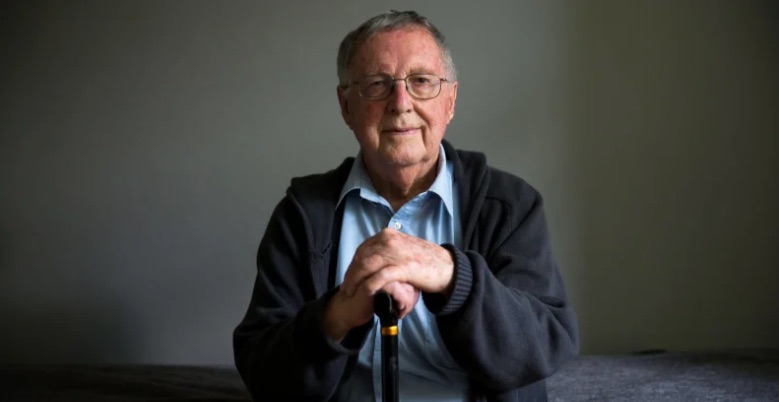 Vale George Ogilvie.
In a previous post I mentioned an oral history I had recorded with Chrissa Keramidas for the National Library's oral history program. That interview now has a timed summary, which is online together with the audio, at this link.
Michelle Potter, 30 April 2020
Featured image: Elma Kris and Beau Dean Riley Smith in Bennelong. Bangarra Dance Theatre, 2017. Photo: © Vishal Pandey