28 August 2019. Lyric Theatre, Queensland Performing Arts Centre, Brisbane
With its production of Sir Kenneth MacMillan's Romeo and Juliet, Queensland Ballet once again displayed its constantly growing position as one of Australia's leading dance companies. This Romeo and Juliet, for which the premiere dates back over 50 years to 1965, was first performed by Queensland Ballet in 2014 when the cast included several international guest artists. In 2019 the cast was home grown. The night really belonged, however, to Mia Heathcote as Juliet and Patricio Revé as Romeo. Both were promoted onstage at the conclusion of the performance.
The Heathcote/Revé partnership was an engaging one throughout. They shone in the several pas de deux on which the MacMillan production centres, and both provided us with believable interpretations of the characters they represented. Mia Heathcote's confidence onstage and her ability to maintain her characterisation (and technique) throughout what is a long ballet with many changes of location, not to mention changes of emotional mood, was admirable. Revé clearly has many talents, although I suspect he probably needs a little more time before he has the stage presence that will match his technique.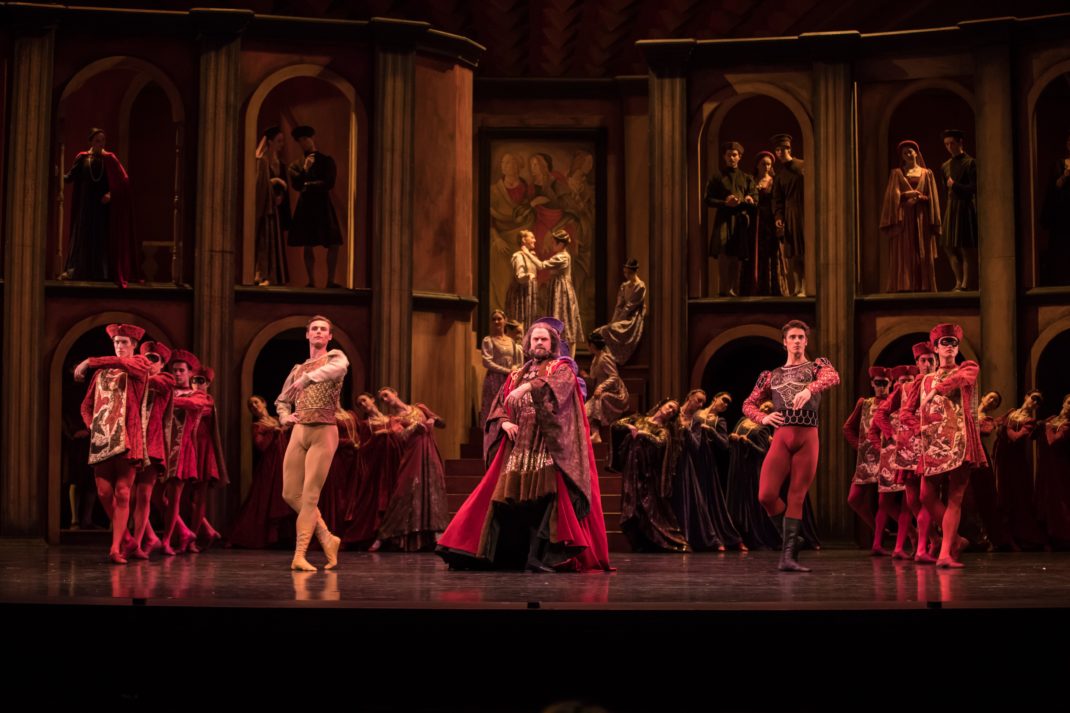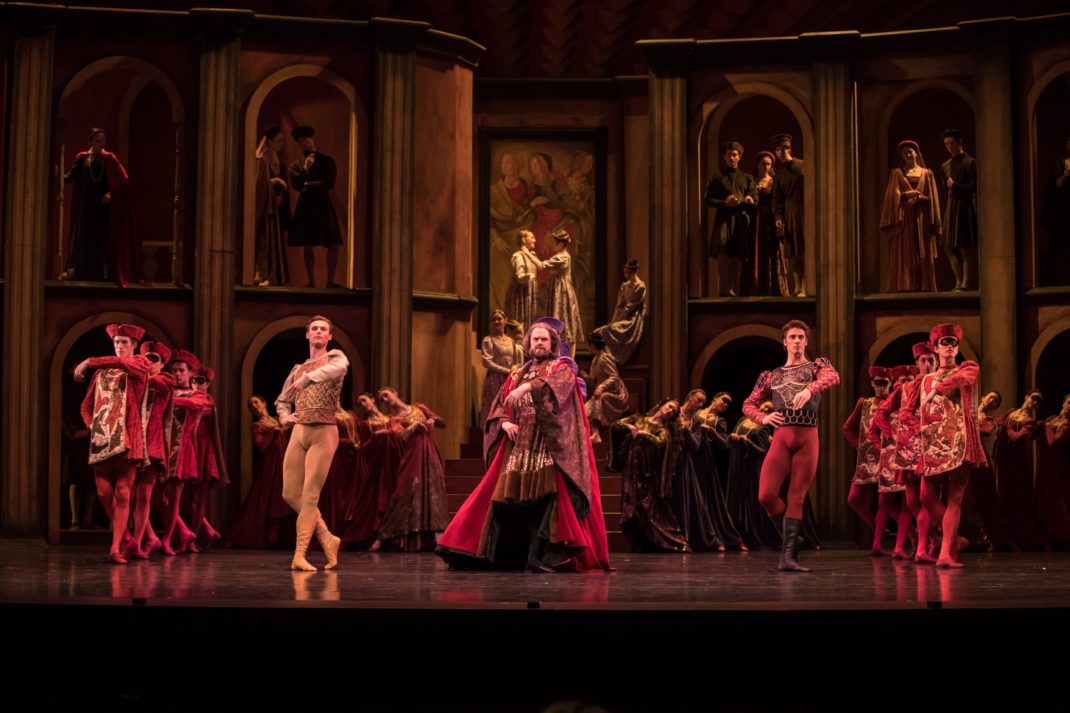 I loved the group scenes in this production, all of which were imbued with great energy and so much interaction between all those on stage. Particularly impressive was the Capulet Ball, led magnificently by Steven Heathcote, guesting on this occasion from the Australian Ballet. There was just a touch of pride in the way he held his chest and turned his head that told us he was in charge. He maintained that dominance, a calm but obvious dominance, throughout, whether he was dismissing Tybalt's attempts to remove Romeo from the ballroom, or demanding later that Juliet marry Paris. The ball scene was also distinguished by MacMillan's beautiful choreographic approach in which the guests all danced with a slight tilt to the body. So appropriate to the era in which the ballet takes place.
The several fight scenes, staged by Gary Harris, were dramatic and spirited and, in the earliest of those scenes, the whole stage was abuzz with fiery action. The death of Mercutio at the hands of Tybalt was equally as dramatic with Kohei Iwamoto performing strongly throughout as Mercutio.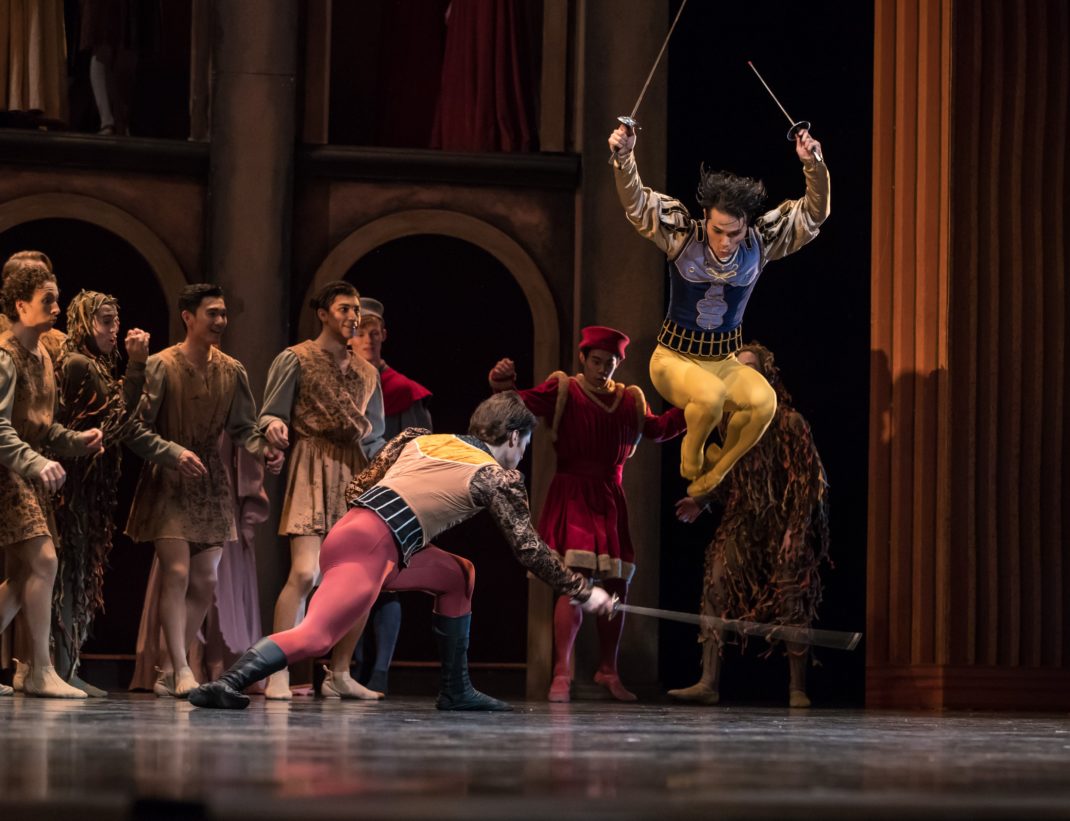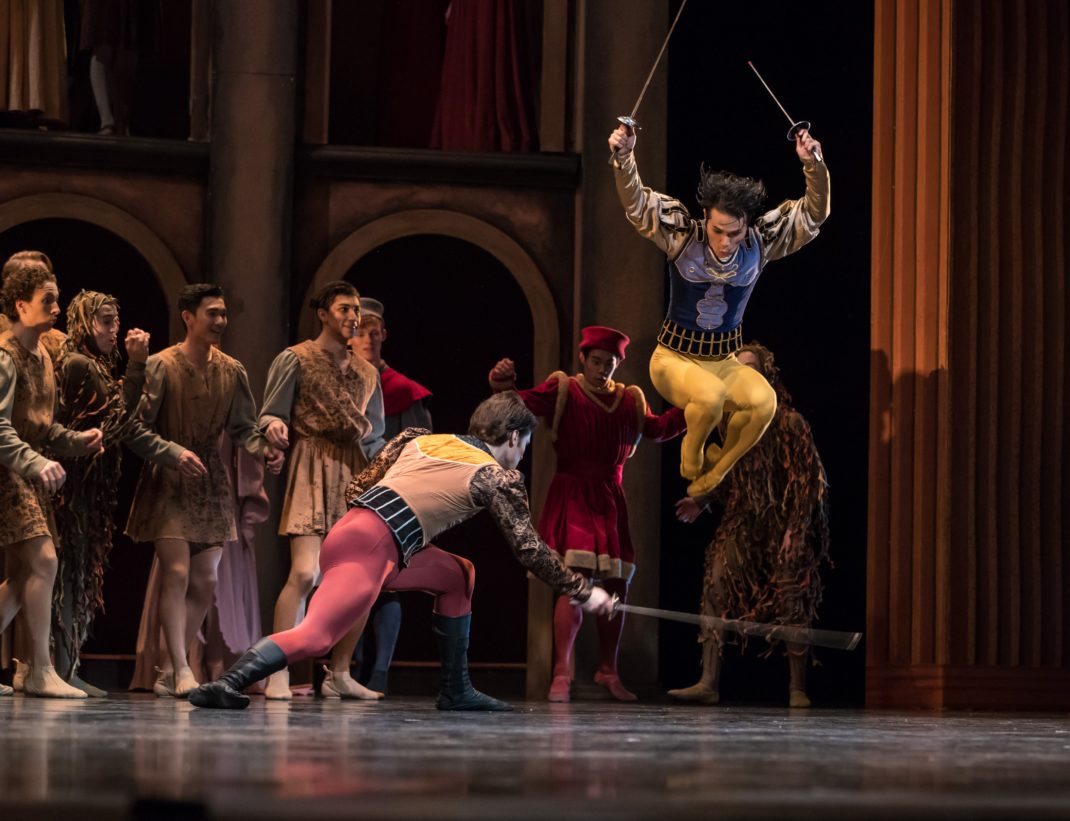 I was entranced too by a dancer (unnamed) playing the part of a disabled old man in the market place. Mostly he was high up on a kind of balcony that surrounded the market square but he was so involved with what was happening below that it was often hard to take one's eyes away from him to watch the main action.
What confused me slightly (and probably only because I had not so long ago seen London's Royal Ballet perform the MacMillan Romeo and Juliet) were the designs used by Queensland Ballet. I was, I have to admit, expecting the Georgiadis designs, which I admired greatly) but it turned out that Queensland Ballet has what Li Cunxin calls the 'touring' designs, which were rented from a company in Uruguay and are by Paul Andrews. For me they couldn't match those of Georgiadis, although I admired Juliet's bedroom with its red/orange drapes and its religious icon/prayer point in one corner. The costumes for the musicians who accompany the wedding procession in the market place were also impressive. They spun out beautifully during turning movements.
All in all though, another wonderful show from Queensland Ballet.
Michelle Potter, 30 August 2019
Featured image: Mia Heathcote and Patricio Revé in Romeo and Juliet. Queensland Ballet, 2019. Photo: © David Kelly