29 September 2022. Canberra Theatre Centre
The various media statements about Savage, Daniel Riley's first work as artistic director of Australian Dance Theatre, leave us wondering just exactly what the work will be like. How will a dance performance deal with what one media statement says is a 'confronting exploration of the notions of myth and identity, [examining] our fundamental belief systems, and [turning] the spotlight on those who hold the power of storytelling while challenging us to question our blind obedience.' That's a lot to examine.
In many respects I think it was the theatre side of Australian Dance Theatre that held the piece together, rather than the dance side, if we can separate the two, which I think in this case is necessary. Dean Cross' setting was spare and decidedly down to earth. Two large wire mesh screens on wheels (one initially covered by a grey tarpaulin-like cloth) were moved around the stage separating people, sometimes enclosing them, and sometimes being rolled over bodies lying stretched out on the floor.
A collection of white, plastic outdoor chairs also played a major role. They were thrown around the stage, piled up on each other, and used at times as a seat for standing dancers who in acts of coercion were pushed down onto them. At the very end the chairs were thrown into a messy heap located centre stage. One dancer tried to wend his way through the mess as others stood aside and watched. How to find one's way through the mess of history?
Similarly, the lighting design by Matthew Adey seemed at times to glare brightly into the eyes of the dancers (and the audience) suggesting perhaps exposure and a need to pull away from received 'wisdom'?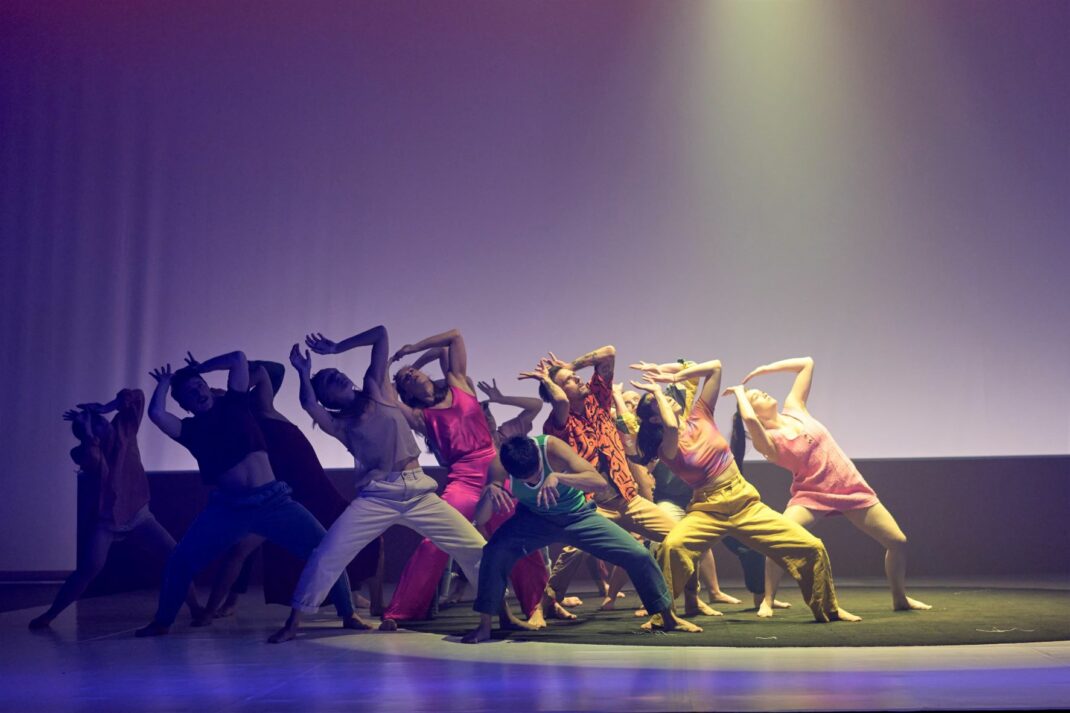 Then there was the dominant black circle in the centre of the performance space. At one stage it was covered by a cloth, which a dancer pulled back slowly to expose the circle. As this was happening another, trapped on the cloth, eventually was able to remove himself from it. The symbolism of escape was obvious (I think).
The six dancers who currently make up the composition of Australian Dance Theatre were augmented in Savage by Riley himself and, in the Canberra performances, by a group of emerging young performers from Canberra's youth group QL2 Dance, where as it happened Riley received his early dance experience. The dancers were all top class performers in their respective roles and experience and the ADT company members looked especially good in group sections. Riley stood out, as he has always done with whatever company he is performing. His presence on stage has always been outstanding. Of the others I was often transfixed by Zoe Wozniak whose use of the whole body from head to toe was exceptional and whose stage presence was also outstanding. But Savage did not seem choreographically exciting or powerful, at least not often, or not often enough.
In program notes, Riley says he wants Savage 'to encourage deeper thinking and reflection on the systems and voices who coerce our history to suit a singular vision of our country.' Perhaps that I found so much of Savage frustratingly confusing and choreographically unexciting as the work unfolded meant that I had to reflect and think? But to tell the truth there have been other dance (and dance film) productions that have had a much greater effect on how I see Australia's history from an Indigenous perspective, including some in which Riley has been a major player.
Australian Dance Theatre has always been a contemporary company and, especially in the past 20 years under Garry Stewart's directorship, has pushed boundaries and unravelled complex concepts. Riley is well suited to carry on such a tradition but I'm not sure that Savage has the choreographic strength that is needed to make clear the diverse and theoretical ideas behind the work. There has to be more than the collaborative elements of design.
Michelle Potter, 30 September 2022
Featured image: Advertising poster for Savage