The first thing I did after watching Garry Stewart's Devolution (created in 2006) was go to the dictionary to check exactly what 'devolution' meant. In its most straight forward meaning, the dictionary (The Macquarie Dictionary is my go-to hard copy source) says 'the transfer or delegation of power or authority'. But it appears to have a biological meaning, that is 'degeneration, retrograde evolution'. Both are interesting, or perhaps relevant, with regard to Devolution. Looking on the list of credits, too, Stewart lists Steve Griffiths as 'Biology Consultant'.
Looking at the work, however, it is impossible not to be instantly overwhelmed by the huge mechanical devices that populate the stage space—robotic structures created by Louis-Philippe Demers. They lurch forward and backward, up and down, and often dominate the choreography (or the choreography for humans that is). Some smaller structures take over the humans somewhat and become prosthetic appendages, although that they need to be attached to a cable hooked up to something backstage limits the dancing possibilities and detracts from the overall image they generate when attached to a dancer.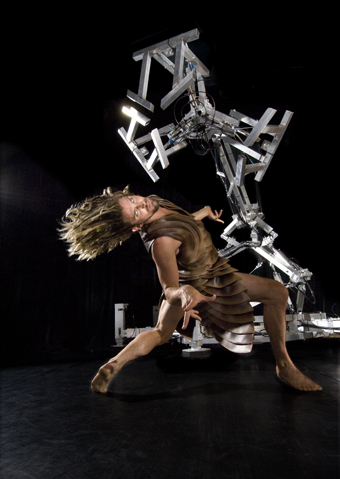 As for performances by the human dancers, it is in the mode we have come to expect from Stewart. The dancers have no fear (or so it seems) as they throw themselves through the air and fall the the floor, only to get up again and continue their adventurous foray through space. Daring physicality is the hallmark of the dancing. We also see headstands held for a long time, and an incredible solo that is a series of variations while in a backbend. It's extreme movement to put it mildly.
Costumes by Georg Meyer-Wiel someteimes had the dancers looking like insects given that the material was layered, shell-like and protective, although they also revealed the dancers' backsides. No protection there.
But what of the connections between people and robots? What of devolution? Who is delegating power to whom? What is the biological process? Are the humans falling into some kind of degenerative state as the robotic structures march forward? I didn't see Devolution during its premiere season so it was an experience to see it during this streaming season. But it isn't my favourite piece by Stewart.
The most gentle aspect of Devolution came from video artist Gina Czarnecki with her beautiful images that floated through the space at the beginning and end of the work. They looked initially to me like abstractions of dancers' limbs, but later they seemed more like the insects that were suggested by the dancers' costumes. Whatever, they had a calming effect.
I watched Devolution between streamings of Giselle from the Australian Ballet and La Fille mal gardée by the Royal Ballet. Such different ends of the dance spectrum!
Michelle Potter, 13 June 2020
Featured image: Dancers of Australian Dance Theatre in Devolution, 2006. Photo: © Chris Herzfeld/Camlight Productions