Tanja Liedtke's Construct, a streamed performance from 2017, was an eye-opener. I had not, for various reasons, seen the work before and, while I had heard a lot about it, I really had no idea what to expect. Well, it was funny, it was sad, it was revealing, it was complex, it was about life (and at one stage about death).
Danced with great panache and skill by Marlo Benjamin, Jana Castillo, and Kimball Wong, it examined from so many points of view the notion of construction, as the name implies. The stage space was filled with various items used in building construction, a saw horse, items of timber, power tools, a ladder at one stage, and other such items. The construction of a house was intended as further items were added, and as the basic shape of a house took place. But on a different level the work was also about the 'construction' of relationships and often this was indicated by the touching (or not) of index fingers (à la Michelangelo's Sistine Chapel ceiling painting). Sometimes the human element was intense, at other times distant, but Liedkte managed to move from one situation to another with ease, often rapidly but, remarkably, without creating any confusion in one's mind while watching.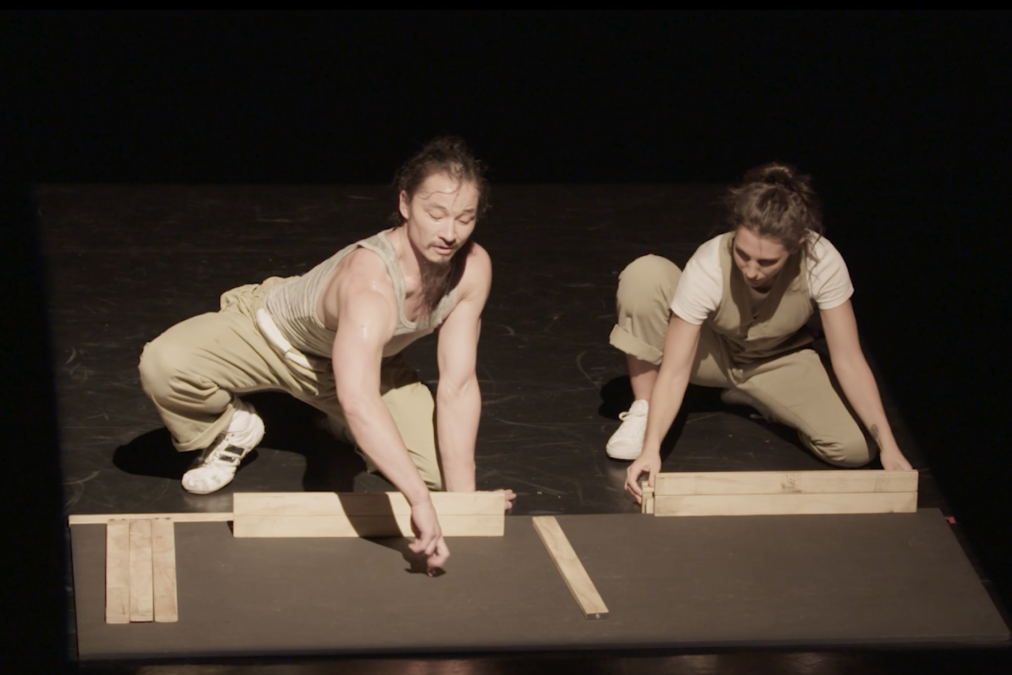 Choreographically Construct was entirely different from anything I have seen before. Sometimes the movement seemed quite simple. There was walking, simple jumping, and lying on the floor. But most of the movement was complex and required extreme flexibility, even acrobatic skills from the dancers. But to me it never looked acrobatic or overly physical—just fluid, remarkable and unique.
The work opened with a very funny sequence in which Wong made a largely unsuccessful effort to balance Benjamin and Castillo in an upright position. The two women were as immobile as the strips of wood that became such an inherent feature of the rest of the work. As Construct progressed those strips of wood became windows, roofs, doorways, even a toilet seat at one stage. But looking back, the immobile ladies perhaps represented certain aspects of human relationships, the inability to control another person perhaps?
Construct is an astonishing work created by a choreographer who had a hugely inventive mind. I wish I had seen more of her work.
Michelle Potter, 9 August 2020
Featured image: Marlo Benjamin, Kimball Wong and Jana Castillo in Tanja Liedtke's construct. Australian Dance Theatre, 2017. Photo: © Chris Herzfeld/Camlight Productions