17 October 2018. Roslyn Packer Theatre, Sydney
On a double bill program it would be hard to find two dance works as diametrically opposed, or so it seemed on the surface, as Rafael Bonachela's Frame of Mind and Antony Hamilton's Forever & Ever. Together they made up Sydney Dance Company's newest season, which goes under the umbrella name of Forever & Ever.
Frame of Mind is not new, having had its inaugural season in Sydney in 2015. Then I was especially taken with the way the work was structured. I wrote on DanceTabs:
I loved how this work was structured choreographically. More and more Bonachela makes use of the full company in segments where unison dancing dominates. Against this he gives us powerful solos—solos by David Mack and Cass Mortimer Eipper were especially strong—or fluidly moving quartets, trios and duets. Richard Cilli and Jesse Scales had an especially smooth duet filled with swirling, circular movements. The work was also nicely paced, with Cisterne's lighting providing moments of half-light as visual contrast.
Although there have been several cast changes since then, the structure of Frame of Mind remains as beautifully organised as ever. But this time I was sitting in the front row of the Roslyn Packer Theatre and I had a very different view of the performance. I could not help but be astonished at the incredible dancing of every single performer. Their attention to even the tiniest detail of Bonachela's choreography was masterful, and Bonachela's choreography is certainly filled with detail, and with all kinds of unexpected moves on unexpected parts of the body. I was struck too by the extreme physicality of the dancers, their finely honed musculature, their at times unbelievable flexibility, and their unwavering commitment to perfection. All these features have always been obvious but from row A in the theatre these qualities came home with much greater emphasis.
It was also a thrill to have live music with the Australian String Quartet playing three of Bryce Dessner's captivating compositions for strings.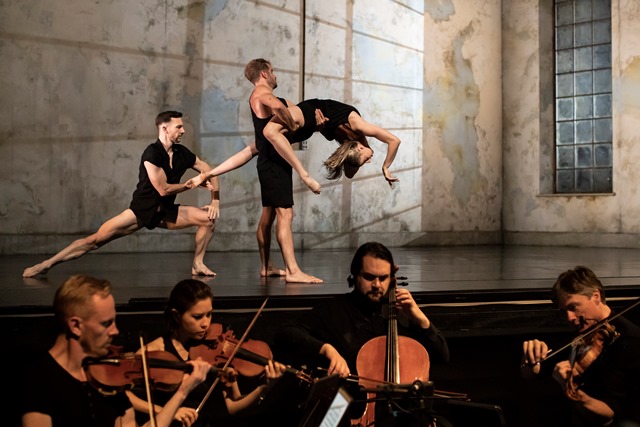 Bonachela's choreography has always been characterised by a satisfying flow of movement. So it was something of a shock to be confronted by Hamilton's much more sharply angular, robotic choreography and static poses in Forever & Ever, which was the second work on the program. At times I was reminded of clockwork toys and, with the poses, there were moments when I thought either of Lego figures or, at the other end of the spectrum, suprematist images (from the 1936 Berlin Olympic Games, for example).
Jesse Scales led the cast of Forever & Ever and did so with strength and clarity from the beginning, which began on a half-lit stage before the audience had quietened down after the interval. And did they quieten down when suddenly, and without warning, the stage lit up with a bang!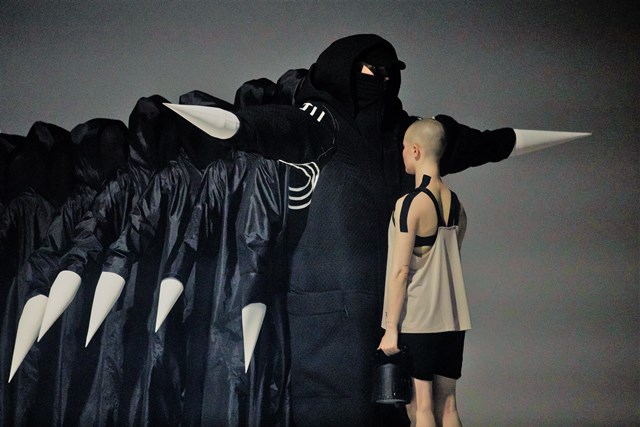 Then there were the costumes. The elegant, black, subtly diverse, easy-to-dance-in costumes by Ralph Myers for Frame of Mind stood in dramatic contrast to the costumes for Forever & Ever by Paula Levis. These latter costumes were of all shapes and colours and included long, black hooded gowns with sharply pointed, cone-shaped white 'gloves' (for want of a better word); white monks' garb (the 'monks' also carried lanterns which lit up occasionally); white, puffy jackets over black and white zig-zag patterned pants; mustard yellow jumpers, short black pants; and lots more. And costumes were freely and frequently removed to reveal new items underneath them. (You can see the discarded items piled up at the back of the stage in the featured image to this review).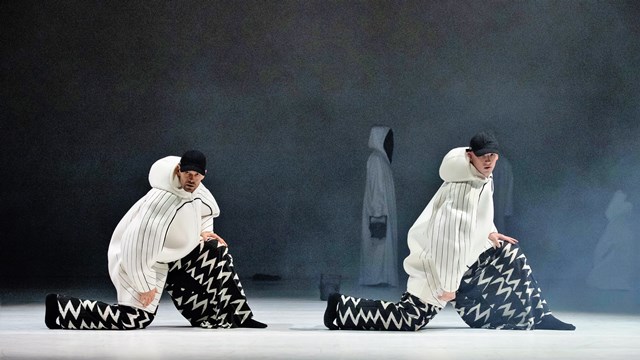 But in the end the costuming, as incredible as it was, bore little relation to anything, a bit like the theory of deconstruction where meaning is meaningless. Discarding one costume for another, willy-nilly, made it clear that no costume had an intrinsic meaning within the work, even though we could draw conclusions about them using our memory of other things. Which brings me to the next point. Despite the obvious differences between the two works, there was something similar about them. Bonachela always suggests that his abstract works are open to interpretation. Sometimes he mentions his own inspiration behind a particular work, but always we are left to find our own emotional 'meaning' in his works. With Hamilton, at least in this case, his postmodern technique of making references to many things meant that no one aspect seemed dominant. So, as with Bonachela's work, we were left to make up a meaning for ourselves, if we felt the need. Or, we could simply say there is no definitive interpretation of anything, which seemed to me to be in the spirit of Hamilton's work.
This program was remarkable for showing us the breadth of what contemporary dance can accomplish. But the most exciting bit was that both works were stunningly danced.
Michelle Potter, 19 October 2018
Featured image: Artists of Sydney Dance Company in Forever & Ever, 2018. Photo: © Pedro Greig