Bryan Lawrence, who has died in his 81st year, was born Brian Lawrence Palethorpe in Birmingham, England. He began his dance training at an early age in regional schools in England and then trained, on scholarship, at the Sadler's Wells Ballet School (later the Royal Ballet School) from the age of thirteen. After moving into the senior school he began performing in walk-on parts with the Sadler's Wells Opera and Ballet. He never legally changed his name but used 'Bryan Lawrence' throughout his professional career.
Lawrence joined Sadler's Wells Theatre Ballet in 1954 and was promoted to soloist in 1955. His first professional dancing part, undertaken while still a student at the Sadler's Wells School, was in the corps de ballet of The Firebird, as staged by Lubov Tchernicheva and Sergei Grigoriev for Sadler's Wells Ballet in 1954. Lawrence joined the company a little later and toured with them to regional venues in England until 1957.
Following a period of national service with the RAF he joined the Royal Ballet in 1959 and became a soloist in 1961. In 1964 he moved to Australia at the invitation of Peggy van Praagh and joined the Australian Ballet as a principal dancer.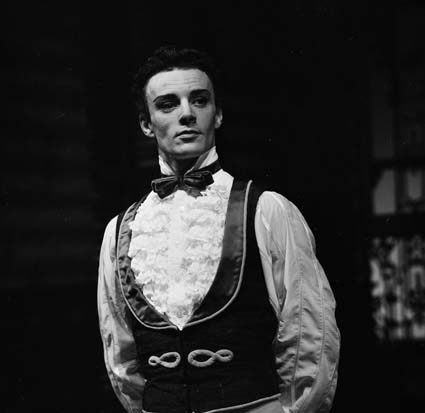 While with the Australian Ballet, Lawrence partnered all the leading dancers in the company, including Elaine Fifield, Marilyn Jones and Kathleen Gorham. He toured with the company on their early overseas engagements, including to the Commonwealth Arts Festival and various cities in Europe, 1965–1966, and on a major tour to Montreal, Canada, for Expo '67 with subsequent engagements in South America and elsewhere. In an article for The Canberra Times in 1968 he recalled some of the memorable off-stage experiences during the early part of the 1965 tour:
I recall riding a camel across the desert at 4 am to see the Pyramids after a long overnight flight from Perth to Cairo, and doing a class in the temple ruins at Baalbeck at seven o'clock in the morning when the sun became so hot we were unable to continue.
In his career with the Australian Ballet he is especially remembered for his role in The Display, in which he played the role of the Leader. Of his work on that ballet with its choreographer Robert Helpmann he remarked, in an oral history interview for the National Library of Australia in 1986:
It was interesting working with Bobby. I did, I think, most of the choreography for my bits myself. Bobby was inclined to do that. He worked out, obviously, the general thing, the story, but I can remember him saying before lunch one day, 'Well, you know, think about something to do there.' And I just worked something out myself and it was accepted.
Lawrence resigned from the Australian Ballet at the end of 1967 and in 1968, along with fellow Australian Ballet principal, Janet Karin, founded the Bryan Lawrence School of Ballet in Canberra. Together, Lawrence and Karin trained many fine artists, including Ross Stretton, Joanne Michel and Adam Marchant, all of whom rose through the ranks of the Australian Ballet to dance principal roles before going on to expand their careers in other significant directions.
The school's performance group, the Bryan Lawrence Performing Group, presented its first classical production, excerpts from Coppélia, to Canberra audiences in 1970, and its first full-length ballet, Giselle, in 1974. Lawrence appeared in the school's productions on occasions and was especially admired for his performances as Captain Belaye in Pineapple Poll, Albrecht in Giselle, and Dr Coppélius in Coppélia. He also occasionally choreographed short works for the school's annual performances.
Lawrence left Canberra for Sydney in 1986. In Sydney he undertook a variety of jobs including a brief period of work as a teacher at the McDonald College. Lawrence remarried in Sydney and lived towards the end of his life in Victoria Falls in the Blue Mountains west of Sydney. He was an accomplished pianist and in his retirement enjoyed composing original, short works for piano.
After he left Canberra, the Bryan Lawrence School of Ballet was renamed the National Capital Ballet School in 1987 and the associated performing company became the National Capital Dancers.
Bryan Lawrence is survived by his first wife, Janet Karin, with whom he had two children, a son Nicholas and a daughter Isobel (deceased). He spent many happy years with his second wife, Lyn Palethorpe.
Brian Lawrence Palethorpe: born 4 September 1936, Birmingham, England; died Katoomba, New South Wales, 8 July 2017.
Michelle Potter, 9 July 2017
Featured image: Bryan Lawrence in Les Sylphides. The Australian Ballet, 1964. Photo: Walter Stringer