A new comment on one of my earlier posts about the Dandré-Levitoff Russian Ballet tour of 1934–1935, which included Australia as well as South Africa, Indonesia and other locations, set me thinking about Raisse Kouznetsova and her Polish colleague Valery Shaievsky. The comment, which I thought came from Poland but I was wrong, indicated that Kouznetsova had married Shaievsky in 1927 and questioned why Hirsch was being used with her name. The comment is currently the last one at this link.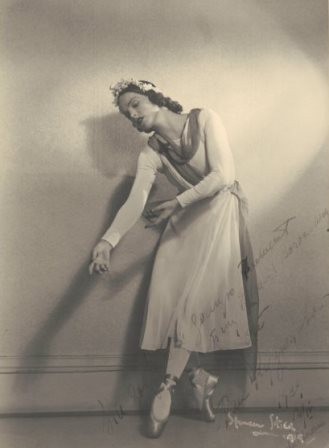 When the Dandré-Levitoff Russian Ballet arrived in Cape Town on 14 May 1934 to begin the South African leg of its tour, a passenger list for RMS Kenilworth Castle, the ship on which the company travelled from London to South Africa, appeared the following day in the Cape Times. A 'Mrs R Kuxnetzova-Hirsch' (sic) appeared on that list. A few months later, the company arrived in Brisbane to begin their appearances in Australia. Immigration records held in the National Archives of Australia list a 'Raissa Hirsch', born 1907 of Russian nationality, arriving in Brisbane on board the Nieuw Holland (the ship on which the company travelled to Australia from Bali) on 8 October 1934.
Although throughout Australia, for performances by the Dandré-Levitoff Russian Ballet and later with the Ballets Russes companies and then the Polish Australian Ballet, the name Hirsch appears not to have been used with Kouznetsova, or indeed used alone, what is puzzling is that Australian immigration records usually reflect passport details. I have always assumed that Kouznetsova was married to someone by the name of Hirsch when she arrived in Australia and I have idly speculated (to myself until now) that perhaps this was Georges Hirsch (1895–1974). Hirsch was administrator of the Réunion des théâtres lyriques nationaux in Paris during the 1940s and 1950s, although I have not yet discovered anything of his earlier career or whereabouts. The situation reminded me a little of that of Nina Verchinina-Chase's marriage. I am wary of accepting the statement found in the entry on Kouznetsova on the National Library's search engine Trove that Kouznetsova's 'real name' was Raisse Hirsch. And was she even a Pole as many writers have stated? As for the date of her marriage to Shaievsky, Tamara Tchinarova, in her biography Dancing into the unknown, intimates that Kouznetsova and Shaievsky were married sometime after 1940.
Clarification of these mysteries is not helped by the many and varied spellings of the names (given and otherwise) of the protagonists! But clearly there remains a lot of investigation to be done.
Michelle Potter, 27 September 2014
Update: The story gets more complicated. More comments at the earlier post.