In a post in September 2009 I queried various aspects of an image held in the National Library of Australia's Pictures Collection. The image is attributed to Axel Poignant, although I indirectly questioned this attribution as the photograph appears to have been a gift to Poignant from the Dandré-Levitoff company in recognition of the work he did with them in Perth. Why, I wondered, would the company be giving back to Poignant a print of his own image?
Since September 2009 I have been pursuing research into the extensive touring schedule of the Dandré-Levitoff company and was fortunate enough to be given access to archival material belonging to the family of Anna Northcote (Severskaya). Amongst photographic material in this collection I came across the photograph reproduced below: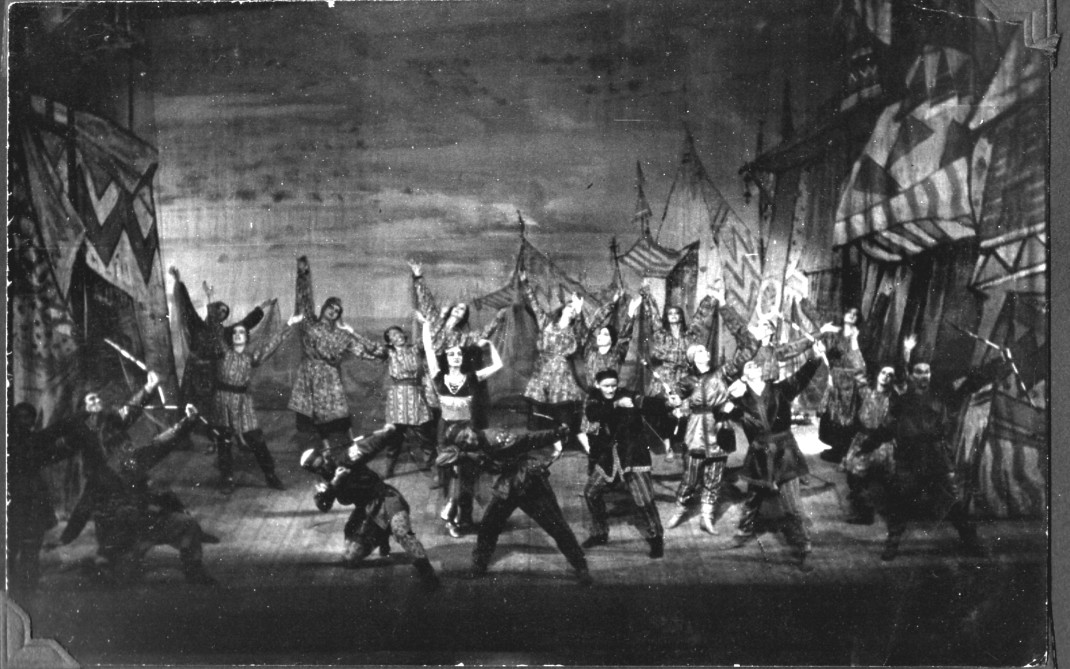 This seems to me to be very similar, if not the same, as the image held by the National Library. Perhaps most interesting of all, however, is that a very similar image, perhaps in relation to the action of the ballet taken slightly before the one reproduced above, appeared in an advertisement in Cape Town, where the company performed between 18 May and 9 June 1934, well before arriving in Australia.
Could it be that the image in Northcote's collection and that appearing in the Cape Town advertisement are both publicity shots taken either in Cape Town, or earlier before the company's arrival in South Africa? Given that the South African advertisement shot is slightly different, the alternative of course is that the company did give back to Poignant a print of his image with their signatures on the back as a memento of the occasion, and that the dancers were each given a copy as well (or bought one)? If this is the case, Northcote's archive, which contains a number of performance shots, may well include other images by Poignant.
I am still not convinced, however, that the image of the final moment of Polovtsian Dances was shot by Poignant, but I would love to be proved wrong.
This is the link to the original post . I am not permitted to display the National Library's image on this site so readers will need to follow the Library's catalogue link to compare the two images.
Michelle Potter, 13 February 2011