The Johnston Collection, Melbourne
I was surprised to be contacted earlier this month by the curator of the Johnston Collection, Melbourne. David McAllister, artistic director of the Australian Ballet, will be a guest curator there in the first part of 2014 and will be adding some Australian Ballet costumes to the rooms of Fairhall, the house in which the collection of antiques amassed by dealer William Robert Johnston is displayed. I will be presenting a lecture at Fairhall in June—From bedroom to kitchen and beyond: women of the ballet. More later.
Fantasy Modern: Andrew Montana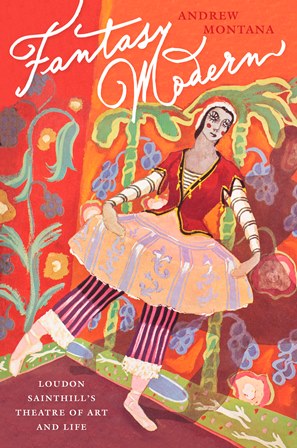 Over the holiday break I enjoyed reading Andrew Montana's biography of Loudon Sainthill, Fantasy modern: Loudon Sainthill's theatre of art and life, published in November 2013 by NewSouth Books. There are a few irritating typos and errors (Alicia Markova wasn't married to Colonel de Basil—at least not as far as I know!) and some odd references in the notes. But, as ever, Montana has researched his topic very thoroughly and, while it is essentially a book written by an art historian, it gives a fascinating glimpse of the cultural background in which Sainthill and his partner Harry Tatlock Miller operated. That background of course includes Sainthill's commissions for Nina Verchinina during the Ballets Russes Australian tours, as well as his work as a designer for Hélène Kirsova, and his activities during the Ballet Rambert Australasian tour of 1947–1949. In addition it was Harry Tatlock Miller who was responsible (in conjunction with the British Council) for bringing the exhibition Art for Theatre and Ballet to Australia. There is some interesting information too about the 1940s documentary Spotlight on Australian Ballet. So Fantasy Modern is interesting reading for dance fans as well as historians of theatre design.
I was pleased to hear recently from Barbara Cuckson that Sydney-born Bodenwieser dancer, Eileen Kramer, had returned to her city of birth. Not only that, she has reached the grand old age of 99. She is seen below on her 99th birthday wearing a Bodenwieser costume, which she designed all those years ago.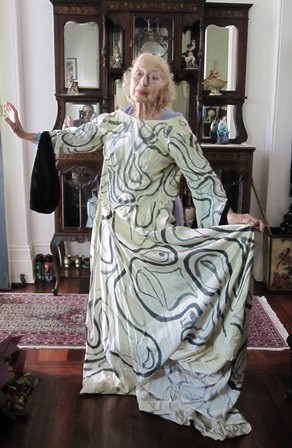 Eileen recorded an oral history interview for the National Library in 2003. It is available for online listening at this link.
In December I am always interested to know what tags have been accessed most frequently over the preceding year. Here is the list of the 10 most popular tags for 2013:
Hannah O'Neill; Ty King-Wall; The Australian Ballet; Ballets Russes; Paris Opera Ballet; Olga Spessivtseva; Dandré-Levitoff Russian Ballet; Leanne Stojmenov; Athol Willoughby; Meryl Tankard.
Visitors to the site may also be interested in what is probably the last comment for 2013. I am attaching a link to a book review I wrote in January 2012. Scroll down to the comments in which one reader queried whether the author of At the Sign of the Harlequin's Bat, Isabelle Stoughton, is still alive. As you can read, she is.
And finally I couldn't help but notice a sentence in a roundup of events for 2013 by Fairfax journalist Neil McMahon. Writing of Australian political happenings over the past year he said: 'The policy pirouettes on both sides were en pointe, but graceless'. I'm not holding my breath for a graceful political scene in 2014. The dance scene might be better odds!

Michelle Potter, 31 December 2013