21 June 2019. The Q, Queanbeyan
The Dinner Party has had a couple of manifestations. Choreographed by Natalie Weir for Expressions Dance Company, it was shown in 2015 as The Host. I suspect, however, that the inspiration for it can be traced back much further to 1989 when Janet Karin commissioned Weir to make a short work for the National Capital Dancers, which was also called The Host. The current production, which opened in Brisbane in May and is now on a national/regional tour, is probably somewhat different in impact from the 2015 showing, given that Weir no longer directs Expressions. The company is now under the directorship of Amy Hollingsworth and her dancers are a quite different group, which definitely adds a new feel to the company.
I was a little taken aback by The Dinner Party. The storyline, or theme, explores the manipulative side of human beings. The character of the Host (Jake McLarnon) attempts to wield power over his four guests, although not all of them wish to be manipulated. The work thus lends itself to a choreographic display of power, and power is what we get. One of Weir's strengths as a choreographer has always been an ability to combine movement in unexpected ways, especially in duets or with other small combinations of dancers. We saw those unexpected movement combinations in The Dinner Party, not only between dancers but also between dancers and the table and chairs that made up the set. There was a lot that was acrobatic, hugely energetic, and definitely powerful.
It was a thrill to see Bernhard Knauer, whose work with Sydney Dance Company I had admired over several years before he moved on. He played the role of the Rival and his solo on the table, and his duet with McLarnon towards the end of the work, were highlights.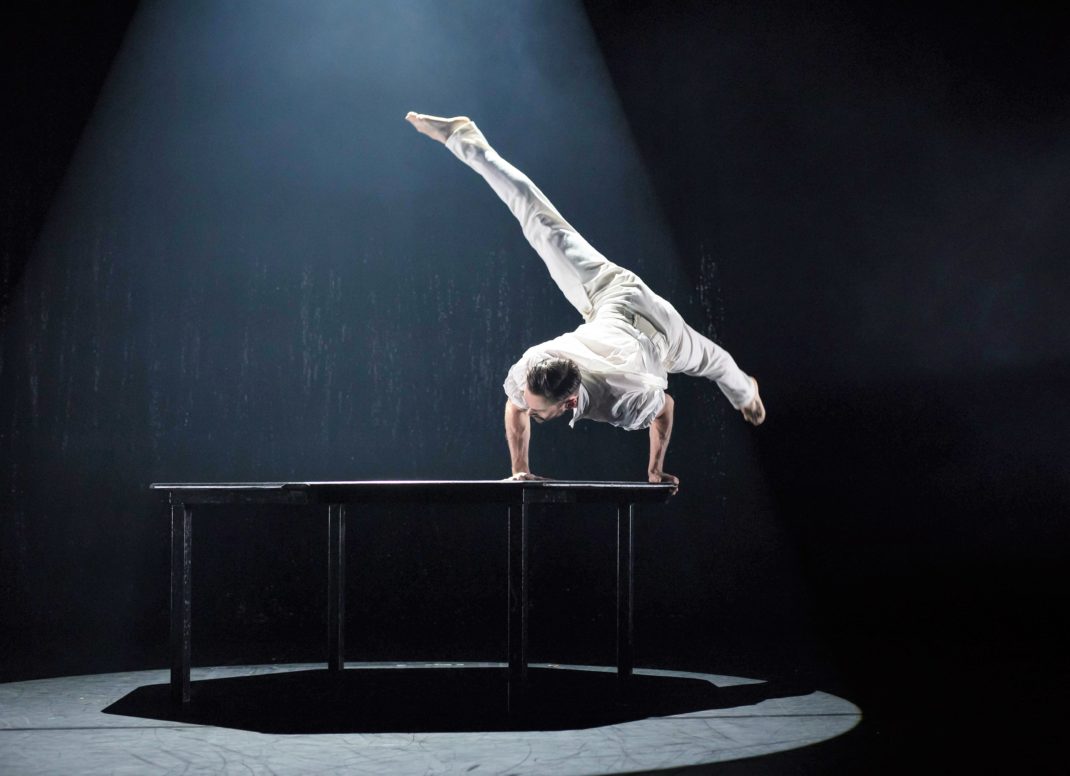 But overall I was taken aback because for me the exploration of the human psyche through choreographed interpersonal relations between the cast members seemed, in the end, to be the least important part of the work. There seemed just to be a lot of gymnastic-type dancing around or on a table, which didn't advance the theme. I did, however, enjoy the costumes by Gail Sorronda, which captured the intrinsic qualities of each of the characters, and the lighting by Ben Hughes, which cast great light and shadow at appropriate times.
Michelle Potter, 22 June 2019
Afterthought: it would have been helpful had there been a cast list (at least) somewhere in the theatre foyer, if no handout was being offered. The program was available online (with a character listed who did not appear in Queanbeyan), which I looked up after the show. But not everyone goes to the company's website prior to or after the show.
Featured image: Jake McLarnon as the Host with Josephine Weirse, Jag Popham, Isabella Hood and Bernhard Knauer in The Dinner Party. Expressions Dance Company 2019. Photo: © David Kelly