New Breed: Sydney Dance Company
Early in August Sydney Dance Company announced the four recipients of commissions to create works for the company's New Breed initiative. Kristina Chan, Fiona Jopp, Bernhard Knauer and Daniel Riley will present their dances at Carriageworks in a season running from 8 to 13 December. Commissions have also gone to independent designers Matt Marshall and Aleisa Jelbart, and musician/composers Nick Thayer, James Brown, Jürgen Knauer, Toby Merz and Alicia Merz, who will contribute to the creation of the works, which will be performed by artists from Sydney Dance Company.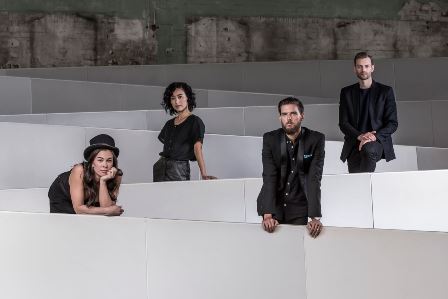 During my recent foray into the career of Lucette Aldous, as a result of Sue Healey's short film on Aldous, I came across the photograph below.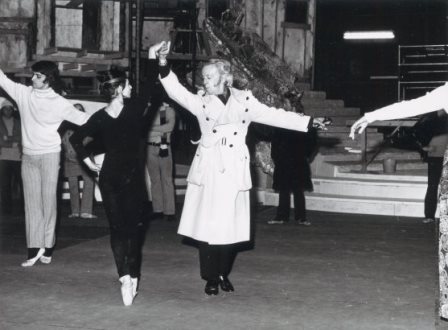 I had always understood that it was very hot in those Essendon hangars where the Don Quixote production was filmed. From this image it appears that perhaps it was quite cold at times!
Harry Haythorne choreographic awards
The Royal New Zealand Ballet and the Ballet Foundation of New Zealand have announced two new choreographic awards to honour Harry Haythorne, artistic director of Royal New Zealand Ballet from 1981 to 1992. There will be two studio showings of new works choreographed by company dancers who will be in the running for two awards, one to be decided by a panel headed by present artistic director Francesco Ventriglia, and the other a People's Choice award funded by money raised at the memorial event for Haythorne held in January. Dates for the showings are 12 and 13 September in the Royal New Zealand ballet studios, Wellington.
'Moving tribute to those who served.' Review of Reckless Valour, QL2 Dance, The Canberra Times, 1 August 2015, p. 16. Online version.
'Dalman and Jones going into dance Hall of Fame.' Feature on the 2015 Australian Dance awards, The Canberra Times, 27 August 2015, 'Times 2', p. 6. Online version.
Michelle Potter, 31 August 2015